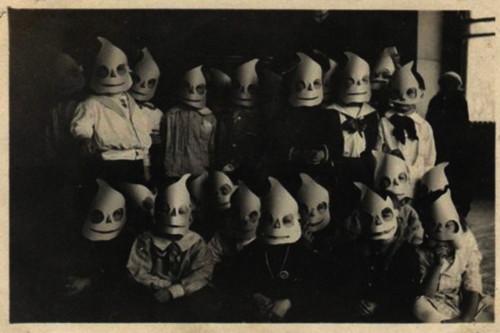 Speakeasy Society's The Hollow has me excited to watch this company grow, and feeling tingly about the future of immersive theatre in Los Angeles. The show is a piece of dinner theatre-cum-storytelling night-cum-guided tour, with music and dancing to boot. The whole does not hang together as neatly as it might, but if you are looking for a different night in Los Angeles in the Halloween season, this fits the bill.
Performed in the backroom at Golden Road Brewing Co., the play highlights its three-course menu as much as the action – new dishes are brought out in short intermission-style pauses between scenes. The proceedings start slowly, as characters mill about and converse with the audience. Interactions initially are slightly awkward – I negotiate how much role-playing I want to do with these cast members. Fortunately, opening questions from the cast ("How was your journey? Was the mist bad?" "Are you from The Hollow?") serve as great conversation starters to pull me into their world. Someone at my table is beckoned to a distant corner and told about a sacrifice. She comes back to tell us about it in hushed tones, having totally bought into the fiction.
The cheerful pub setting is somewhat at odds with the horror tone, and as the play's action gets rolling it goes from murder mystery dinner theatre to a drama, albeit one in which the audience is frequently acknowledged. There is a good attempt throughout to sew mysteries for us to wonder about, though a lot of the straight dramatic scenes grate a bit as actors' shouting makes me wince over my wild arugula and blue cheese. Does anyone really enjoy yelling at the dinner table?
Actors Paula Rebelo and Zan Headley are the highlights of the show, striking the perfect balance between naturalism, dry wit, and theatricality that allows us to suspend our disbelief in this setting. The rest of the cast are hamming it up a bit most of the time, with an exception of some excellent storytelling by Michael Pignatelli, and the declarative theatricality everyone uses makes it hard to believe the reality of their world.
The dramatic style also leaves little space for audience interaction, with actors explicitly telling the audience sly jokes and then laughing themselves before we get a chance to respond. A bit of training in clowning techniques would, I bet, go a long way to making this cast genuinely responsive to the crowd. Some of the most effective moments were told through dance, as the visual storytelling let the cast depart from the tricky balancing act of trying to pretend that these scenes were happening naturally among party hosts at our dinner party.
Before dessert, the audience is split up and taken by different characters on a little journey. I thoroughly enjoyed this part of the show, but wish I could have wandered at will more between encounters. The end effect, when we all came back together for a final dramatic scene, was slightly anticlimactic. People stayed afterwards and discussed what had happened down the different paths. This, to my mind, makes it a successful moment of theatre. It was good to get away from the rambling spoken ghost stories that dominated the first half and actually experience a ghost story.
In its politics, The Hollow is a period piece and it shows. The men talk about masculinity a fair bit and the women are totally sidelined during the scenes, despite Rebelo being the most competent and interesting character. The principal villain, played by Nikhil Pai, starts creepy and alluring but devolves into flamboyant cackling. Is he gay? Is that meant to be scary? I guess so. I don't know the source material but in 2015 there must be ways to subvert this kind of thing on our stages rather than playing into it.
All in all, The Hollow represents an exciting exploration and Speakeasy Society is an intriguing company. The show is not perfect, but it's different. It's theatre in collaboration with a corporate brewery that is selling out and making buzz. Eat your heart out, "theatre is dead" naysayers.
The Hollow
Tuesday, October 27th through Thursday, October 29th
Showtime and dinner begins at: 8:00pm, house opens at 7:30pm.
Chloe's, Golden Road Brewery's exclusive hidden bar
5410 West San Fernando Rd,
Los Angeles, CA 90039
General Admission: $65.00 (Ticket price includes a 3 course prix-fixe dinner, along with one of Golden Road's award-winning beers.)