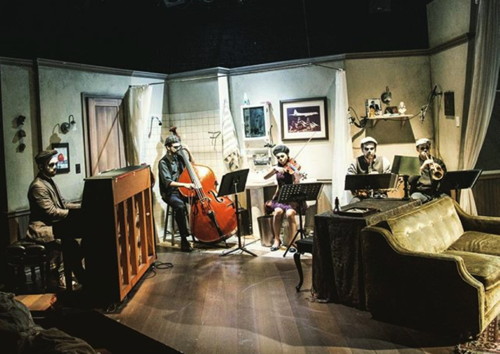 Entering the Matrix Theatre to see Ded! is a treat in itself. A calavera looms over the marquis, and two more giant calavera women are holding court in the entryway in their bright dresses. Even the guy serving drinks is decked out in Gothic wear. As we enter, we pass a large Dia de los Muertos altar, complete with a bilingual explanation of the holiday: November 1, when the dead return for a day to break bread with the living. Ded! is billed as "a show for the living, performed by the dead."
Once we've taken our seats inside, a Pandora's box of theatrical surprises awaits us. The logic of the stage and, indeed, fundamental physics, go topsy-turvy as the audience enters a silent cartoon world. 'Death' and 'fun' don't seem like two concepts that go hand-in-hand, but there you go. I won't spoil the surprises, but suffice it to say the agile cast of puppeteers and the band are well ahead of the audience the whole time.
The conceit of the show is terribly simple. The titular character, Ded (played by co-creator Carlos Lopez Estrada), awakes – dead, in an inescapable apartment. He watches, helplessly, as his love interest, played by Elizabeth Rain, mourns and moves on, and so he learns to accept his fate. This simplicity is belied by the incredible physical, interactive, and multimedia inventiveness of the staging. The effect is more a ballet than a nuanced theatrical story.
While I gush over the form of this piece, I will admit that the story felt a bit lacking – not that it needed more, but that we'd been here before. Boy wants girl but can't get her. Boy is sad. Girl is an idealized cartoon with no agency in the actual story. Boy moves heaven and earth but can't get her and is still sad. The piece soars as Ded explores his new worlds and tests its bizarre physics, but starts to get mired down in its stereotyped love story and a bit of confusing time travel. All of the gorgeous Day of the Dead stuff we've been set up for only makes a brief cameo at the end.
Despite story issues in the latter half, I still wholeheartedly recommend Ded! I am reminded of the slick, inventive staging of Stoneface at Sacred Fools and Theatre @ Boston Court – this show has all the silent film credentials with a zaniness all of its own. My favorite vignette was a love story between two beer cans masterfully manipulated as puppets by show co-creator Cristina Bercovitz, who is a silent presence onstage throughout. This is a world where beer cans can fall in love, the man in the moon becomes irate, musicians get shot, and wolves materialize and disappear, never to be mentioned again.
This is a world you want to visit, a clear and thoughtful labor of love that adds to the discourse of clowning, puppetry, and multimedia theatre in Los Angeles.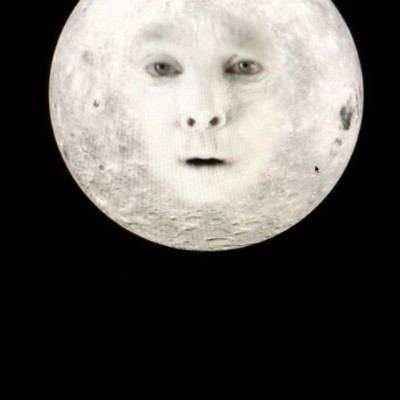 "Ded!" runs at 8 p.m. (Thursday, Friday, Saturday) and 3 p.m. (Sunday) through Nov. 1 at the Matrix Theatre (7657 Melrose Ave., Los Angeles). For tickets and more information, visit their official site here.