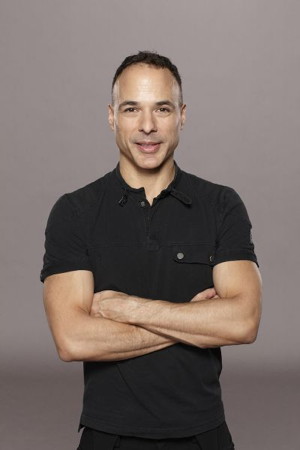 With his impish smile and boyish, childlike glee, artist Michel Laprise comes across as a fun and genial person with a vast imagination. But the creator (writer and director) of KURIOS – Cabinet of Curiosities™ — the newest Cirque du Soleil extravaganza to come to Southern California — is evidently an extremely hard worker.
His main objective with this stunning show, that premiered in Montreal around a year ago, was somehow to breathe new life force into the widely adored company. In particular, Laprise set out to reinvent the internationally renowned troupe with this dazzling touring show that they have now brought to Cali.
Laprise recalls, "That was the objective, because after thirty years people started to say we were predictable. So I thought, 'Wow, we have to do something different.' But they said in the same sentence, 'It's beautiful!' So we started a little revolution. With KURIOS – Cabinet of Curiosities™ we started to reinvent ourselves, so it's a beautiful compliment. It's important for me and for Cirque in general. A lot of people say, 'Oh, I've seen Cirque du Soleil.' They don't distinguish the different shows. I love Cirque. I wanted to go back to the soul of it. We had lost a little bit…"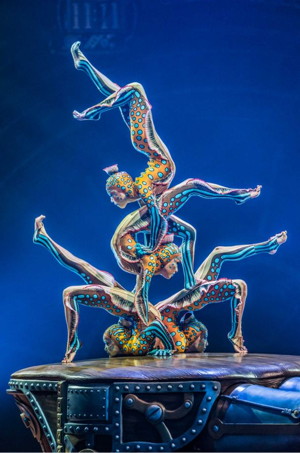 Explains Laprise, "I wanted to return to the original Cirque, which was street performance. With that audience, it's not their first objective to sit down and see your show. They're walking, they have other things on their mind, and you really have to grab their attention. You don't a press kit or a resume — you just have what you have now, in the moment, in the environment. You grab their attention so they have to forget, for the moment, all their other preoccupations. And then, you have to do something very interesting with them, based not on your needs but on their needs; you have to seek pleasure. And if you are generous with them, at the end they will be generous with you. You have to have a certain nobleness with what you do, so they will respect your craft and be in agreement that, okay you should be paid for that, so they will put money in the hat."
The writer/director adds, "Street performance is the only type of performance where people pay after they have seen the show. It's a completely different dynamic. I wanted to recreate that soul of the beginning of Cirque, when we were in the streets and were very audacious."
KURIOS – Cabinet of Curiosities™ is presently performing under 'le grand chapiteau' (the big top tent). Now residing in Orange County, at the OC Fair and Event Center, performances continue through November 29.
The show will then move to Los Angeles, marking Cirque du Soleil's first visit to Dodger Stadium. KURIOS – Cabinet of Curiosities™ opens on December 10 and runs through February 7.
Laprise says this show is "rooted in my love for Cirque. I've worked with different companies, but this is a special one."
He goes on to recall, "The first time I saw Cirque, I was 12 years old and I was with my Dad; my parents had divorced. The Big Top was in Quebec City, in a parking lot, very similar to the Dodgers Stadium parking lot, and I heard the music — it was a strange, world beat music. So I followed that music, just like the tale of the Pied Piper! It led me to the tent. At that time it was a smaller tent. There was no security, there was no fence. I lifted a piece of the canvas, and what I saw was so diverse and so complete, I started to cry. I remember it was like witnessing a miracle. I said to my Dad, 'We have to come and see this show tonight.'
"So we went, and I was very emotional about it. I wanted to see it again the next night. Then I had to go to the boarding school, so I only got to see it twice. I think it was the seed of what I am doing now. When I got to write and direct this new show, I wanted it to be emotional, like the first time I saw Cirque."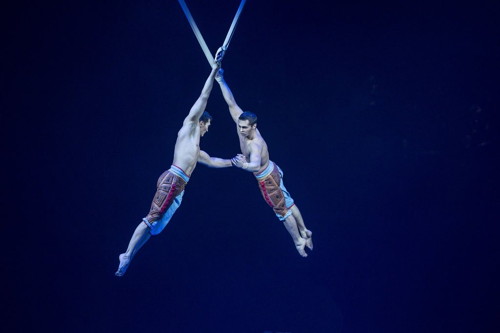 Laprise admits it takes a lot of work to "create emotion. There's a lot of listening to the artists and the team."
By all accounts, the show has an exquisitely detailed story line with numerous circus acts throughout. It's evocative of a Victorian carnival or a collection of sideshow entertainments, with the addition of a 'steampunk' vibe permeating the spectacle.
Explains Laprise, "For the concept, I started to research [the invention of] electricity. That mysterious, invisible energy. It led me to the second half of the 19th century, and I was flabbergasted to learn that in just a few years you had the development of the railway system, of electricity, of gramophones — so that music could travel for the first time in human history, and you could democratize the art. And at the same time you had the telegraph, that allowed communications to happen. All those inventions were about connecting people. Information, circulation and human connectivity. Paths crossing. I had this idea of a 'cabin of curiosities.' It's an ancestor of museums and it's based on things that you are fascinated about because you don't understand them."
This germ of an idea was his starting point.
"I thought all this could be a great base for a Cirque show. Then I started to write a story of a man, The Seeker — we call him 'Le Chercheur' — who believes there is a parallel world. That there has to be another dimension, where poetry exists in a pure form. In that parallel world, there is a valley called 'The Valley of the Possible Impossibles.' All the dreams that – before humans had dreams on the planet, they preexisted in that place. It's also the refuge for all the crazy ideas that we have on earth. You know when you abandon an idea? That's where they go."
Laprise's high-concept show was eventually realized and has enjoyed immense popularity since its first opening night.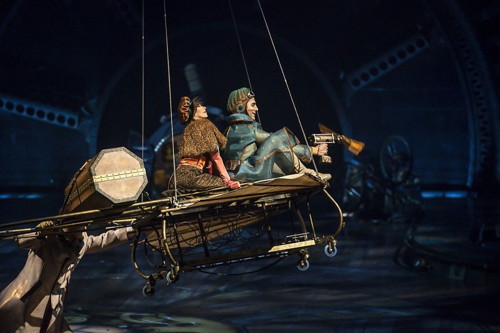 KURIOS – Cabinet of Curiosities™
Orange County, at the OC Fair and Event Center,
through November 29, 2015.
Dodger Stadium, Los Angeles.
Opens December 10, 2015, running through February 7, 2016 only.
Tickets for all performances in Costa Mesa and Los Angeles range in price from $50 – $165 and are available online here or call 1-877-9 CIRQUE (1-877-924-7783).
About Cirque du Soleil:

From a group of 20 street performers at its beginnings in 1984, Cirque du Soleil is now a major Quebec-based organization providing high-quality artistic entertainment. The company has 5,000 employees, including more than 1,500 performing artists from close to 50 different countries. Cirque du Soleil has brought wonder and delight to more than 100 million spectators in nearly 300 cities on six continents.

For more information, visit their official site.
About Michel Laprise:
Michel Laprise worked in theatre for nine years as an actor, director and artistic director before joining Cirque du Soleil in 2000. At Cirque du Soleil, Michel spent five years as a talent scout before taking on, in 2006, the role of Special Events Designer. In that capacity, he directed the act with Quebec diva Diane Dufresne during the Opening Ceremonies of the Montreal 2006 Outgames; the large-scale performance event created for the launch of the Fiat Bravo in Italy (2007); the Cirque du Soleil performance event celebrating Quebec City's 400th anniversary (2008); the launch of Microsoft's Kinect console at the 2010 Electronic Entertainment Expo, broadcast on MTV; the opening show at the Eurovision Song Contest held in Russia in 2009; and the Opening Ceremonies of the 2010 FIBA International Basketball Federation World Championships in Istanbul.
In 2012, Michel collaborated with pop star Madonna, providing artistic direction for her performance at the Super Bowl XLVI halftime show; he later went on to direct her MDNA tour. In 2013, he directed the musical Robin des Bois – Ne renoncez jamais, currently on tour in Europe.
Creative team for KURIOS – Cabinet of Curiosities™:
The creative team consists of 17 creators under the artistic guidance of Guy Laliberté (Guide) and Jean-François Bouchard (Creative Guide):
Michel Laprise    Writer and Director
Chantal Tremblay    Director of Creation
Stéphane Roy        Set and Props Designer
Philippe Guillotel    Costume Designer
Raphaël Beau        Composer and Musical Director
Bob & Bill        Composers and Musical Directors
Yaman Okur        Choreographer
Ben Potvin        Choreographer
Sidi Larbi Cherkaoui    Choreographer
Susan Gaudreau    Choreographer
Andrea Ziegler    Choreographer
Jacques Boucher    Sound Designer
Jean-Michel Caron    Sound Designer
Martin Labrecque    Lighting Designer
Rob Bollinger        Acrobatic Performance Designer
Germain Guillemot    Acrobatic Performance Designer
Boris Verkhovsky    Acrobatic Performance Designer
Danny Zen        Acrobatic Equipment and Rigging Designer
Eleni Uranis        Makeup Designer