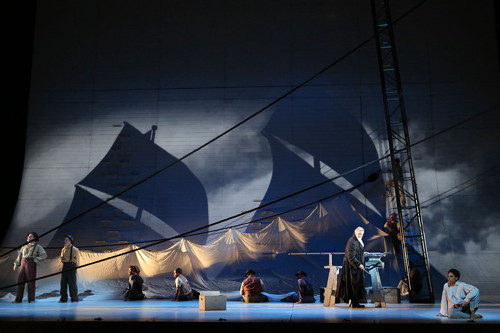 With its themes of insanity, obsession, brotherhood, loss, capitalism, freedom — to name a few — Herman Melville's Moby-Dick is considered one of the great works of American literature. Epic stories naturally lend themselves to the heightened milieu of opera. What Composer Jake Heggie and librettist Gene Scheer's opera lacks musically is more than compensated for by Leonard Foglia's original staging in LA Opera's current production.
Plot: A fanatical sea captain's unrelenting obsession for revenge drives his entire crew into the face of death and destruction as they explore the vast and mysterious oceans in search of a monster whale.
Captain Ahab is sung brilliantly by tenor Jay Hunter Morris, conveying well the character's drive and emotional intensity. The performer also manages to hobble about convincingly on his faux peg leg. "It was Moby Dick dismasted me," he declares, encapsulating his motivation for revenge.
Bass-baritone Musa Ngqungwana is magnificent as Queequeg, the native harpooner.  Joshua Guerrero as Greenhorn and Morgan Smith as first mate Starbuck also acquit themselves well. The sweet, high tones of soprano Jacqueline Echols as Pip, the cabin boy, is a welcome addition to this macho world.
Scheer's libretto deftly and economically captures the themes and relationships described at great length throughout Melville's poetic masterpiece.
Jake Heggie's highly tonal score is apparently kind on the singers but disappointingly feels, at times, like the lush music for a Hollywood movie, especially the slightly histrionic overture with its pretty clarinet and string themes, played during a projection of swirling stars on the house curtain.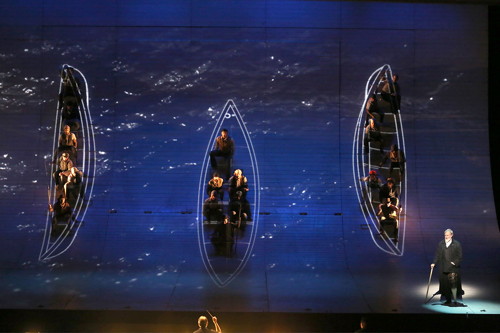 With the story entirely taking place entirely on board the Greenhorn whaling ship, Robert Brill's inventive scenic design permits some creative staging. We see characters clinging to or poised on its vertical, sloping upstage wall, and this is brilliantly paired with astonishing visual effects and projection designer from Elaine J. McCarthy. At times the projections represent the roiling seas, with line illustrations to give the optical illusion of a small flotilla of whaling boats tossed in the waves. It's remarkably powerful.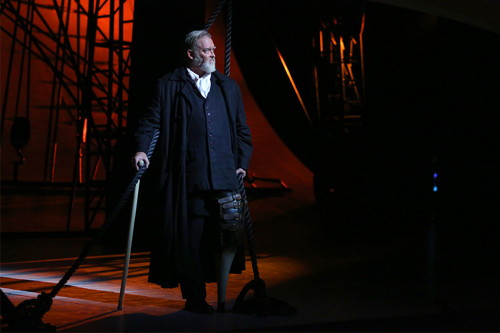 Moby Dick
LA Opera
Dorothy Chandler Pavilion
135 N. Grand Ave.,
Los Angeles CA 90012
Remaining performance dates and times:
Sunday November 15, 2015 02:00 PM
Thursday November 19, 2015 07:30 PM
Sunday November 22, 2015 02:00 PM
Saturday November 28, 2015 07:30 PM
RUNNING TIME:
Three hours, including one intermission.
Tickets: $17-$310.00
Box Office: (213) 972-8801
More information and tickets can be found here.