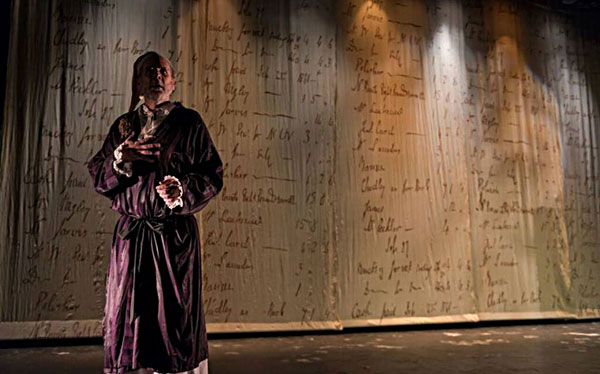 Since its original publication in 1843, Charles Dickens' novel A Christmas Carol has been adapted many times for film, stage and television, in both musical and straightforward versions. It has been spoofed, relocated to different places and times, turned into a Mickey Mouse cartoon and even Muppet-ized.
In the new production making its world premiere at the Playhouse San Antonio, directors Anthony Ciaravino and Timothy Hedgepeth made the decision to go back to the source material for inspiration — and it's an excellent choice, resulting in a splendidly pure staging of the classic tale that rightly places the emphasis on Dickens' memorable words.
It looks striking, too. Darkness dominates the production, as well it should. It's a ghost story, after all — an English holiday tradition.
London in the time of Dickens was a miserable, smoke-filled place where the only illumination was provided by flickering candles and gas lamps. Here, Sam and Steve Gilliam's effective scenic design utilizes a multiple-level construction and effective backdrops to evoke the chilly winter streets and Scrooge's cavernous, gloomy mansion. Pat Smith's excellent lighting and sound design incorporate vocal distortion, gels and fog effects to give the spirits their otherworldy appearance, while Laura Briseno and Rose Kennedy provide the appropriate period costuming.
The ensemble cast is impressive. Vincent Contrell's bombastic Ghost of Christmas Present is certainly a sight to behold, and Angela Hoeffler is an appropriately wraithlike Ghost of Christmas Past. Rick E. Frederick gets the most dramatic entrance as the wailing, fright-wigged Jacob Marley, while Grant Bryan and Christina Casella are sympathetic as the Cratchits. Ty Mylnar registers well as the younger Scrooge, transforming from idealistic youth to covetous moneylender, as does Cristyn Carr as his heartbroken fiancé, Belle. Welcome humor is provided by the narrators of the story (Erin Polewski and Benjamin Scharff) and Gloria Sanchez-Molina as Scrooge's harridan of a housekeeper. Andrew Thornton wisely underplays the role of the legendary miser, which makes his ultimate transformation all the more satisfying.
Best of all, after so many years of seeing so many different variations of the story (with varying success), it's a pleasure to see a straightforward, reverent and admirably dark presentation.
A Christmas Carol plays Fridays and Saturdays at 8 p.m. and Sundays at 3 p.m. through December 21 at the Playhouse San Antonio, 800 West Ashby Place. Tickets can be obtained online or by calling the box office at (210) 733-7258.