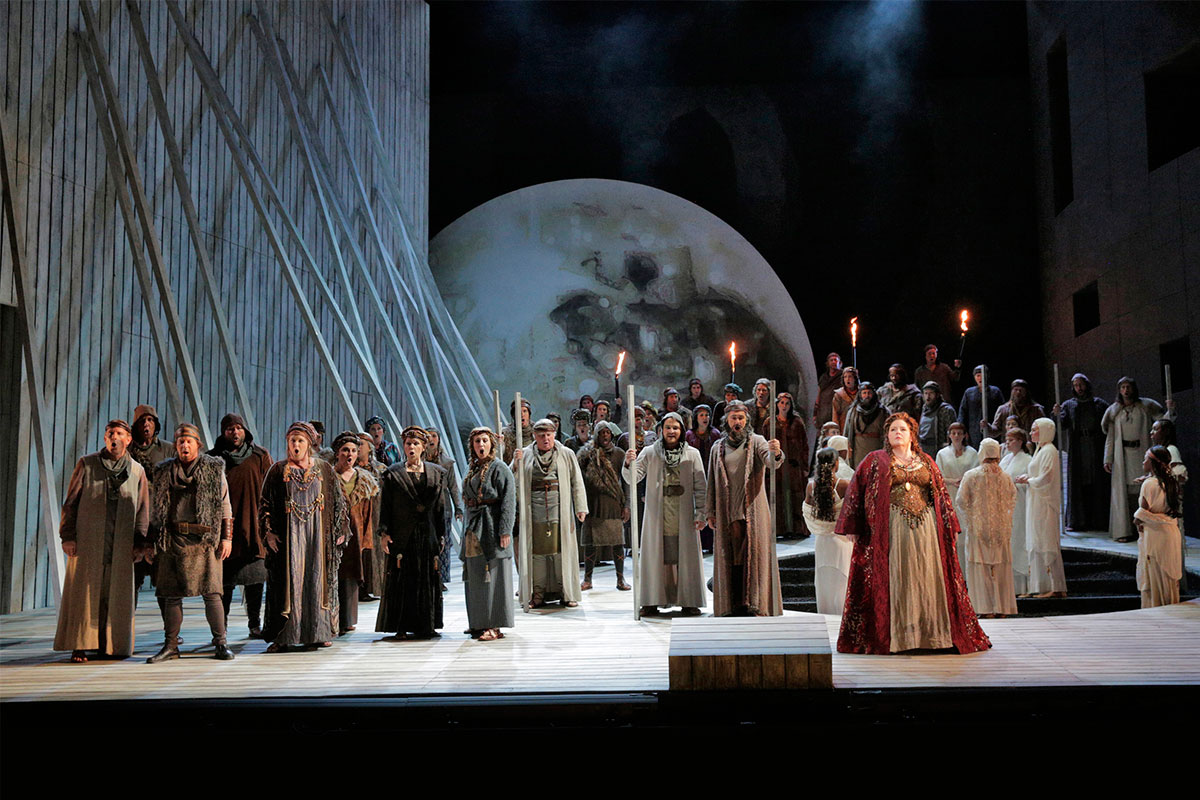 Vincenzo Bellini's Norma arrived at the LA Opera last week for six performances through December 13th. Norma is set during the Roman Empire and tells the story of a Druid priestess in ancient Gaul who has fallen in love with the local Roman governor, Pollione, and borne him two children, even as she and her people prepare for war with Rome. Meanwhile, her lover has abandoned her for another, younger Druid priestess, Adalgisa. Norma is torn between her duty to her people and her anger at being discarded by Pollione. Reminiscent of Medea, Norma contemplates taking revenge on her faithless lover by murdering his children. She also considers offering up Adalgisa as a sacrifice to the gods of war. In the end, realizing that she herself has betrayed her people by loving her enemy, she sacrifices herself on the funeral pyre. The contrite Pollione, seeing her once again with love at the final hour, dies with her.
Norma, the 9th of Bellini's 11 operas, was premiered at Milan's La Scala in December of 1831. By the end of that century it had racked up several hundred performances and established itself as one of the centerpieces of the bel canto repertoire. The title role is a tour de force for soprano—one of the most challenging roles in the operatic repertoire. Norma continued to be revived as a star vehicle for sopranos after many other bel canto operas fell from the repertoire. It has been revived with some frequency when a soprano is available to sing the long and difficult title role. Memorable Normas include such sopranos as Zinka Milanov, Maria Callas, and Montserrat Caballe.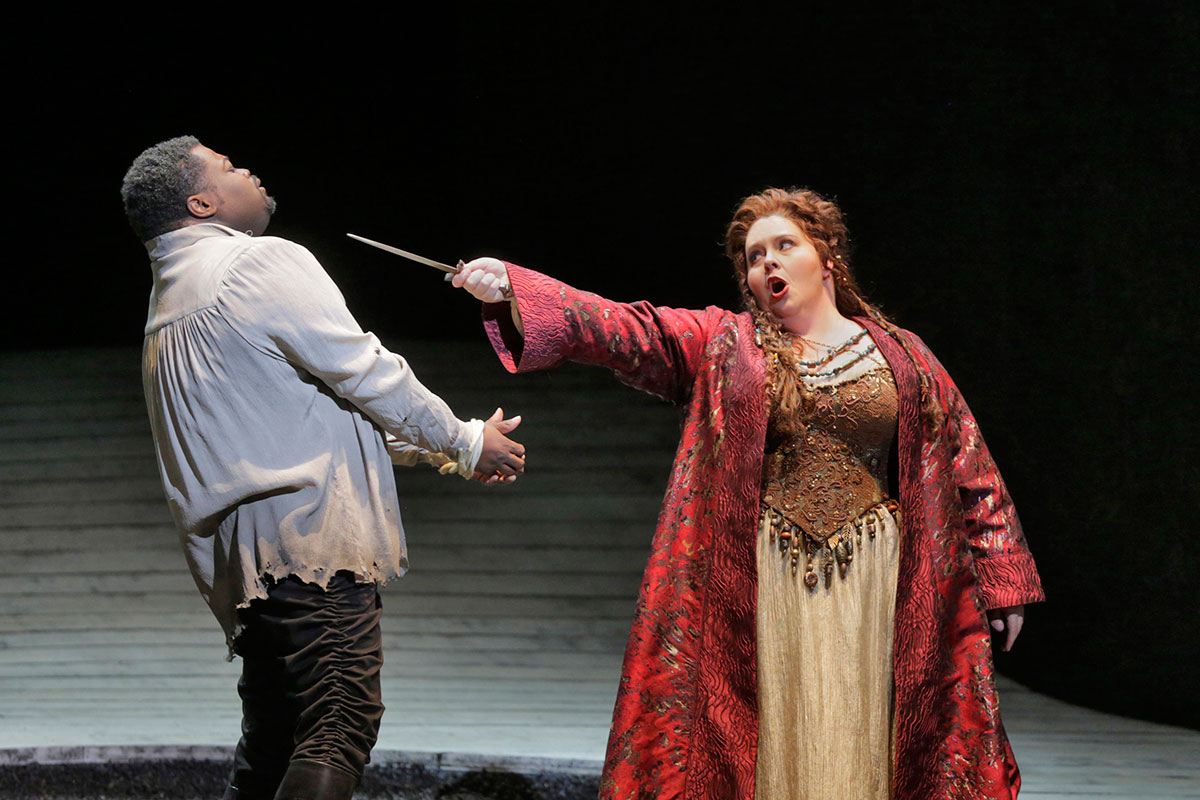 LA Opera's cast features several rising stars. The great 19th century German soprano Lilli Lehmann famously remarked that the singing of all three Brünnhilde roles of in Wagner's opera cycle Der Ring des Nibelungen would be less stressful than the singing of one Norma. She also commented, "When you sing Wagner, you are so carried away by the dramatic emotion, the action, and the scene that you do not have to think how to sing the words. That comes of itself. But in Bellini, you must always have a care for beauty of tone and correct emission."
In soprano Angela Meade, LA Opera has a Norma with the vocal resources to carry off this great role. At this stage of her career she perhaps lacks the ferocious intensity required in Act 2 as she contemplates the murder of her children, but Meade rises superbly to the challenge of the final scene as Norma resolves to sacrifice herself for betraying her people to Rome.
Tenor Russell Thomas, making his LA Opera debut, was a superb Pollione, displaying a powerful spinto tenor voice and a strong stage presence.
Mezzo-soprano Jamie Barton, winner of the 2013 BBC Cardiff Singer of the World contest, has been winning rave reviews across the country for her appearances. She was very impressive here, as well, with strong voice and great dynamic control, blending gorgeously with Meade in their duets.
Morris Robinson returned to LA Opera and once more demonstrated one of the most beautiful bass voices in opera today. He was a majestic presence as Norma's father Oroveso.
From the brisk tempi of the opening overture, LA Opera Music Director James Conlon led a fine performance, bringing out beautiful details in the score, with some exceptionally beautiful string playing during the Act 1 duet for Norma and Adalgisa, "O Rimembranza," and again during the long final scene.
The production design – scenery by Neil Patel – featured a stylized forest, with long greyish poles representing trees. A sharply raked platform ran down the center of the stage, with a small central cutout where much of the principal singing occurred as the rest of the action circled around it. An enormous full moon slowly rose over the stage in the final scene, gradually turning a glowing blood red. The stage's rake was so steep that it surely must have been a challenge for the singers and dancers to perform on it. It's possible it inhibited the performers a bit dramatically, as well. In any event, under director Anne Bogart, there was fairly minimal action beyond pacing and singing. The costumes were designed by James Schuette and were attractive – flowing robes for the Druids, stylized armor for the Romans, and a long leather trench coat over a uniform for Pollione. The fact that both Norma and Adalgisa were dressed almost identically apart from different colored wigs, however, made it difficult to tell them apart.
Despite the somewhat inert staging, this is a Norma worth seeing, particularly for the singers and orchestra. Singing of this caliber is something special and LA Opera is to be commended for assembling an outstanding cast who were up to the challenge of this magnificent work. Three performances of Norma remain.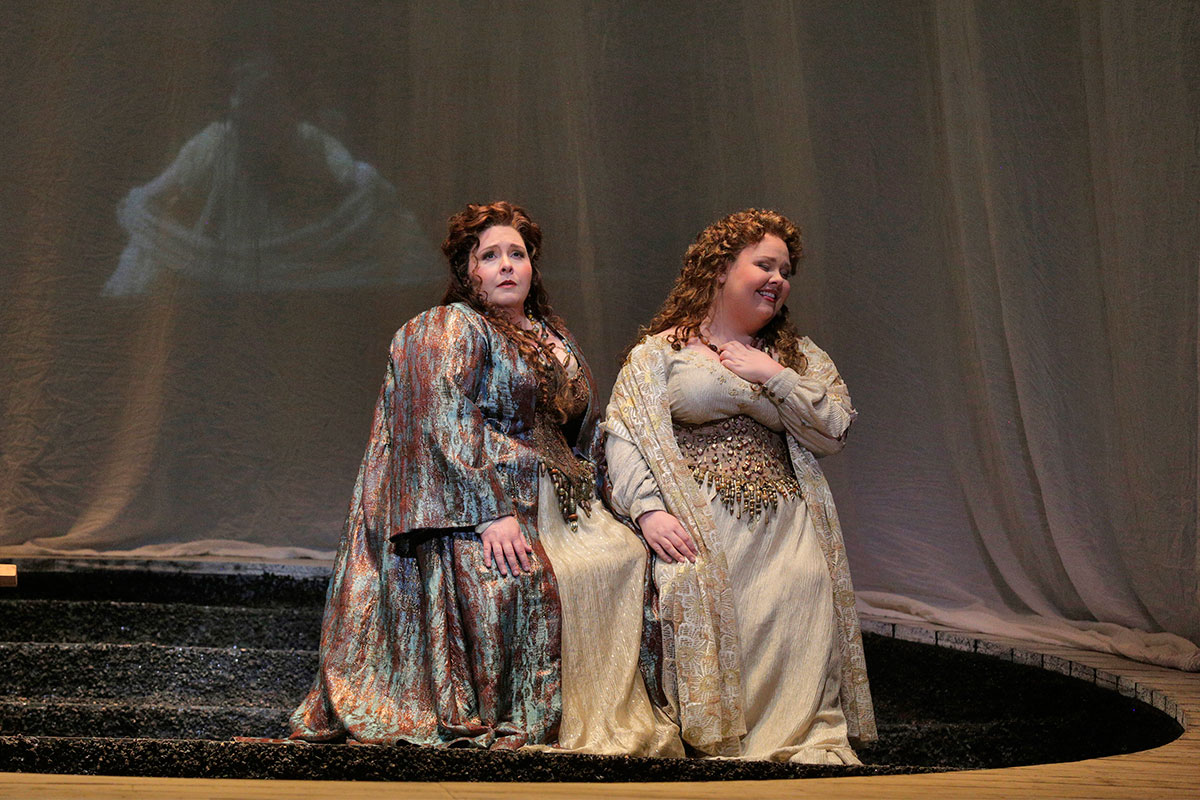 Norma
LA Opera
Dorothy Chandler Pavilion
135 N. Grand Ave.,
Los Angeles CA 90012
Remaining performance dates and times:
Saturday December 5, 2015 7:30 PM
Thursday December 10, 2015 7:30 PM
Sunday December 13, 2015 02:00 PM
RUNNING TIME:
Two hours and 45 minutes, including one intermission.
Tickets: $20-$330.00
Box Office: (213) 972-8801
More information and tickets can be found here.