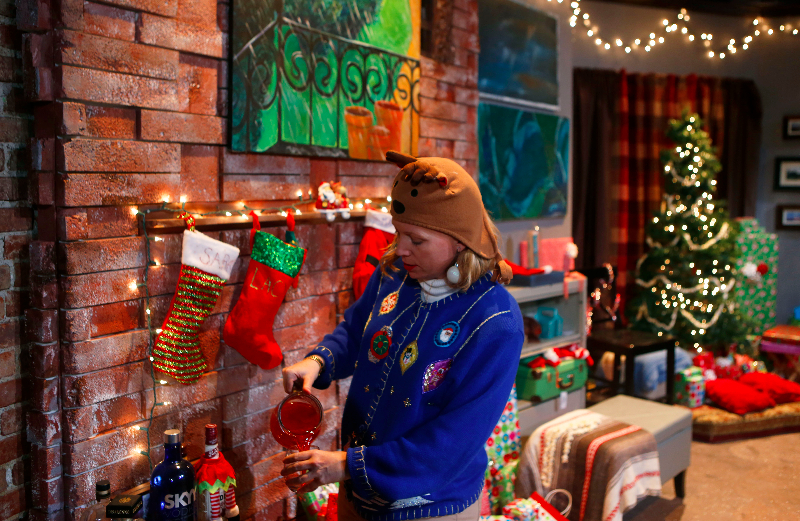 Marja-Lewis Ryan is taking a familiar approach with her storytelling in A Good Family. Once again, the playwright tackles a topical and emotionally charged subject and examines its affects on the family unit. Her previous play, One In the Chamber, focused on a family dealing with the aftermath of the accidental shooting of their 9-year-old son at the hands of his 10-year-old brother. This time the hot topic is campus rape.
We meet the Sutton Family as they gather to celebrate Christmas Eve. The family room of Sara and Matthew Sutton (Heidi Sulzman and John K. Linton) is festooned with a profusion of candy red and mistletoe green Christmas decorations, stockings and gaily wrapped presents. Mom is dressed in a loud christmas sweater and a reindeer beanie, humming carols as she sets out dyed red and green snacks for the rest of the family. It's clearly her favorite holiday of the year.
Sara's attorney sister Kerry (a feisty, profane Lindsey Haun), teenage daughter Lacy (Kelli Anderson) and their nineteen-year-old son Jack (Alec Frasier) are all enjoying the holiday together until Jack receives word that he has been summoned to the police station. He is being charged with rape.
After his stuttering announcement, the family is thrown into a crisis. Although she's not a criminal lawyer, Kerry makes a few calls to pull a few strings and then tries to coax Jack through the statement he is about to give during his booking. Each of the characters deals with the intensity and stress of the situation in their own way, adding to the commotion. There's a whole lot of unhelpful yet expected recriminations along the lines of "You should have—" and "Why didn't you—?" Gradually we learn that two stages of investigations had transpired, but that Jack believed the whole episode has blown over.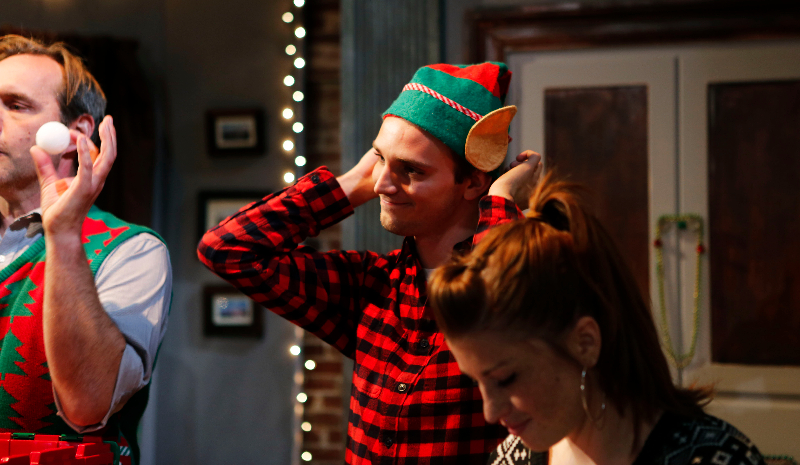 Another factor that adds to the sense of familiarity is the return of three of the actors from One In The Chamber, all appearing in similar roles of mother, son and teenaged daughter.
Heidi Sulzman returns as the matriarch — ferociously protective of her son and defensive; flat out refusing to believe her son actually may be responsible for a heinous crime. We see she only wants to believe the best of her son and the worst of his accuser, something that does not sit that well with daughter Lacy. A highlight of the play is her impassioned speech, "Where were the parents in all this?" regarding her own culpability. Lindsey Haun is good as Aunt Kerry, firmly yet cautiously taking charge of the situation. All the actors give fantastic performances in this emotionally challenging piece.
As its title indicates, A Good Family is not an 'issue' play about the prevalence of rape occurring on American campuses. Rather, it explores a family's attempt to grapple with the accusation.
Ryan seems determined not to take a stand on the topics she uses as a springboard for her drama, yet she does sprinkle this play with a few clues that may nudge audiences to form their own theories. Throughout, the son vehemently denies any wrongdoing. Yet he mentions that he and his friend (the accused perpetrators) had been drinking and that the young woman was "wasted." He seems perplexed that she would persist in leveling charges of rape against them when "she never said 'no'" but he fails to address the absence of consent when someone is clearly too drunk to fully cope with the situation. It's tricky terrain that Ryan negotiates gingerly, never losing sight of her goal to tackle tough subject matter and possibly instigate post-show discussion.
Short and tense, Ryan's one-act play runs a mere 62 minutes (not 75 minutes, as advertised) and frankly, it feels unfinished. There's plenty of scope for this gripping story to be explored further, perhaps with the obvious next scene of the police charging the teenager. Flash backs to an interrogation scene would have been welcome in fleshing out the facts of the story, too. At the very least, a scene with the family suffering the ramifications of their son being charged with this crime is sorely needed.
Nevertheless, this is an exciting and emotional play that engages us with an important theme.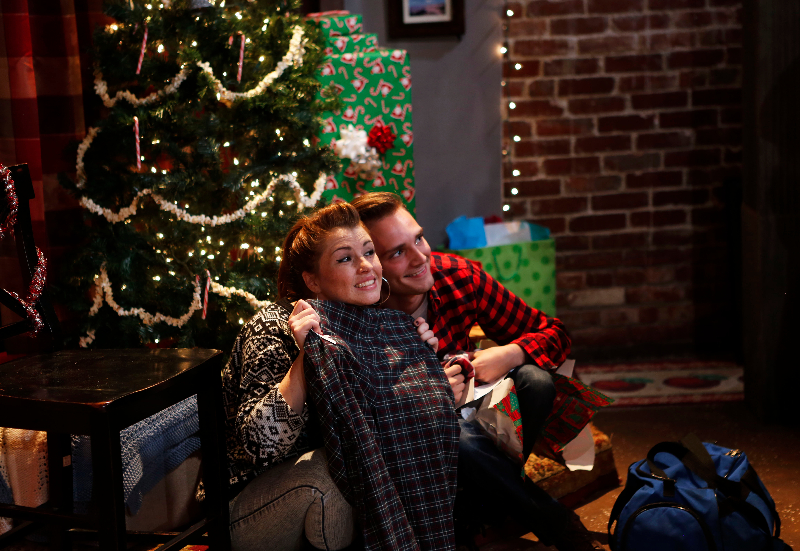 A Good Family by Marja-Lewis Ryan.
The Lounge Theater
6201 Santa Monica Blvd.,
Los Angeles, CA 90038
Runs:  Nov 28  – December 20, 2015
Thursdays at 8 p.m. December 3, 10, 17
Fridays at 8 p.m. : December 4, 11, 18
Saturdays at 8 p.m. : November 28; December 5, 12, 19
Sundays at 2 p.m. & 7 p.m. : November 29; December 6, 13, 20
Purchase tickets online or call toll-free (800) 838-3006.
TICKET PRICES:
   General Admission: $25
Preview: $15
Running time:  62 minutes, no intermission.