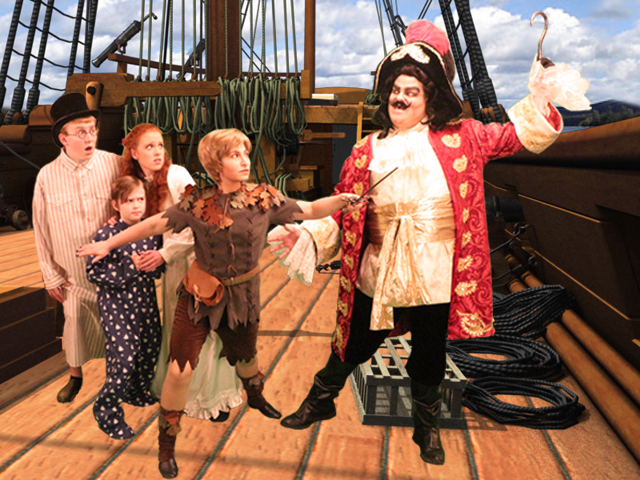 Magic is literally in the air at the Woodlawn this holiday season with its terrific production of the beloved Broadway musical.
The most well-known musical version of J. M. Barrie's magical character, Peter Pan, originally opened on Broadway in October 1954, starring Mary Martin as the boy who wouldn't grow up, with songs composed by Mark Charlap and Jule Styne with lyrics by Carolyn Leigh, Betty Comden, and Adolph Green. Martin's performance earned her a Tony Award, as did the performance of Cyril Ritchard, who played Captain Hook.
Peter Pan was presented to television audiences in 1955 as the first full-length Broadway show to be broadcast in color, and the repeats of the 1960 version, with the same cast, became a holiday tradition in the memories of baby boomers everywhere.
It's entirely appropriate, then, for the Woodlawn Theatre to bring this timeless musical to its stage for the Christmas season — and this production is a real gift.
Director Greg Hinojosa clearly understands that the formula doesn't need to be messed with, and he presents an on-point version of the show containing all the classic elements that audiences anticipate, with all the charm and knowing humor intact.
Technically, the production literally soars, as it's well-supported by top-notch tech specs throughout. Kurt Wehner provides his usual professional set design; Rose Kennedy nails the costuming, and Christopher Rodriguez's choreography is a delight — as is Morgan Clyde's fight choreography. An additional highlight is Josh Pepper's nine-piece orchestra, which sounds full and rich.
As Peter, Carlye Gossen has a couple of really big pointed-toed shoes to fill — and she delivers. She's got terrific pipes and she adeptly handles the athleticism essential for the character. Kate Ragan is a splendid match as the lovestruck Wendy, and Rainya Mosher registers well as Mrs. Darling. Samantha Vasquez is a slyly comedic Tiger Lily, and real-life brothers Chase and Zac Taylor fulfill the roles of Wendy's brothers to a tee.
And, in keeping with the tradition of the same actor portraying both the overbearing Mr. Darling and the preening Captain Hook (paging Sigmund Freud), Joshua Goldberg is clearly having a ball, and his enjoyment is infectious. The rest of the company provides great comedic and musical support.
This is a terrific show for kids of all ages and it makes for a wonderful holiday treat.
Peter Pan plays November 27 to December 23  every Friday and Saturday at 7:30 p.m. and Sunday at 3 p.m.
There will be additional performances at 7:30 p.m. on December 17, 20, 21, 22 and 23.
Tickets are on sale now online or by calling the box office at 210-267-8388.