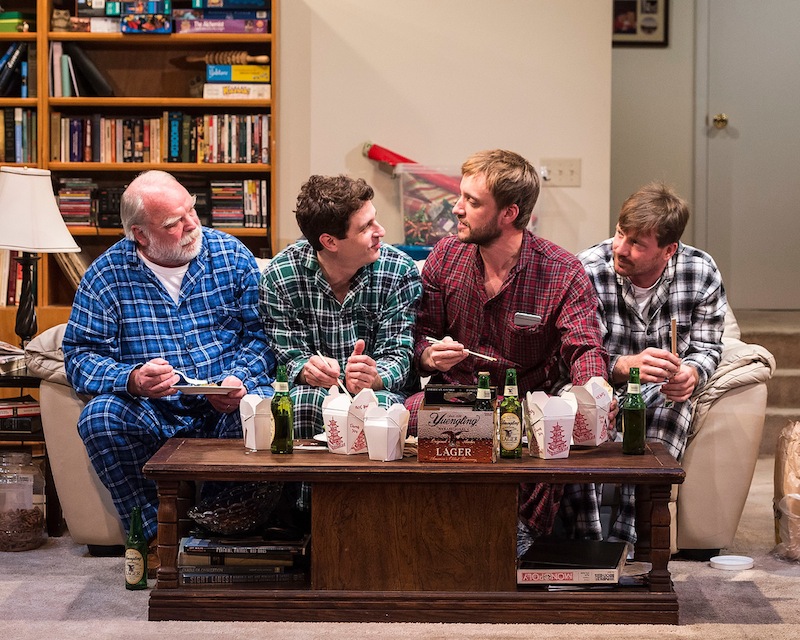 Three adult brothers gather at their Dad's home for Christmas and goof around. When the youngest brother Drew (Frank Boyd) is overcome with emotion during their Christmas Eve takeout Chinese meal, the others struggle to understand what's bothering him.
Invariably, Dad (Richard Riehle), as well as elder brothers Matt (Brian Slaten) and Jake (Gary Wilmes), project their own nervous insecurities onto him. No understanding, nor remedy, is achieved by the play's conclusion.
Written and directed by Young Jean Lee, Straight White Men is an exercise in inanity. It's as if the (usually experimental) playwright asked herself the question, "What's the last thing the world needs? A play about a bunch of middle-class straight white men!" And then proceeded to bore us with one.
Plaid pajamas, roughhousing, shared jokes, reminiscing along the lines of "Remember when you…" — all the predicable elements are there for this by-the-numbers family Christmas dramedy.
A couple of times in the play, the dull, talky routine is broken when the guys collectively break into some bizarre 'dance' sequence. The first time it's a racist KKK chant, complete with goosetepping and stiff arm salutes. On the other occasion, the guys launch into series of unskilled dance moves, such as energetic krumping and break dancing. It's supposed to provide comic relief. It fails to do so.
Regardless of the playwright's implicit seditious intentions, there is no relief from this tedious and pointless 90-minute, one-act play.
Avoid at all costs.
Straight White Men by Young Jean Lee.
Kirk Douglas Theatre
9820 Washington Blvd.
Culver City
Performances:
Tues-Fri., 8 p.m.; Sat., 2 & 8 p.m.; Sun., 1 & 6:30 p.m.; no performance Mondays.
Runs through December 20, 2015.
Box office:
(213) 628-2772 or online here.
Running time: one hour, 30 minutes.