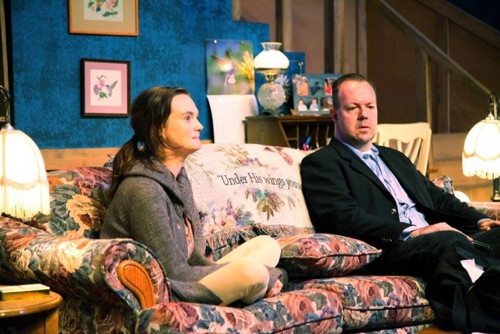 ::STOP PRESS::

Electric Footlights and Moving Arts Theater extend the West Coast run of The Kill-Or-Dies

The play continues at the McCadden Place Theater through January 17, 2016
Here is my latest theater review for the critical website Stage Raw.
We recommend this fine play.
Happy reading!
The Kill-or-Dies.
Playwright Meghan Brown drops her audience into the swirling midst of her drama right from the start.
A woman enters a chintzy living room, startling the other occupant asleep on the couch. The two women immediately launch into the kind of messy rapid-fire argument familiar to siblings or long-time friends. But are they sisters?
Part of Brown's genius is to surrender bits of information gradually. You might not know what's going on right away, but eventually you see the pieces fall into place. It's best not to ask too many questions and just sit back and enjoy the thrill ride.
These women could not be more different. Chelsea (Karina Wolfe) is a mousy shut-in while Maggie (Megan Kathleen Duffy) is stylish, confident and domineering. She's also a skillful liar and manipulative sociopath.
You can read the rest of this review here.
You can also watch my pithy "Exit Review" vlog here.
Electric Footlights in association with Moving Arts presents
The Kill-or-Dies by Meghan Brown.
at the McCadden Place Theatre
1157 N McCadden Place
Los Angeles, CA 90038
Performances:
Fridays and Saturdays at 8PM
Sundays at 3PM
(No show November 27)
Runs through December 13, 2015.
Running time is 85 minutes, no intermission.
Tickets:    available online here.
Prices:      $20.00