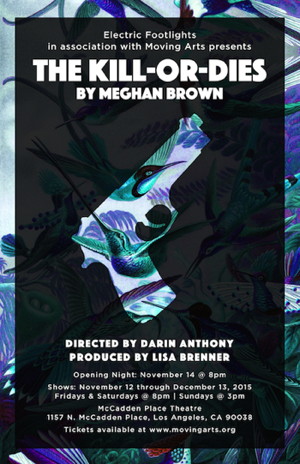 Dear #LAThtr fans!
Pauline Adamek from ArtsBeatLA presents Exit Reviews, a series of 'vlogs' or brief video reviews, giving her first impressions of the show.
Here's the newest Exit Review for the play The Kill-or-Dies, which opened last Saturday night, November 14th, and runs until December 13, 2015 at the McCadden Place Theatre in Hollywood.
Written review coming soon.
INFO:
Electric Footlights in association with Moving Arts presents
The Kill-or-Dies by Meghan Brown.
at the McCadden Place Theatre
1157 N McCadden Place
Los Angeles, CA 90038
Performances:
Fridays and Saturdays at 8PM
Sundays at 3PM
(No show November 27)
Runs through December 13, 2015.
Running time is 85 minutes, no intermission.
Tickets:    available online here.
Prices:      $20.00
Video info:

Video produced, filmed, edited and hosted by Pauline Adamek.

An ArtsBeatLA production.