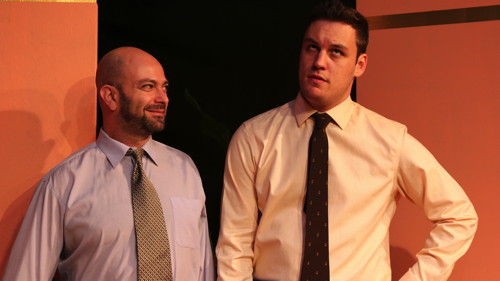 Gentle readers and #LAThtr aficionadi,
Here follows my newest review for the critical website Stage Raw — which contains current arts and theater coverage from our intrepid team of journalists & critics.
Happy reading!
Timeshare.
Steve B. Green's black comedy Timeshare is set in the cutthroat world of high-pressure sales, and while some thematic similarities to Glengarry Glen Ross can be seen, don't expect any David Mamet-style pyrotechnics.
Green's play – which he both directed and produced – not only feels underworked and far too close to a rough first draft, it also is in desperate need of an independent director's focus and guiding hand. Performances from the large cast of 14 players wildly vary from naturalistic and well-honed to hammy and overdone.
What Green does do, with varying success, is mine the dark comic potential of his setting. The story centers on a team of (mostly) loser hustlers who desperately compete with each other as they try to convince couples to purchase holiday timeshares. Problem is, most of their potential customers are not interested in the spiel, but simply there for the free flat screen TV.
The playwright fills most of Act One with amusing character studies before his story takes an abrupt turn into more dramatic territory. Pretty soon, it's the salespeople rather than the hapless customers who are the ones being held hostage, and they have to rely on their slick sales patter to talk their way out of danger.
You can read the rest of this review here.
Timeshare
Written, directed and produced by Steve B. Green. Co-produced by Rochelle Perry.
5312 Laurel Canyon Blvd.,
Valley Village, CA 91607.
Performances:
Fri. & Sat. at 8:00, Sun. at 2:00.
Runs through December 13, 2015.
ADMISSION: $18.
RESERVATIONS: (818) 508-3003.
ONLINE TICKETING here.