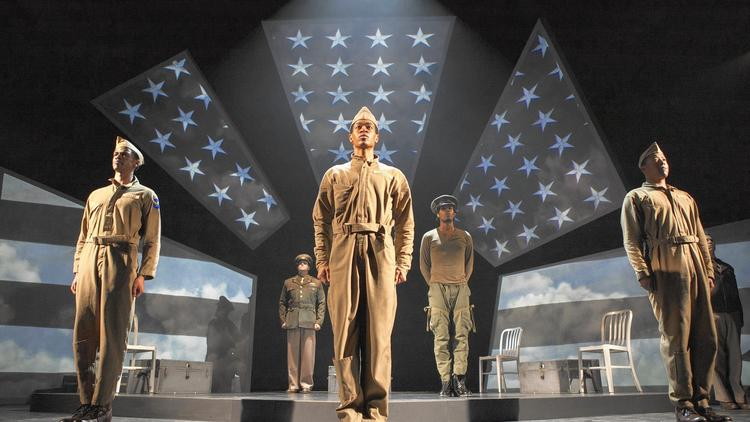 Exhilarating and profoundly emotional, Fly is a hugely entertaining and uplifting stage play about real-life heroes and determined pioneers who defied opposition and broke an important race barrier. In Trey Ellis and Ricardo Khan's World War II-set play we meet a group of men who excelled in their chosen career against all odds. These men demonstrated ferocious valor as well as a willingness to serve and die for their country, in spite of being treated like second-class citizens at home in the still-segregated regions of the US.
Newly opened at the Pasadena Playhouse, this glorious stage play was inspired by the heroism of the Tuskegee Airmen. A legendary group, the Tuskegee Airmen refers to a group of African-American military pilots (fighter and bomber) who fought in World War II. The name also applies to the support staff that included navigators, bombardiers, mechanics, instructors, crew chiefs, nurses, cooks and other personnel for the pilots.
Backstory:
Before the Tuskegee Airmen, no African American had been permitted to become a U.S. military pilot.

Almost 1,000 men made history when they joined the Tuskegee Airmen. Like many who enlisted in the military during World War II, they signed up out of a fervent desire to serve their country. As black men, they did so even as they faced discrimination and segregation back home.

In all, 992 pilots were trained in Tuskegee from 1941 to 1946. 355 were deployed overseas, and 84 lost their lives in accidents or combat.
Playwrights Trey Ellis and Ricardo Khan (Khan also directs) take a populist approach with the theatrical telling of this important story from US history, presenting rounded and likable characters with a credible assortment of personality traits. So when we applaud the achievements of the characters' onstage, it feels as if we are also applauding the real men these characters represent.
The story charts the struggles of – and challenges faced by – four young men who sign up and enter the Tuskegee training program. They are Chet (Desmond Newson) from Harlem; W. W. (Brooks Brantly) from Chicago; Oscar (Terrell Wheeler) from Iowa and J. Allen (Damian Thompson) from the West Indies. The entire cast give terrific and well-delineated performances, including supporting players Anthony J. Goes, Ross Cowan, Brandon Nagle and Omar Edwards.
The staging is extremely well-conceived, with an array of video screens fanning out upstage. Not only do they resemble the windows of a fighter plane as viewed from the cockpit, they also provide an ever-changing backdrop, adding a powerful and visually stunning element to the show. The artful video projection was created by Clint Allen. So, when we see the pilots taking off, the clouds behind them give us a vivid sense of also being airborne. When the men are doing battle in the skies, the terror and excitement is amplified by the projection. It's magnificent!
There's another really superb element to this production — the character known as the "Tap Griot," as performed by Omar Edwards. Throughout the show Edwards haunts the scenes — present, yet residing in a shadowy netherworld. He frequently pulls some astonishing dance moves and feats of excellence in his tap shoes. Edwards not only provides a percussive commentary but — more importantly — delivers an emotional undercurrent, expressed through tap dance.
Note: A griot is "a member of a class of traveling poets, musicians, and storytellers who maintain a tradition of oral history in parts of West Africa."
Edwards is not the only character onstage busting out the dance moves, though. A highlight of the one-act show is when all the men celebrate a victory with a tightly choreographed and exuberant dance. It's stirring stuff.
Do not miss this marvelous and theatrical show. Fly truly soars.
In honor of Black History Month, The Pasadena Playhouse and Crossroads Theatre Company's production of Fly dramatizes the historic contributions made by the Tuskegee Airmen to the desegregation of the American military and the furthering of civil rights.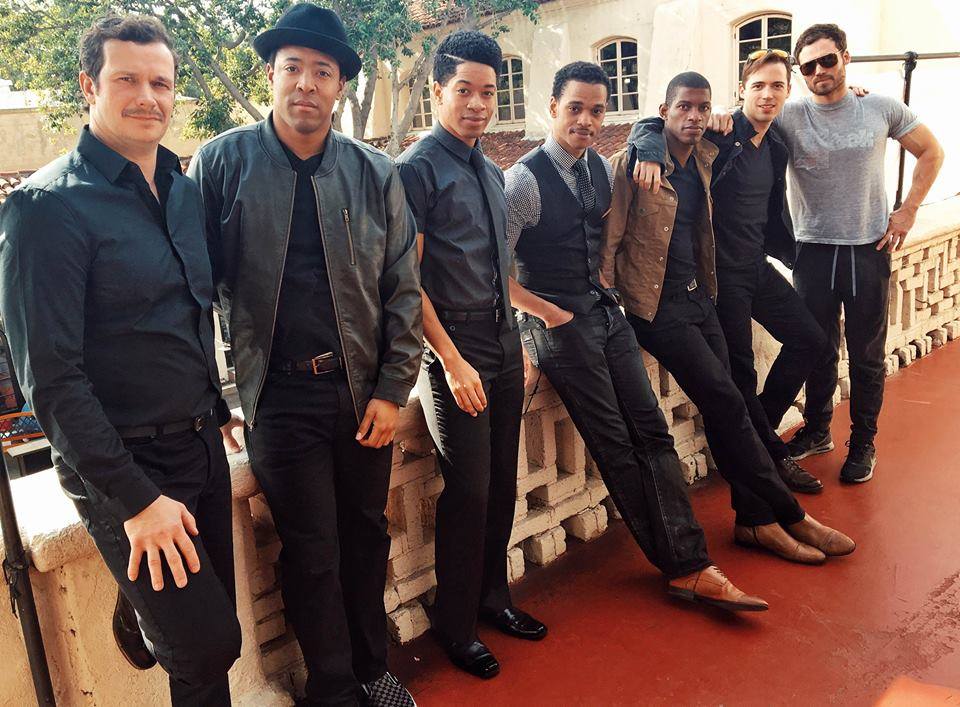 Fly
The Pasadena Playhouse
39 South El Molino Avenue,
Pasadena, CA 91101.
Run until Sunday, February 21, 2016.
Performances:
Tuesday through Friday evenings at 8:00 p.m.;
Saturday at 4:00 p.m. and 8:00 p.m.;
Sunday at 2:00 p.m. and 7:00 p.m.
(no performance Sunday, February 7)
Tickets:
$25.00 to $77.00 plus premium seating at $125.00
Box Office:
Tickets are available by calling The Pasadena Playhouse at 626-356-7529 or by visiting The Pasadena Playhouse Box Office, Tuesday–Sunday from 1:00 p.m. until 6:00 p.m. during non-performance dates. On performance dates the Box Office is open Tuesday–Saturday from 1:00 p.m.
For more information, visit the theater's official site.
Running time:  90 minutes, no intermission.
TALKBACK TUESDAYS at The Playhouse is a post-show series in which a panel of community experts and esteemed guests discuss and explore selected themes of the show with the audience.
TALKBACK TUESDAYS at The Playhouse DATES:
February 9 and 16, 2016. 
POST-SHOW at The Playhouse: A series of post-show talk-backs immediately following a performance on the Mainstage including members of the cast and crew, as well as any creative or design team members who are present. POST-SHOW at The Playhouse acts as a question & answer session between the audience and the participating members of the production.
POST-SHOW at The Playhouse DATES:
Sunday, February 14, 2016 following the 2:00 p.m. performance.
Thursday, February 18, 2016 following the 8:00 p.m. performance, in partnership with community partner Antelope Valley College.
Sunday, February 21, 2016 following the 7:00 p.m. performance, in partnership with community partner Antelope Valley College.