BritWeek's Tenth Anniversary — a two-week celebration of all things British — kicked off last Saturday night at the beautiful Wallis Annenberg Goldsmith Theater in Beverly Hills.
Numerous luminaries of stage and screen performed in a star–studded evening of Shakespeare — in celebration of Shakespeare's 400th anniversary — all hosted by BritWeek at the Wallis. The theme of the night was "Murder, Lust & Madness."
BritWeek10 is the largest and most visible celebration of the creativity and innovation between the UK and the US. A showcase of over 50 events, the 'week' is really a fortnight and runs from April 23 – May 7th, 2016. Check www.britweek.org for all events and listings. May 1st is the ticketed BritWeek Anniversary Gala at the Fairmont Miramar Hotel, Santa Monica. Tickets are for sale online here at their official site: britweek.org.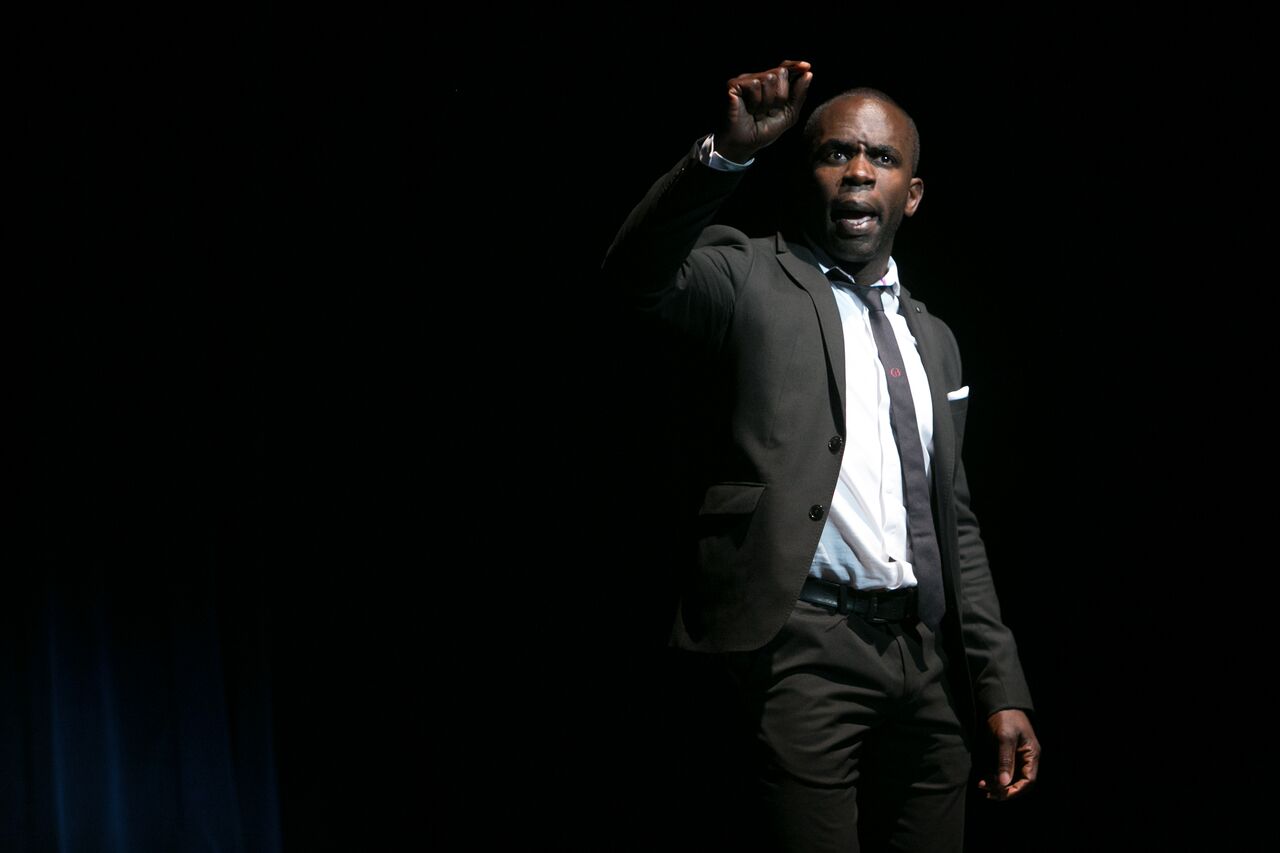 The play was "the thing" last Saturday night, as the BritWeek audience was treated to some of the most significant scenes, soliloquies and speeches from many of Shakespeare's famous plays. Michael York delivered the most famous speech from Richard III; Harry Hamlin inhabited Macbeth opposite a chilling performance by Joan Van Ark as Lady Macbeth. Stacy Keach delighted audiences with a scene from As You Like It, while the Impro Theatre had everyone in stitches with their hilarious 'Pyramus & Thisbe' scene from A Midsummer Night's Dream. One of the highlights of the evening was a pas de deux from the ballet Romeo and Juliet, performed exquisitely by dancers Jim Nowakowski and Isabella Seo. Also of note was an intense performance by Jimmy Akingbola as the lead from Titus Andronicus.
Dancers, singers and actors performing included:  Jim Nowakowski, Isabella Seo, Sherry Williams, Jimmy Akingbola, Ashley Bell, Eric Braeden, Adan Canto, Jane Carr, Suzan Crowley, Karen David, Neil Dickson, Joely Fisher, Judy Geeson, Michele Greene, Ioan Gruffudd, Randy Guiaya, Harry Hamlin, Lexie Helgerson, Isabella Hofmann, Stacy Keach, Jen Lee, Jack Lowe, Timothy Omundson, Victoria Platt, Joe Spano, Joan Van Ark, Sherry Williams, Robert Wisdom and Michael York. The cast were joined by members of the LA Impro Theatre.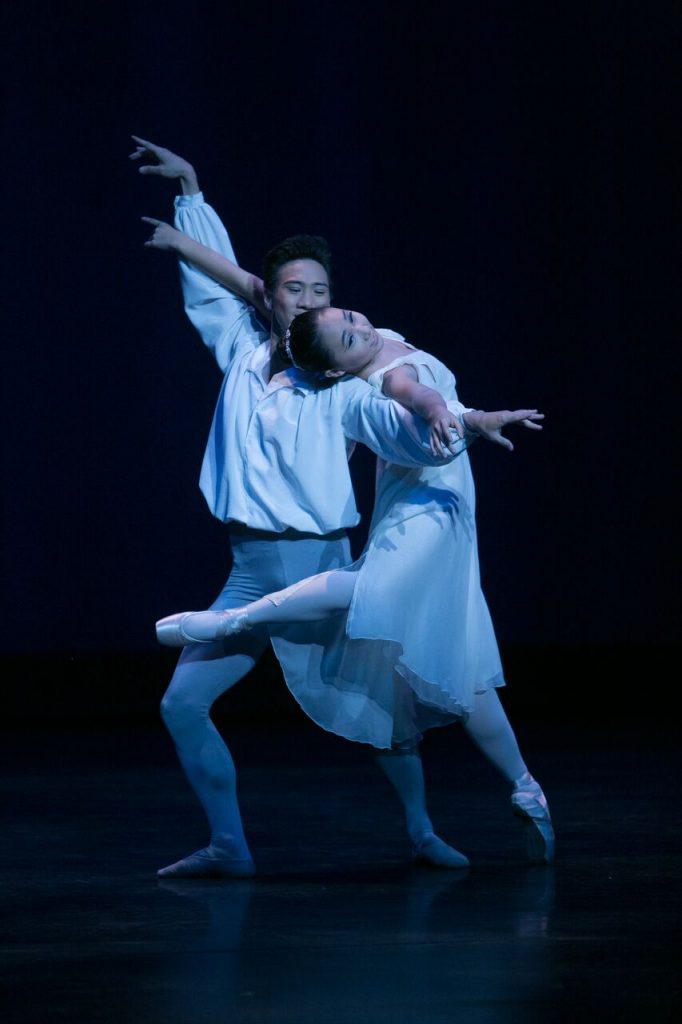 From the press notes:
Shakespearean scholar, Louis Fantasia, who directed the one night only production says, "In the 400 years since Shakespeare's death, I doubt that there has been a better cast anywhere on the Globe than what we had on Saturday night. Great classical acting, mixed with Hollywood star appeal, plus some music and dance — who could ask for anything more!"
Amongst those attending the performance and after party with the actors were: Nigel Lythgoe, Sharon Harroun and Bob Peirce, Mace Neufeld, Peter & Wendy Asher, Jo Frost, Lady Victoria Hervey, actress Celia Imrie, actress Lesley Nicol, new artistic director of the Wallis, Paul Crewes, Ross King, George Lazenby, Julien MacDonald, Mayor of Beverly Hills John Mirisch, and Bruno Tonioli.
~~~
There are plenty of exciting BritWeek events are still happening, daily through May 7, 2016.
Sunday May 1st is the ticketed BritWeek Anniversary Gala at the Fairmont Miramar Hotel, Santa Monica. Tickets are for sale online here at britweek.org.
During the gala event, you can enjoy live performance of British music of the past decade including artists such as Peter Asher, the American Idol singers, and So You Think You Can Dance dancing stars.
Imbibe custom-made and British-inspired cocktails, sample Scotch tastings and visit sumptuous food stations. A Royal dessert selection will also be on offer, as well as a guest appearance by Princess Diana's Royal Chef.
Cocktail Attire is advised.
Hotel valet (limited availability) or parking will be available in nearby public parking garages on 1235 2nd Street and 1136 4th Street.
Tickets:   $75.00
More information, including ticket purchase here.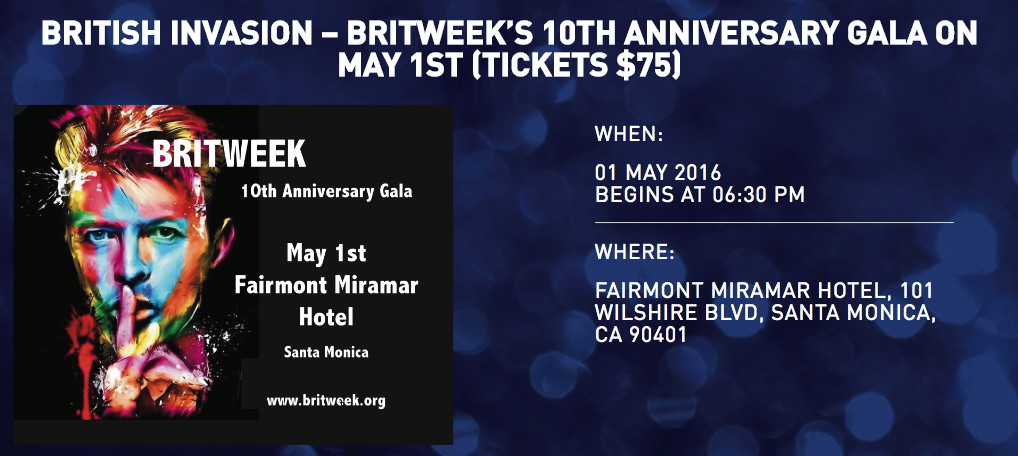 BritWeek10 showcases over 50 events, and runs from April 23 – May 7th, 2016. Check www.britweek.org for listings.
About BritWeek:

BritWeek is a non–profit organization, started in Los Angeles in 2007 by Nigel Lythgoe and the then Consul General Bob Peirce, to highlight the creative relationship between the United Kingdom and California. BritWeek's mission is to create greater awareness of the many ways in which Britain and the US work closely together, and further build this relationship to advance business, the arts, and philanthropy in both of these thriving regions of the world. Every Spring, BritWeek hosts a program of events in Greater Los Angeles that promotes British creativity, innovation and excellence across multiple categories including, film & television, music, art, fashion, design, retail, sport, philanthropy, business, and more.