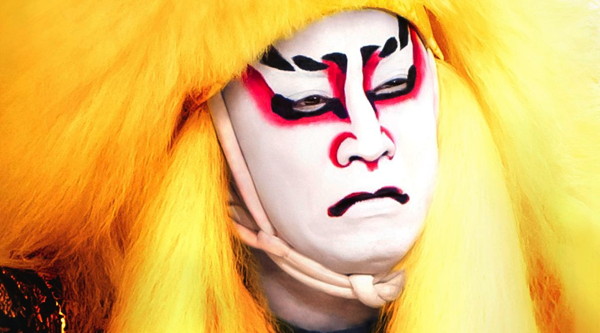 Dazzling visual effects, superb performances, lavish costuming and compelling storytelling are just some of the magnificent elements of a new Kabuki production — Kabuki Lion Shi-Shi-O: The Adventures of the Mythical Lion — that opened this week at the David Copperfield Theatre at MGM Grand Hotel in Vegas.
This is a unique and spectacular theatrical experience that is not to be missed!
Only three performances remain — May 5th, 6th and 7th. See full information below.
REVIEW:
Kabuki Lion Shi-Shi-O: The Adventures of the Mythical Lion is a clever blend of traditional Kabuki theater formalities — stylized gestures, exaggerated facial expressions and vocal mannerisms, comedy, extreme makeup, elaborate costumes and wigs — with Vegas flash, and the result is a highly entertaining show that is perfect for all ages and cultures.
The scenic design for the show is minimal on sets, but makes good use of the upstage wall, cunningly revealed scrims and the side walls of the intimate David Copperfield Theatre as vast projection 'screens' for the colorful and vivid projected animation that forms an important part of the show's storytelling.
The play regales us with the myth of three lions — a father and his two sons — who adopt human form. Naturally, drama, intrigue and betrayal ensue.
Lions, dragons, Samurai, bandits, damsels and princesses, inn-keepers — there is a full cast of typical Kabuki characters throughout this wonderful show.
Incidentally, the 'Shi-Shi' are a mythical species of lion originating in Chinese folklore and then imported into Japanese folklore. The 'shi-shi' are well known for their protective nature and are often utilized as a guardian for a child.
The show is mostly in Japanese language, but occasionally a Narrator steps out to fill us in on the story with English language explanation. The show then resumes the dialogue and action in Japanese — but because the story is so visual, even a child will be able to follow along with great ease.
Live music and song is provided by an orchestra of traditional instruments, such a wood blocks, drums as well as a trio of performers who take to the stage from time to time — a singer plus two musicians playing shamisen.
We also see elaborate dance sequences, notable a kimono fan dance, and this is conducted by the female characters, who are all played by men (see "onnagata" below). The performers playing the women are so feminine and convincing in their dainty gestures.
We also see a comedy duo who provide light relief and some exciting sword battles and deft acrobatics. There's even a full-on waterfall that douses the characters during a ferocious battle.
This show has virtually every element you could think of to create pure entertainment.
Kabuki Lion, a highlight of Japan KABUKI Festival in Las Vegas 2016, will have six performances only, May 3 – 7, 2016.  Tickets start at $55.05 (not including tax and administrative fees); VIP and Premium seats are also available. To purchase tickets, visit the official website here.
Panasonic presents Wonder KABUKI Spectacle
Kabuki Lion Shi-Shi-O: The Adventures of the Mythical Lion. 
David Copperfield Theatre at MGM Grand
3799 S. Las Vegas Blvd,
Las Vegas, NV 89109
Performances:         
Tuesday, May 3 – Saturday, May 7, 2016
Thursday May 5,  Friday May 6 at 8 p.m.
Saturday, May 7 at 7 p.m. and 10 p.m.
Tickets:            
Tickets range from $69.95 (tax and admin fees included) to $217.10 & $162.60 for VIP and Premium seats, respectively.
~~~
Previously posted:
A new Kabuki play has been created expressly for the David Copperfield Theatre at MGM Grand, entitled Kabuki Lion Shi-Shi-O: The Adventures of the Mythical Lion.
Panasonic and Shochiku will be presenting Japan KABUKI Festival in Las Vegas 2016 this coming May in Las Vegas, Nevada in succession to the performance that took place in the Fountains of Bellagio in August 2015. The event will be supported once again by MGM Resorts International. A special Kabuki performance "Panasonic presents Wonder KABUKI Spectacle at MGM Grand KABUKI LION SHI-SHI-O: The Adventures of the Mythical Lion" will take place in a theater in Las Vegas, along with yet another exciting fountain show.
Backstory:

In August 2015, renowned Kabuki actor, Ichikawa Somegoro starred in an original fountain show that integrated Kabuki, the waterworks of the choreographed fountains, and video projection created by Japan's leading digital artists — the event was deemed an enormous success.

Now, for May 2016, an original new Kabuki play has been created specially for the David Copperfield Theater in MGM Grand, featuring leading man Ichikawa Somegoro, to be presented in collaboration with technological artwork. Also at the Fountains of Bellagio, in succession to last year's critically acclaimed performance, a new version incorporating the fountain choreography with video projection will take place. This visual project is sponsored by Panasonic Corporation and several other organizations. Furthermore, with the technical cooperation of Nippon Telegraph and Telephone Corporation, Shochiku Co, Ltd. and the company will research and explore together high tech entertainment. The spatial design and video projection will be created by internationally reknowned media artist groups from Japan: the performance in the theater will be in collaboration with NAKED Inc., and the fountain show will be in continuation to last year's collaboration, teamLab Inc.

Shochiku presents this unique collaboration between cutting edge technology and traditional Kabuki theater of "Japan KABUKI Festival in Las Vegas 2016," in a city abundant in exciting entertainment and where people from all over the world visit.

Kabuki Lion features renowned Kabuki actor Ichikawa Somegoro, and integrates new media art with spectacular state of the art projections. The story is based on the legend of a father lion that throws his child into a ravine to test the young lion's strength through hardship.
Somegoro said, "Kabuki has a history of more than 400 years. It has continued to evolve to this day and maintains a presence as a major form of entertainment in Japan. The theme in the forthcoming festival is 'Sei-En (Fantastic Shimmer)' and we will present a fantastic show of scintillating, super entertainment."
The show incorporates the signature Kabuki elements that have astonished and delighted audiences for centuries: elegant dances, the unique onnagata female role portrayed by a male actor, acrobatic fight scenes, the lion's robust and spirited movements, lavish costumes and makeup, and many other treasures of this traditional Japanese theatrical art.
The story is told against a backdrop of state of the art video projections created by leading Japanese creative media artists.
The story of Kabuki Lion takes place at Mount Seiryo — an ethereal Buddhist location where the gods live.  Shi-Shi-O serves Monju, the Buddhist deity of spiritual wisdom. Shi-Shi-O's children will be celebrating their coming of age soon but before this rite of passage, he sends them on a mission. They must defeat a mythical creature that is said to be the dark-side of the human heart, and to return the treasured sword Shi-Shi-Maru that was stolen from Monju. The brave brothers descend from the stone bridge to the netherworld.  They disguise themselves as humans and courageously fight the creature, and upon their victory, return to Mount Seiryo. Monju validates the young brother lions' coming of age and the shishi-lions celebrate gloriously.
Visit the official websites for more information:
English — http://www.kabuki-bito.jp/japankabuki/en/
Japanese — http://www.kabuki-bito.jp/japankabuki/
MGM Grand website/video link: https://www.mgmgrand.com/en/entertainment/kabuki-lion-shi-shi-o.html#/Video
About Japan KABUKI Festival in Las Vegas 2016:
As part of the festival, Panasonic presents "Water Screen Digital Show by Shochiku x teamLab" performs at the Fountains of Bellagio at the Bellagio Hotel from April 29 to May 7, with four shows daily – 8:00 pm, 9:00 pm, 10:00 pm and 11:00 pm.  The show is free to the public.
The first part is a story told in a beautiful and dynamic presentation, which employs hologram images, includes scenes from the famous battle of samurais projected onto a screen of water, splashing up from the famous fountain in front of The Bellagio.
In Japan, Children's Day is in May, and the carp is a symbol of a child's growth and success in life.  A collaborative fishing game can be played during the second part of the show in which participants download a game app onto their smart phones and use it like a fishing reel, teaming up with other participants, to catch a variety of fishes.  It will be fun just to watch the show, but also participate by catching a carp, and bring home a piece of Japanese culture.  The game app is available soon on iTunes and Google Play, created by teamLab Inc.
The producers are grateful for the support of the Consulate-General of Japan in San Francisco, US Japanese government institutions and organizations related to international cooperation.  They would like to introduce Japan and Japan's traditional culture and the latest technology to the world by working hand in hand with various organizations and companies that have provided support and cooperation for this performance and for the producers' on-going efforts.
Sponsors:

Presented & Produced by SHOCHIKU CO., LTD.

Supported by Consulate-General of Japan in San Francisco

JETRO: Japan External Trade Organization

Japan Foundation, Los Angeles

JNTO: Japan National Tourism Organization

JCCNC: Japanese Chamber of Commerce of Northern California

JLOP: Japan Localization and Promotion

With the special support and technical cooperation of:

PANASONIC CORPORATION

With the technical cooperation of:

NIPPON TELEGRAPH AND TELEPHONE CORPORATION

With the support of:

D.A.G Inc.

HAKKAISAN BREWERY CO., LTD.

SECOM CO., LTD.

SEIKO WATCH CORPORATION

Spatial Creation: NAKED Inc. (Kabuki Theatrical Performance)

Video Art: teamLab Inc. (Water Screen Digital Show)

In cooperation with:

MGM RESORTS INTERNATIONAL
ABOUT KABUKI:
Kabuki is a traditional Japanese form of theater with roots tracing back to the beginning of the 17th century. It is recognized as one of Japan's three major classical theater styles, along with Noh and Bunraku.
Kabuki is an art form rich in showmanship. It involves elaborately designed costumes, eye-catching make-up, outlandish wigs, and arguably most importantly, the exaggerated actions performed by the actors. The highly-stylized movements serve to convey meaning to the audience; this is especially important since an old-fashioned form of Japanese is typically used, which is difficult even for Japanese people to fully understand.
The unique design of the kabuki theater allows the use of dynamic stage sets utilizing revolving platforms and lifts for prompt changing of a scene or trapdoors for appearance/disappearance of actors.
Another specialty of the kabuki stage is an extended stage (hanacmichi) that leads through the audience, allowing for a dramatic entrance or exit. Ambiance is aided with live music performed using traditional instruments. These elements combine to produce a visually stunning and captivating performance.
As there are no women performing on the Kabuki stage, specialists in female roles are one of the most remarkable features of this theatre. They are called onnagata. Many people, from Japan and from abroad, marvel at the skill of these actors who have trained for many years to perfect this art. But they are not just imitating real women. The onnagata is a special theatrical creation based on artistic convention that has developed over hundreds of years.