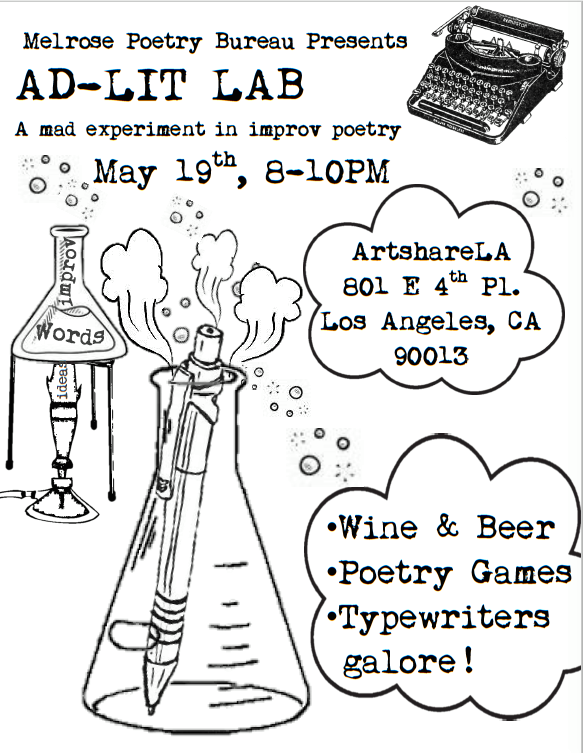 National Poetry Month (April) may have concluded, but Melrose Poetry Bureau (MPB) is just getting started!
To celebrate National Poetry Month, on April 21st, the typewriter poetry group took to the steps of City Hall to honor National "Carry-a-Poem-in-Your-Pocket" Day, writing poems for politicians and the public alike and attracting media attention from ABC7, Telemundo, and ArtsBeatLA.
Now, from the steps of City Hall to the streets of Los Angeles, MPB will continue to flood the city with bite-sized poems hidden in the most unexpected places.
The newly devised, #findMPB project is a scavenger hunt designed to keep words alive as well as connect people to the arts in their daily lives.
#findMPB will launch on May 19, 2016 with the first Ad lit Lab (https://www.facebook.com/events/984600364980252/); a monthly series of experimental and on-the-spot poetry at Art Share LA with drinks and interactive poetry games. 
From the creators of Quickdraw Poetry Cabaret, RENT Poet & Melrose Poetry Bureau bring you:

Ad lit Lab – a mad experiment in improv poetry!

Wake your mind and tickle your fancy with high-octane wordplay: cabaret-style tables, wine & beer, and more poetry games than you can shake a stick at.

The first half of the night features on-the-spot performances of new work by MPB, while the second half invites the audience to join in on the typewriters!

Featuring Poets: Terence Leclere, Ary Katz, Brian Sonia-Wallace, Linda Ravenswood, Nicelle Davis, Nayeli Adorador-Knudsen

"Everything is temporary. Art is the timebomb. Poetry is the shadow on the wall. None of these words will leave this building alive."
Keep an eye out for #findMPB's literary gems in your neighborhood.
Follow MelrosePoetryBureau – @MelrosePoetryBureau – and the specific hashtag – #findmpb – to keep up with this creative and poetic project.
~~~
Ad lit Lab
May 19, 2016
8-10PM
Art Share-LA
801 E 4th Place,
Los Angeles, California 90013
Tickets $10.00, available at the door.
More information here. https://www.facebook.com/events/984600364980252/