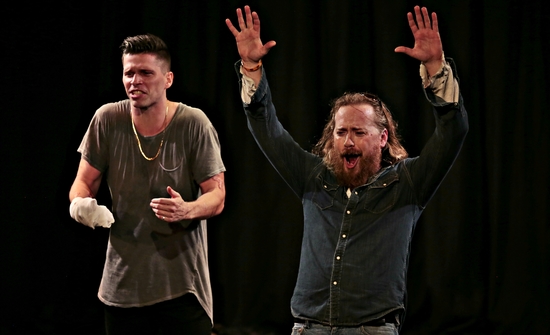 Edgy and intense, playwright and actor Ben Moroskis newest play, Tilt, is one of those thrill-ride dramas infused with black comedy.
Lights come up on an antsy redneck dude long hair, greasy beard wearing sunglasses and clutching a crowbar. This is Chester, played by Michael Shaw Fisher. Chester addresses us, giving a borderline incomprehensible monologue about the DMV and how its a great leveler. When Chesters buddy Boone (played by Ben Moroski) sneaks back into the room, Chester pounces and nearly kills him. The guy is seriously wound tight.
Turns out Chester was not addressing us, the audience, but a couple of hostages that Chester has murderous plans for. Boone suddenly finds himself in deep shit
Theres a lot of fast talking and lengthy explanations, as Boone tries his damnedest to talk his meathead friend out of cold blooded murder. The rapid-fire dialogue and ferocious pace of this one-hour show makes it rolllike a runaway semi trailer.
Nick Massouth does a good job of directing the two actors and modulating the rhythms, but I would have preferred the guys to have been seen to be addressing the unseen hostages, not all of us.
Essentially a bizarre confessional, Tilt is an off-kilter show that will have you on tenterhooks to see how it all plays out.
Tilt
Written & Produced by Ben Moroski
Fringe Premier.