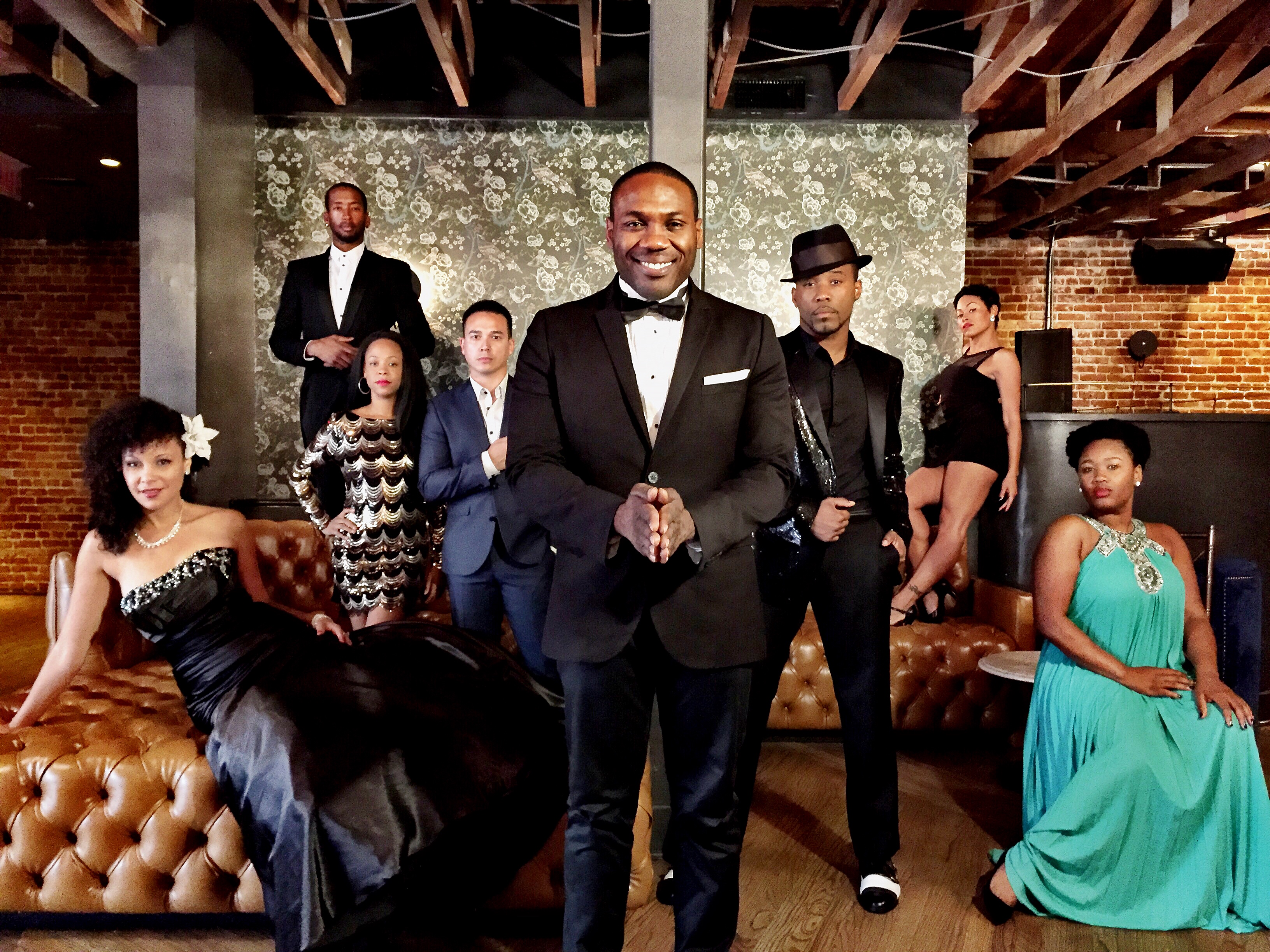 A 1950's jazz club in New Orleans is the setting for an immersive musical revue about four couples who struggle through the highs and lows of love. But when their language is 80's pop hit tunes—all set to the strains and beats of a retro jazz big band—it's sure to be a swinging good time all night long.
Wilkie Ferguson III teams up with Jamal Sims (Director/Choreographer) to present Take On Me – a dynamic new show opening this Friday at Prospect Theatre, in the heart of Hollywood.
Take On Me features popular hits made famous by iconic singers including Michael Jackson, Madonna, George Michael, Cyndi Lauper, Janet Jackson, plus many more of the very best 80s artists. Pretty soon Prospect Theatre will be filled with the joyous sounds of a live big band, playing all those 80s songs that defined that decade. Take On Me hopes to send audiences back to the 1950's New Orleans for this pop song-infused musical revue.
Opening night is this Friday, October 14, with additional shows happening on October 15, 20, 27 and November 3.
"Having grown up in the 80's, I have a special connection to music of that era," enthuses Ferguson. "Take On Me is the soundtrack of my youth, and each song reminds me of people and places that are near and dear to my heart. I hope that the audience has as much fun rediscovering these songs as I have."
In true supper club format, Take On Me showcases songs such as Total Eclipse, Open Your Heart, Girls Just Wanna Have Fun, Heaven Is A Place On Earth and of course, Take On Me.
The company includes Alfred Jackson (Rent, Hollywood Chair, Solid Gold Motown, General Hospital and recipient of the NAACP Award for Best Choreographer for Sarafina); Domonique Paton (Frozen Live, the international tour of Hairspray, national tour of How the GRINCH Stole Christmas); Natalie Wachen (Boardwalk Empire, Rent, Dreamgirls, Dreamgirls 35 Concert); Rogelio Douglas, Jr. (Chicago PD, Orange Is The New Black, Ray Donovan, Whiplash, Superfast!, Straight Outta Compton, In The Heights, Little Mermaid);  Chris Chatman (R&J Love Is a Battlefield, In The Heights, Clueless, Sister Act); singer/songwriter She'Leah Nikole (Def Jam) and Dave Stewart (of the Eurythmics, Grammy Award winning productions team of 1500 or Nothin').
Take On Me is directed and choreographed by the highly sought after artist Jamal Sims (Step Up, Hairspray, Footloose, Cirque du Soleil) and features a book by Joël R. Scoville (Recorded In Hollywood, Hairspray, Crumbs from the Table of Joy).
The creative brain behind Take On Me is creator, orchestrator and arranger Wilkie Ferguson III.  A graduate of New World School of Arts, Ferguson studied classical piano performance at Eastman School of Music and Morehouse College.  In addition to being a classically trained pianist, he also has been a part of the original Broadway casts of the Tony Award winning production of The Gershwins' Porgy and Bess, Motown the Musical, and Wonderland. He has toured with In the Heights, Hairspray and Dreamgirls. Off Broadway and regional shows include Cotton Club Parade at City Center and the world premieres of Sister Act and Ray Charles Live at Pasadena Playhouse.
~ ~ ~
Take On Me
At the Prospect Theatre
6356 Hollywood Blvd,
Los Angeles, CA.
Performances:
Opening night is Friday October 14, 2016.
Additional shows October 15, 20, 27 and November 3, 2016.
Showtime is nightly at 8pm.  
Tickets:
$39.00, regular admission.
$59.00, VIP (Prime seating plus a glass of champagne and complimentary dessert.)
Facebook/Instagram/Twitter:
@takeonmemusical