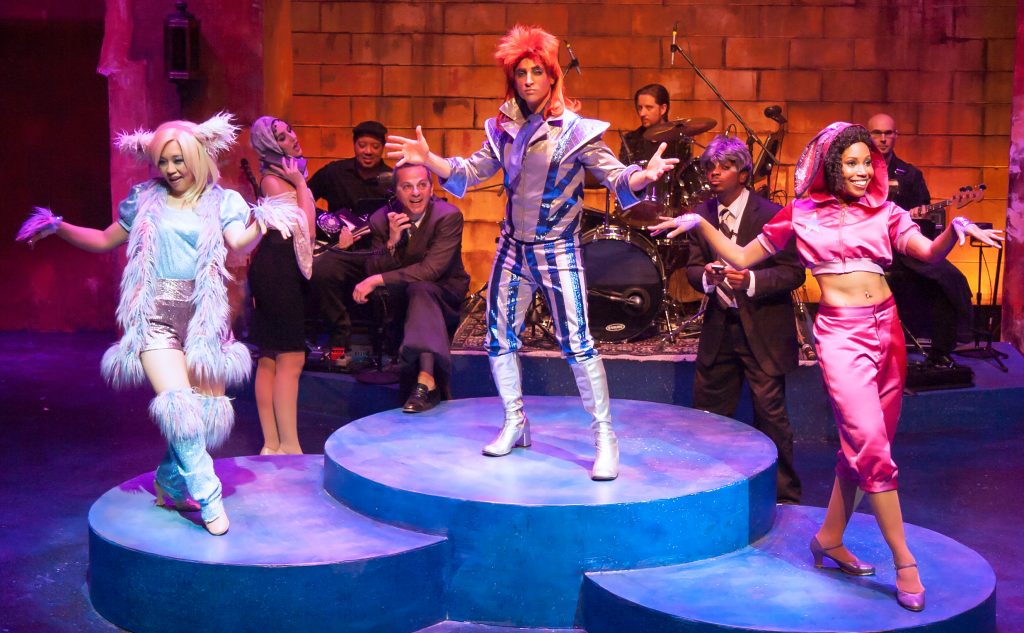 The Troubie's annual Christmas show this year is Little Drummer Bowie. The company rocks the classic nativity Christmas tale at the Falcon Theatre in Burbank to a modern audience with a much-needed message: peace on earth, love to all, and no hate. Co-directed by Joseph Leo Bwarie and Matt Walker, this piece marries classical rock music with a classical story, and—for many who know Bowie's work—a beloved Christmas song as well.
While this is not the first presentation of this piece by the Ovation award-winning Troubadour Theater Company, it is infused with new blood. As usual they also inject plenty of topical, new material, bombarding the audience with several election jokes right from the start. And if you're running late, expect briefly to become a (probably unwilling) part of the show.
Throughout this fast-paced show the cast frequently breaks the fourth wall, making this truly a night that only live theater can create. Tennis balls do not get tossed to audience members in a movie theater…
One cannot forget that pop/rock legend David Bowie passed away earlier this year. For many that loss still hurts. Yet this production inspires joy not pain. Little Drummer Bowie spans the bulk of Bowie's extensive and eclectic career and weaves his classics into a fun-filled Christmas tale.
Bowie's duet with Bing Crosby of the memorable Christmas song 'Little Drummer Boy' stands as the birthright of this production, with over 4 million views on YouTube alone. Ironically, that duet almost did not happen, according to an article in People. While Bowie claims his son loves the song, Bowie did not. Rather, he opted to sing with Crosby in honor of his Mom. The lyric that Bowie did connect to was "Peace on Earth." This Troubie's production relates the story of the Drummer Boy; a musician struggling with what is important and trying to find love.  Much like Bowie's part in the duet, Bowie's song serve to send the same message of peace.
Joseph Leo Bwarie, fresh off a lengthy run as Frankie Valli in the Tony Award winning musical Jersey Boys, plays the central character, the Drummer Boy, who takes his character name from a Bowie song. The ingenuity of this production and how it weaves Bowie's music with the tale of a struggling drummer, and the birth of a child in a manger, will leave any Bowie fan cheering, tempted to sing and dance along.
The rest of the show's cast consists of Rick Batalla, Lisa Valenzuela, Beth Kennedy, Riccardo Berdini, Katie DeShan, Katie Kitani, Niles Rivers, and Cloe Wyatt Taylor. The cast plays many characters throughout the piece from a donkey and a sheep to the Three Kings, even the Drummer Boy's Mom and Dad—the list goes on. The show also features incredibly quick costume changes that appear effortless.
The backup band consists of Eric Heinly on drums—also responsible for the musical direction and arrangements—along with Kevin McCourt on keyboard, BJ Johnson on bass, Mike Abraham on guitar, and Kristin Edkins and Ashley Jarmack on reeds.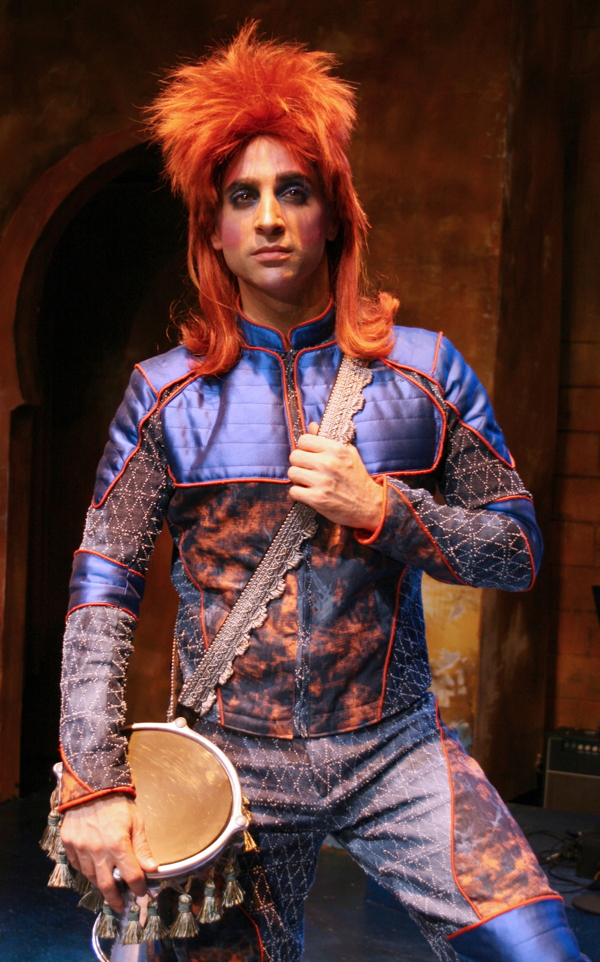 Little Drummer Bowie presented by the Troubadour Theater Company
Falcon Theatre
4252 Riverside,
Burbank, CA 91505
Performances:
Runs until January 15th, 2017
Wednesday through Friday, 8 p.m.
Saturday, 4 p.m. and 8 p.m.
Sundays, 4 p.m. and 7 p.m.
plus select Tuesdays—check the website.
Running time: Approximately 90 minutes, with one intermission.
Tickets:
Range from $30.00 – $45.00
Box Office:
Purchase Tickets here or call (818) 955-8101.
Additional information is available here.