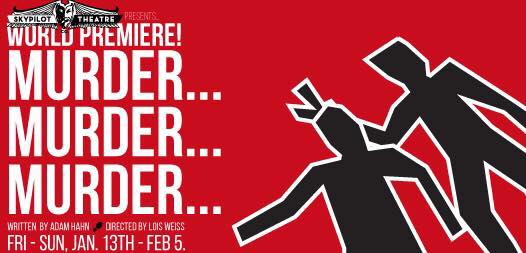 Murder…Murder…Murder — a world premier presented by the SkyPilot Theatre Company — takes the audience into a murder mystery reminiscent of the board game of 'Clue' and features as its central character a detective with anxiety issues.  This is a production that marries comedy with horror and mystery, but leaves out the fear and dread with only laughter remaining.
Detective Edwin Montrose, played convincingly by Natalie Nicole Dressel in drag, needs to determine who killed weekend party host, Lucius Grainvaile, at his estate. Included in the suspects are Grainvaile's former assistant ex-wife Tabitha Montrose-Turner, actress Marie Pettit, and step daughter Molly Turner, actress Sarah Marcum.  Much like Sherlock Holmes had his right-hand-man Watson, Edwin has Jameson St. Clair, whose adoration for his boss knows no bounds.  The close relations between these two characters adds subtextual conflicts to the story that drive it and keep it very much alive.
The other somewhat elite society members of this country murder remind us of 'Clue,' but there is no Colonel Mustard.  Instead, there is Commodore Wallace Flaxen, played by Stephen Juhl, his wife Rosemary Flaxen, played by Catherine Davis Cox, and her best friend Sophie Noel, played by MacKenzie English.  The inter-relations and sordid love lives of these three characters adds sizzle to the story that detective Edwin at times finds too hot to handle.
The last two members of the cast factor into of the most suspicious sub plots; Paul and Charlene Olsen, Morry Schorr and Kelly Goodman respectively, share a talent for knowing how to get rid of dead bodies…
Adam Hahn's play is laced with constant action and newly-revealed secrets. Virtually every ten minutes there are quick scene changes, effectively executed by the entire cast.  As the title suggests, the story also contains murder, murder, murder, with some surprises as to who actually dies in the end.
Murder…Murder…Murder
by Adam Hahn
Pan Andreas Theatre
5119 Melrose Ave.
Los Angeles, CA 90038
Performances:
Runs until February 5, 2017
Friday and Saturday, 8 p.m.
Sundays, 2 p.m.
Running time: Approximately one hour and twenty minutes, with no intermissions.
Tickets:
Range from $20.00
Box Office:
Purchase Tickets here or call (800) 838-3006