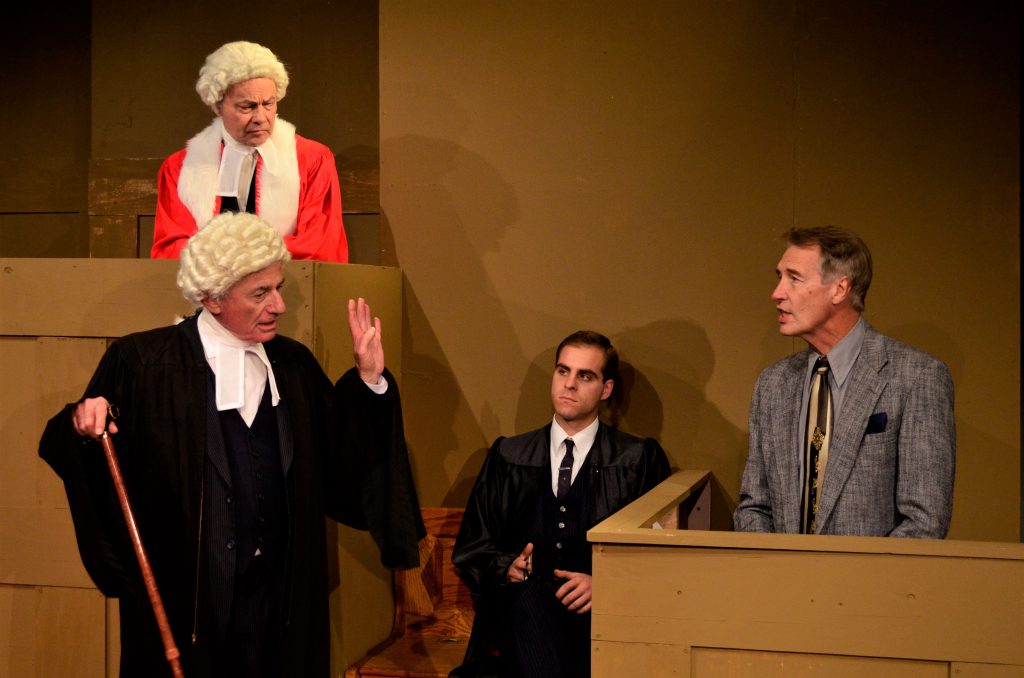 In 1955 Agatha Christie's play Witness for the Prosecution won the Edgar Award for Best Play and the New York Drama Critic's award for Best Foreign Play. The production currently being presented by The Group Rep, and produced by Mannette Antill and Paul Cady, does the material justice while adding an intriguing update. Director Jules Aaron breaks from traditional casting to reflect the growing presence of women in the modern judiciary. Set in 1953, the central roles of the two barristers traditionally are cast as men, however Aaron has cast a woman to play one of two defense lawyers in the story; Mrs. Mayhew played by Michele Schultz.
This significant casting change complements a story that reflects the capability of women to be as cunning and as flawed as their counterparts, especially when love is involved.
Christie's three-part drama begins in a solicitor's office and then moves to a courtroom in London's Old Bailey, thanks to the use of a revolving stage.
Leonard Vole (Patrick Skelton) is an overly-charming inventor. After an act of kindness, he befriends a wealthy, elderly woman only to become accused of her murder. It transpires she had become enamoured with him, going so far as to name him as the main beneficiary of her estate. Vole's wife Romaine, played by guest star Salome Jens (on standby Gina Yates), acts as his alibi, until the prosecution calls her as a witness. Nothing in this play is as it seems… Fans of the court room dramas of classic Hollywood consider this story a gem, and Billy Wilder's version starring Charles Laughton as the Queen's Counsel opposite Marlene Dietrich is a memorable screen adaptation of Christie's taut play.
The performance by Salome Jens at first seems disconnected and cold, but she leads the audience in a certain direction, rendering the twists at the play's conclusion all the more dramatic. Larry Eisenberg plays QC Sir Wilfred Robarts. Together with Mrs. Mayhew, the pair attempt to piece together the truth by grilling one witness at a time. The actors playing the lawyers in this piece transport the audience to the classical Masterpiece setting of a smart detective story drama. The cast draws us into this cloistered world, with the audience acting as a substitute jury during the final act. The show rises and crashes with moments of shock and touches of humor.
Remaining cast members include: Todd Andrew Ball (Carter/Wyatt), Natalie Cadenas (The Girl), Rosalyn Cohn (Greta/ Clegg), Bruce Nehisen (Inspector Hearne), Sherry Michaels (Janet Mackenzie), Lloyd Pedersen (Justice Wainwright), Mikel Parraga-Wills (Court Clerk), Chris Winfield (Meyers), Rishi Das (Detective), and Nikola Georgiov (Officer).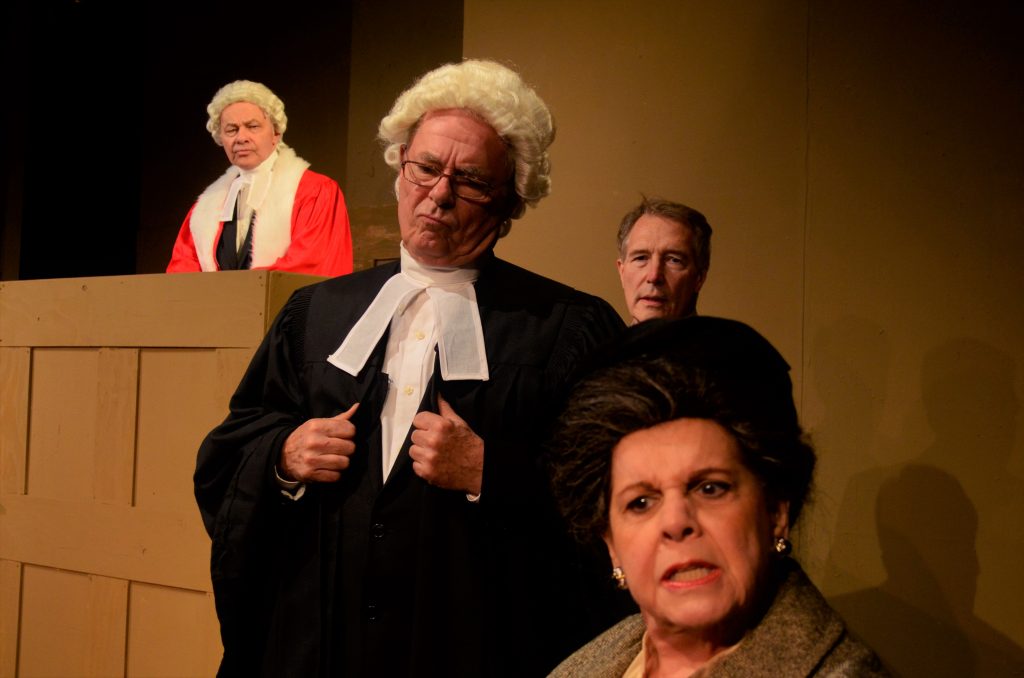 Witness for the Prosecution, by Agatha Christie
Lonny Chapman Theatre
10900 Burbank Blvd.
North Hollywood, CA 91601
Performances:
EXTENDED until March 26, 2017
Friday and Saturday, 8 p.m.
Sundays, 2 p.m.
Talkback Sundays: February 5 and February 26, after the matinee performance.
Stand by Gina Yates will be playing Romaine on March 3, 4, and 5th.
Running time: Approximately two hours, with two 10 minute intermissions.
Tickets:
Range from $15.00 – $25.00
Box Office:
Purchase Tickets here or e-mail info@thegrouprep.com for information call (818) 763-5990.