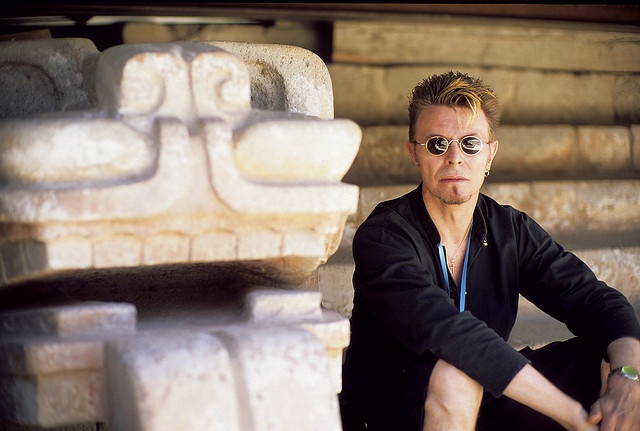 Mexican photographer Fernando Aceves was employed by a concert promoter to photograph David Bowie and his band when they were touring his country in 1997. Bowie liked the promotional photo he saw in the newspaper to such an extent that the British rock star privately contracted Aceves to accompany him and photograph him over three days as he explored various sacred venues and art museums in and around Mexico City. The resulting images can now be seen at Forest Lawn Museum, Forest Lawn–Glendale, kicking off a year of cultural exchange between Los Angeles and Mexico City.
David Bowie: Among the Mexican Masters marks Aceves' first museum exhibition and the world launch of this new, traveling exhibition. Documenting Bowie's cultural and art tour through the region, together they visited some of Mexico City's most famous landmarks, including the works of muralists Diego Rivera, David Alfaro Siqueiros and Jose Clemente Orozco, the Frida Kahlo Museum, the pyramids of Teotihuacan, as well as and other historic sites.
The intimate and personal exhibition comprises of 35 large format color images depicting interactions and reactions that the legendary musician had with the cultural heritage of Mexico.
While the exhibition is all the more poignant since the passing of Bowie just over a year ago, it amounts to a series of handsome holiday photos, if your uncle happened to be a famous rock star… This exhibition feels slight, but may resonate with anyone who holds a great affinity with Mexican culture and its artistic icons.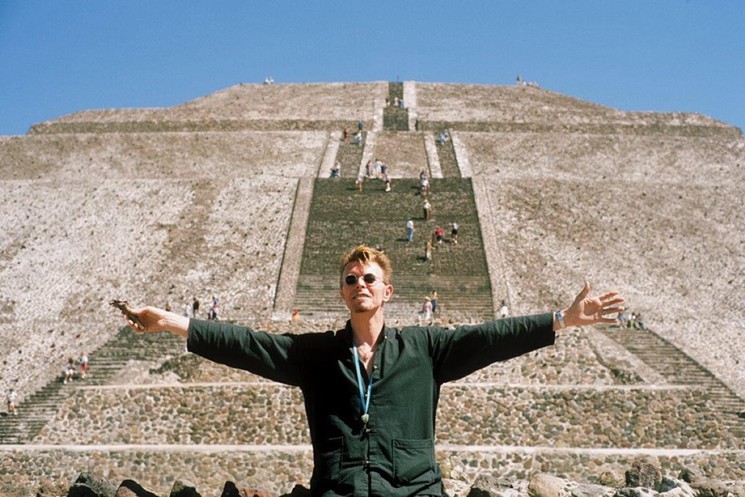 David Bowie: Among the Mexican Masters
Runs from January 27 through June 15, 2017.
Forest Lawn Museum, Forest Lawn-Glendale
1712 S. Glendale Blvd., Glendale, California.
The Museum is open Tuesday through Sunday from 10 AM to 5 PM.
Admission and parking are FREE.
Call 800-204-3131 or visit www.forestlawn.com for more information.
The exhibition is accompanied by a full-color brochure.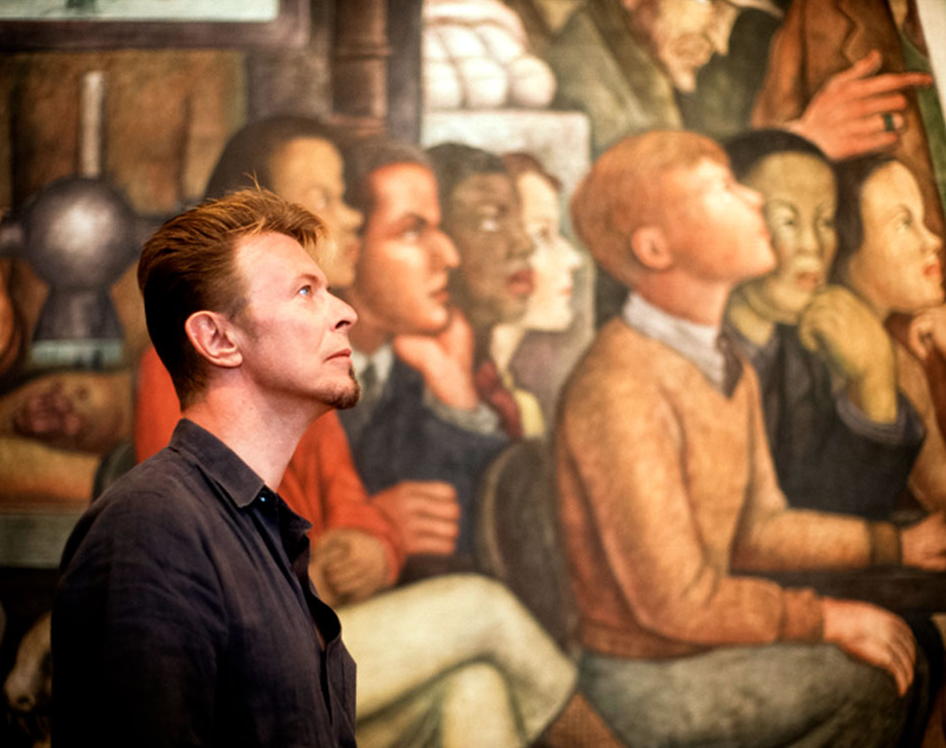 From the press release:
"David Bowie: Among the Mexican Masters pays homage to the legacy of an artist who transformed the world of music and art, as well as to the down-to-earth man who felt strong admiration and respect for other cultures from around the world," said Ana Pescador, director of Forest Lawn Museum. "With David Bowie as their tour guide, we are excited to take visitors on an inspirational tour of Mexico City through the eyes of photographer Fernando Aceves so they too can appreciate all the cultural, artistic and historic treasures the city has to offer."
The Bowie exhibition will also feature photographs that will tell the history of the cultural sites depicted in the exhibition, including the National Palace, Palace of Fine Arts, Teotihuacan, and the Frida Kahlo Museum. Dates for an accompanying series of educational lectures focusing on Mexico's cultural heritage will be announced shortly.
Bowie played his first and only show in Mexico City on October 23, 1997 at the Foro Sol during the world tour to promote his Earthling album. The day previous, Aceves, a local celebrated rock and jazz photographer, traveled with Bowie, touring the historic sites and documenting the day in photographs for an article Bowie was planning to write for Modern Painters magazine. The article was never published.
Aceves recalled that Bowie had done his research and knew exactly what he wanted to see on the visit. "These photographs would be only a reference for him, that was the goal, recording the visit and nothing else." Bowie followed up with a letter to Aceves thanking him for the time they worked together on the photo shoot and provided instructions on the formats he required the images to be for his magazine article.
"I think that any photographer's dream is to encapsulate a special moment or scenario that will offer a narrative to awaken the world's interest," said Aceves. "However, this photo assignment was more than capturing the British artist David Bowie contemplating master pieces, I had the privilege to observe a man expressing great respect and deep admiration for our Mexican culture."
David Bowie: Among the Mexican Masters is a uniquely important exhibition that builds on Forest Lawn Museum's ongoing efforts to present subjects and installations that resonate with contemporary society and today's broader cultural context.
Yahoo Travel has named Forest Lawn Museum one of the Top 10 Free Museums in the country. It is housed on the 290-acre site of Forest Lawn Memorial Park–Glendale, which has been a renowned Southern California landmark since 1906. Featuring a stunning array of art, architecture and three beautiful chapels—Forest Lawn Museum is committed to enriching the community through the educational presentation of artwork that focuses on history, culture and religion.
~~~
About Forest Lawn–Glendale:
Founded in 1906, Forest Lawn has been a Southern California landmark for more than a century. With rolling hills, sweeping landscapes and a magnificent view of the Los Angeles skyline, Forest Lawn–Glendale is one of Forest Lawn's most picturesque locations. It features a world-renowned art museum, extraordinary statuary and the Hall of the Crucifixion-Resurrection, home to Jan Styka's immense painting, The Crucifixion, and Robert Clark's Resurrection, two of the largest religious paintings in the western hemisphere.
Location, Hours, Admission:
Forest Lawn–Glendale is located at 1712 South Glendale Avenue, Glendale, CA 91205. The Memorial Park is open seven days a week from 8 am to 5 pm (6 pm during DST). The Great Mausoleum and Memorial Park churches are open seven days a week from 9 am to 4 pm. Mortuary visitation hours are seven days a week 8 am to 9 pm. For more information, visit the Forest Lawn website at www.forestlawn.com, Facebook at facebook.com/forestlawn or Twitter @ForestLawn, or call 888.204.3131 (for international calls +1.323.254.3131).
About the Forest Lawn Memorial Parks:
For more than a century, Forest Lawn has been an integral part of Southern California. Since its founding, Forest Lawn has committed itself to providing outstanding service and beautiful environments for family outings, remembering loved ones and commemorating holidays. Forest Lawn's locations in the Los Angeles, Orange and Riverside counties serve all faiths and cultures, and offer a wide range of celebrations and special events with competitively priced cremation and traditional funeral services throughout Southern California.