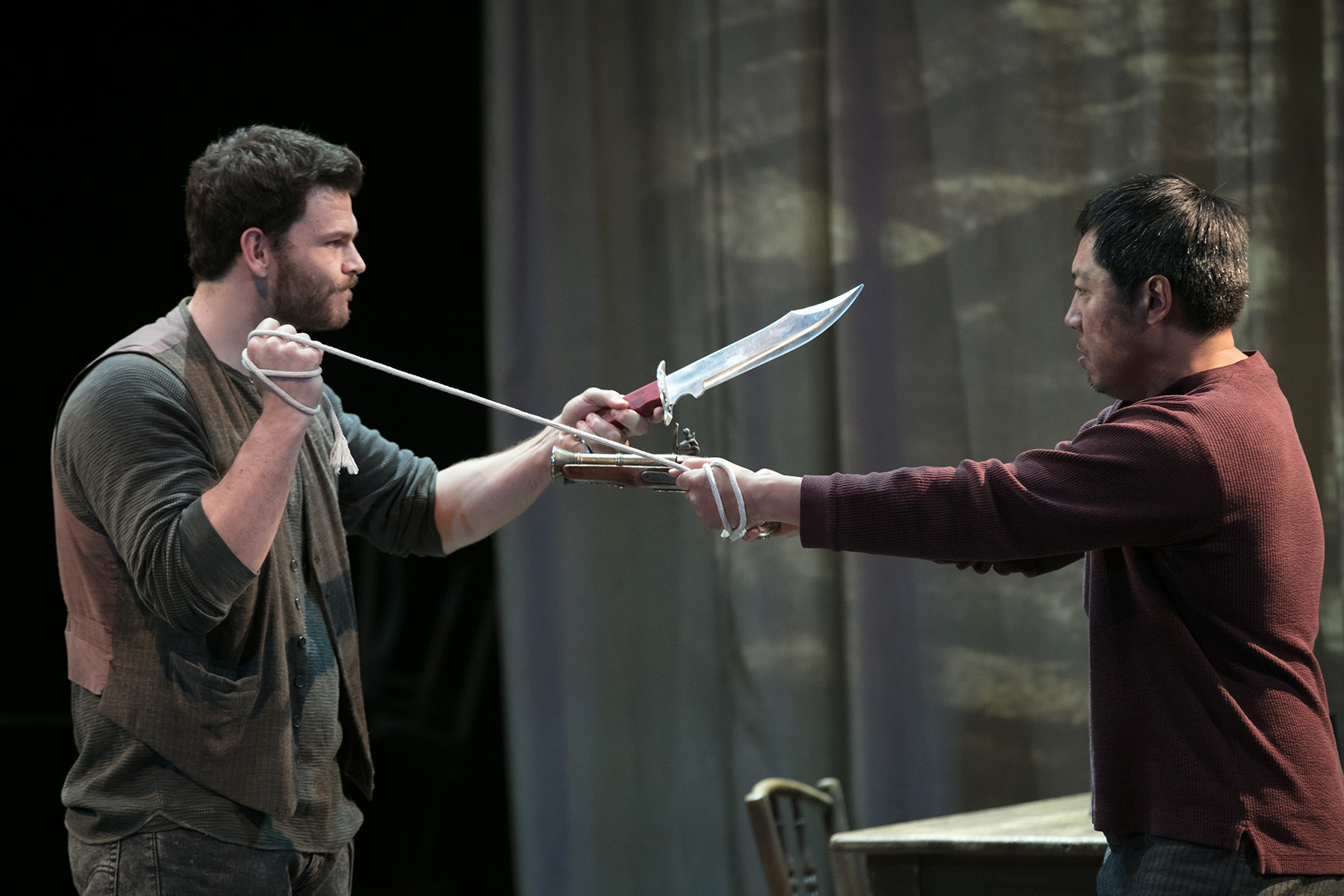 ONE WEEK REMAINS to see Rules of Seconds.

Show must close April 15, 2017.
In playwright and actor John Pollono's latest play Rules of Seconds the antique notion of honor is the primary focus. Crossing into more complex territory that previously seen, this period piece is a new venture for Pollono—best known for the contemporary plays Small Engine Repair and Lost Girls that each made their world premier at Rogue Machine. The world premiere of Rules of Seconds is presented by the Latino Theater Company in association with an new playwright initiative known as The Temblors. 
At the start of his at times profane, funny and even gory two-act drama, Pollono has a narrator (Ron Bottitta) loudly declaim from an ancient pamphlet known as the Code Duello, an official set of rules for one-on-one combat, aka a pistol duel. Codes duello regulated dueling protocol ostensibly to help prevent vendettas forming between families and other social factions. The narrator steps into a spotlight intermittently throughout to explain the intricacies of the code.
The first scene establishes a base comedic tone as two servants engage in a bawdy discourse about the logistics of intercourse with a horse while collecting animal feces from the path outside their master's home. With its broad humor, the scene recalls the Elizabethan theater technique of playing to the groundlings.
Eventually we meet the main protagonists. Matthew Elkins plays Nathanial "Wings" Leeds, a fidgety and nervy fellow whose personality quirks imply an affliction with obsessive compulsive disorder, something which was not commonly diagnosed during the play's setting of 1855 Boston. We also meet Wings' mother Martha (Amy Brenneman) as she enters a contract with a local and clearly powerful businessman. Jamie Harris is formidable and terrifying as Brown, someone who clearly is used to getting his way. He struts about the stage in a commanding fashion, compelling those around him to serve as a patient audience to his long-winded (though fascinating) stories.
Josh Helman as Wings' brother James also makes an impression during his first scene, establishing him as the more competent and street smart of the siblings. It's not long, however, before the estranged brother has to come to his family's aid over a question of honor.
Pollono is accomplished at crafting strong female characters and Martha is no exception. Brenneman does a fantastic job of inhabiting the maternal figure who develops a steely resolve when required, surprising us all with her final actions. Despite some wavering regional accents, the supporting cast are good but could have used a more firm directorial approach from Jo Bonney to rein in the varied acting styles. Also the combination of the broad humor with the serious drama at times does not gel as well as it should.
You can read my interview with playwright John Pollono here.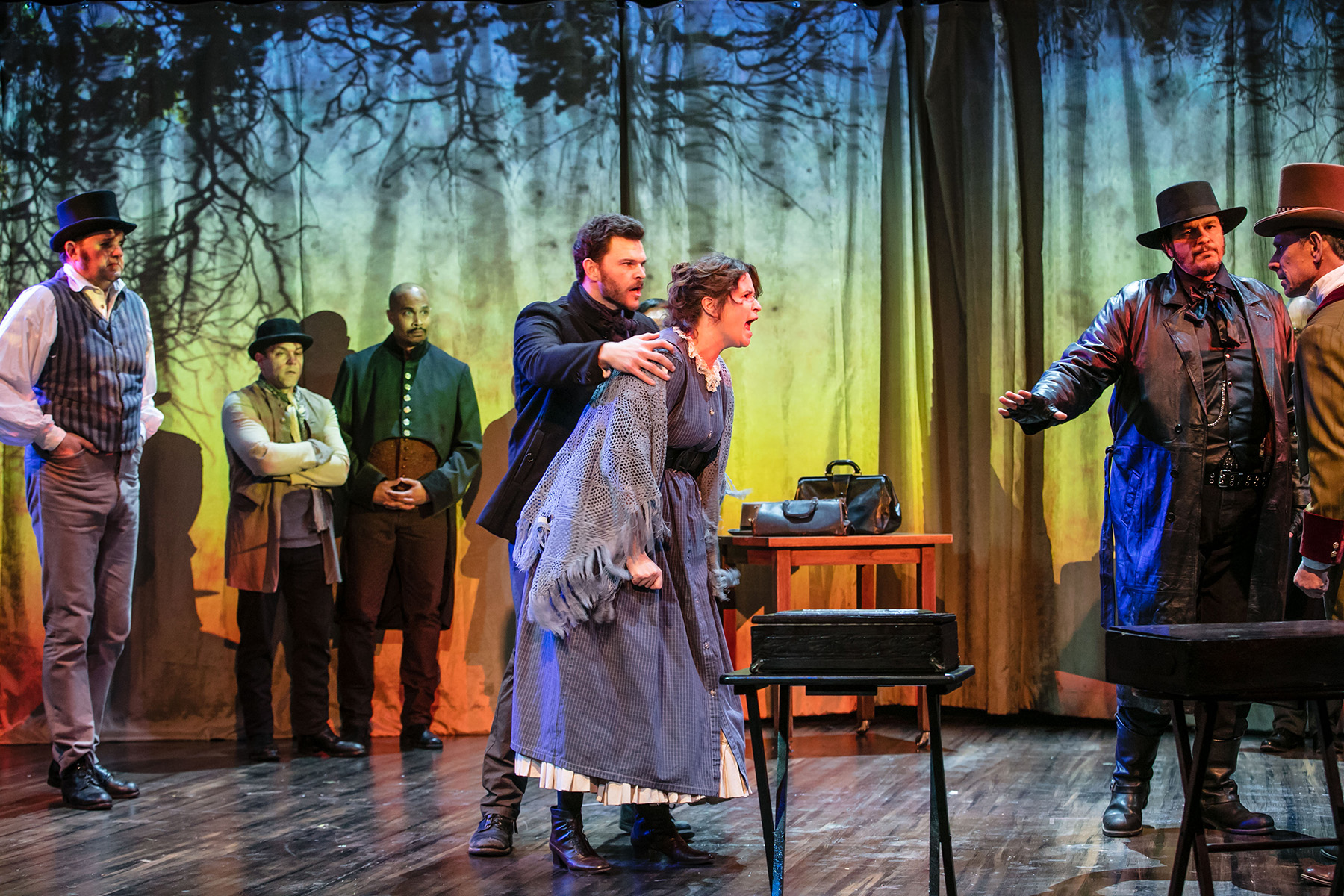 World premiere of Rules of Seconds  by John Pollono
• Directed by Jo Bonney
• Starring Joshua Bitton, Ron Bottitta, Amy Brenneman, Leandro Cano, Feodor Chin, Kevin Daniels, Matthew Elkins, Jamie Harris, Josh Helman, Jennifer Pollono
• Produced by The Latino Theater Company in association with The Temblors
Performances: March 23 – April 15, 2017
• Thursdays at 8 p.m.: April 6, 13
• Fridays at 8 p.m.: April 31; April 7, 14
• Saturdays at 8 p.m.: April 8, 15
• Sundays at 3 p.m.: April 9
The Los Angeles Theatre Center
Tom Bradley Theatre
514 S. Spring Street
Los Angeles CA 90013
• To purchase tickets, call (866) 811-4111 or go to  http://thelatc.org/
• For group sales, call (213) 489-0994
TICKET PRICES:
$22-$52.00
PARKING:
• Metered parking available on streets surrounding the theater.
• Parking lots range in price from $6 – $12.
• Take the Metro: nearest stop is Pershing Square (two blocks west of The LATC).