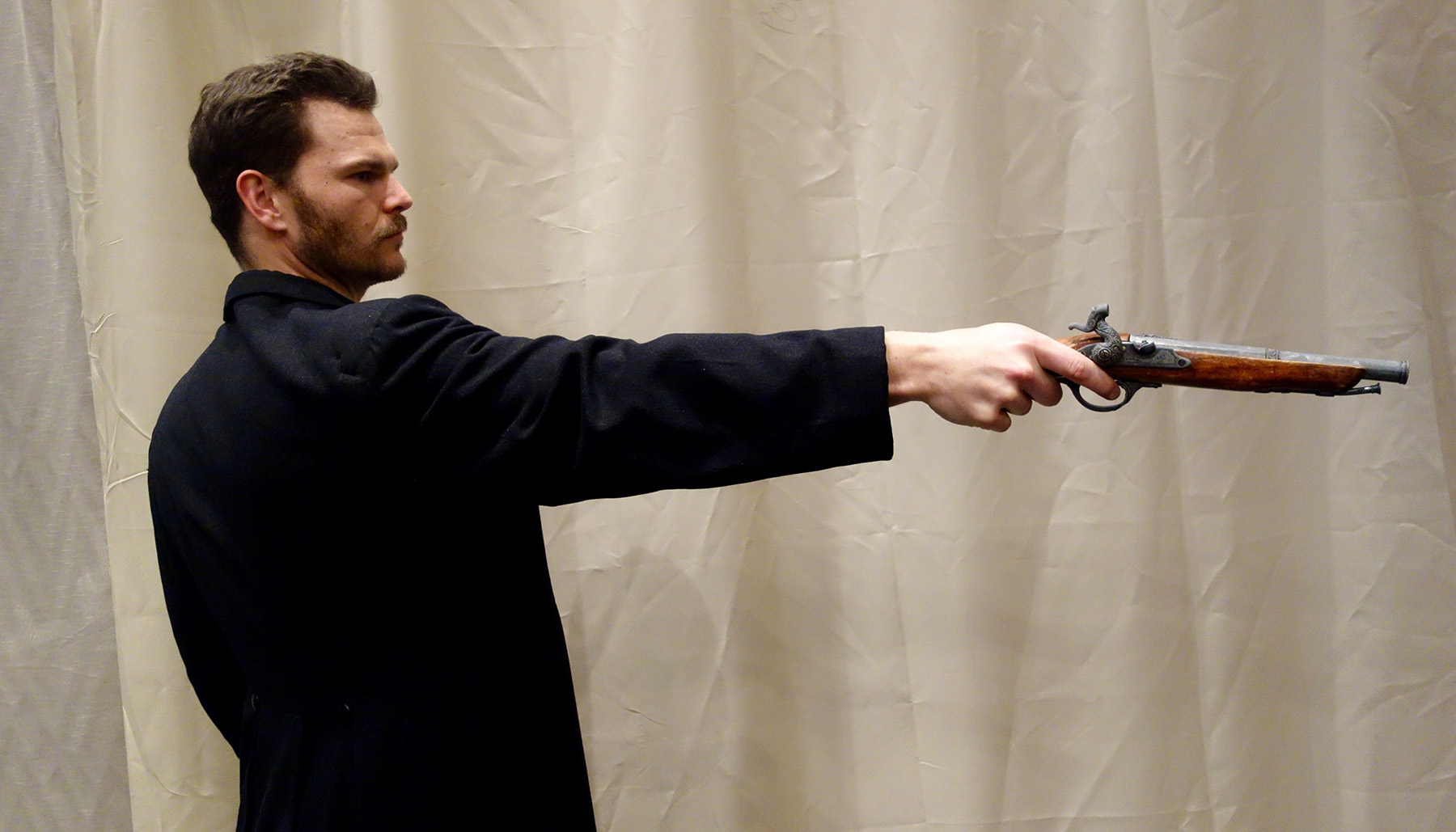 Within the confines of a claustrophobic society, how does one defend one's honor? At what point do you feel compelled to accept a challenge and risk death?
Obie Award-winning director Jo Bonney helms the world premiere of an edgy, intense and darkly comic new play by playwright and actor John Pollono—best known for the powerful plays Small Engine Repair and Lost Girls that made their world premier at Rogue Machine. His newest play, Rules of Seconds, is a period piece and will be presented by the Latino Theater Company in association with The Temblors. 
Rules of Seconds opens March 23 at The Los Angeles Theater Center, with low-priced previews beginning March 16.
According to Bonney, "It's a period piece, but John's take on it is very 2017 — quick, smart, funny and socially responsible. The mix of characters comes from all strata of society: the privileged elite, the working class, and immigrants from many cultures. It's interesting to look at American class structure through the eyes of the 19th century and see how it remains relevant today, with the power and money still concentrated with the few who get to set the rules for the many."
The impressively talented cast includes Amy Brenneman (The Leftovers, Judging Amy), Jamie Harris (AMC's Turn, Agents of S.H.I.E.L.D.) and Josh Helman (X-Men:Apocalypse, Mad Max:Fury Road) who head the cast of Pollono's highly dramatic and very funny play set in 1855 Boston, where the local citizenry mingle, love—and fight—with regularity.
The Temblors is a collective of seven diverse and acclaimed Los Angeles-based playwrights dedicated to shaking up local theater by debuting original world-premiere plays at the Los Angeles Theatre Center and supporting local voices. The goal of the collective is to produce seven world premiere plays, one from each member, over a four-year period. At the end of that four-year cycle, the founding members will hand over the initiative to another seven local playwrights, thus creating the city's first true new play "factory," by and for the people of Los Angeles. The founding members of The Temblors are Meghan Brown, Nate Rufus Edelman, Oliver Mayer, John Pollono, Kemp Powers, Vasanti Saxena and t. tara turk-haynes.
"It's a rare and powerful thing to be a playwright-driven collective," Saxena explains. "Many of us have been and are involved with theater companies that are actor and/or director-driven, which are essentially different in intention and focus. The Temblors are playwrights empowering ourselves by taking the reins in guiding our members' work from inception to production, which is a gift we're giving each other…and ultimately the Los Angeles theater community."
John Pollono is an actor, playwright and screenwriter from New England who currently lives in Los Angeles. He won the LA Ovation and Los Angeles Drama Critics Circle Awards for Best Play for the 2011 L.A. production of Small Engine Repair, for which he also received the LADCC Award for Best Writing. That play had a smash hit run at MCC in NYC in 2013, and his play Lost Girls opened there in fall 2015. As an actor, John has appeared in This is Us, Grey's Anatomy, How I Met Your Mother, Masters of Sex and Mob City. He is a founding member of Rogue Machine Theatre in Los Angeles and has produced the hit underground storytelling series "Rant and Rave" there to sold-out crowds for the last nine years. His screenplay Stronger, based on the story of Boston Marathon bombing victim Jeff Bauman and directed by David Gordon Green, will be released in theaters this fall. He is currently developing the dark comedy My First Black Friend with Kemp Powers at FX.
I spoke with playwright John Pollono to gather some insight into his latest enterprise:
How did you come up with the plot for Rules of Seconds?
"I wanted to tell a story about a family in 1855 Boston, where the eldest son is challenged to a duel, and he has to enlist his estranged brother to be his Second. I became obsessed with the old 'Code Duello' (the code of dueling and being a "gentleman") and how much it reflected the toxic elements of modern masculinity. It reminded me so much of being a kid in elementary school and being forced into a fight while everyone in school gathered around—that awful feeling of being forced to draw blood in order to defend your honor, of being forced to "be a man." Sadly, this concept is more relevant than ever with the current political climate."
What's special about your play?!
"Good question! It's a really different play than I've ever written—ambitious in scope and aesthetic. It creates its own style and is a combination of refined language and modern attitudes; bloody violence meets period manners. It's an amalgamation of things, but above all it really embodies my love of language and so it luxuriates in words. There are a lot of words! The dialogue luxuriates in a way I've never done before on stage."
Rules of Seconds has been a few years in the works… Could you please sketch out its development, maybe chart a few significant changes and influences along the way?
"I was reading books on the time period and on dueling in particular. It always felt like it had a very solid structure—the challenge and then the actual violence taking place on a set, the ratcheting tension… I have been working on it, on and off, for over six years. It had a supernatural element early on, but then I felt like the Code Duello was—although historically accurate—almost too fantastic in and of itself. So I shed the fantasy element and grounded it further; I found it held deeper thematic meaning when I did that. The insanity of the Code, and how it influences our modern culture or masculinity, became more evident. 
"I was influenced by seeing plays like COMPLEAT FEMALE STAGE BEAUTY, which has such a great tone of modernistic sensibility and period details and Lt OF INNISHMORE, which has pitch black humor and real tension, and then revisiting DEADWOOD, which has heightened language and badass characters.  And also INGLOURIOUS BASTERDS, which takes history and really fucks with it."
What are the pros and cons of the workshopping process? Do you ever feel overwhelmed by everyone's input, or are you able to filter out the noise and gain benefit from the most resonant feedback?
"Workshopping can get overwhelming because you are shackled to a table. Some things sound great when read, but when you get it on its feet it doesn't pop as much… Conversely, a lot of what you write is overwritten when dramatized. So the goal should be in steps—get it to a place where you can see it, then refine what you have. 
"There is always a lot of noise whenever you do anything. People seem more willing to deconstruct things that aren't being performed. In this case, I mostly filtered out the feedback by collaborating with Jo Bonney, who has been directing the last two workshops and now the production.  She has been guiding the play's progress throughout."
What can you tell me about the LA-based playwright initiative?
"The Temblors is a new collective of seven L.A.-based playwrights that really reflect the diversity of Los Angeles. The goal is for each of us to workshop and produce one world premiere play and then hand the whole thing over to seven new writers when we're done. RULES is our first show and my fellow Temblors, with all their different backgrounds, have influenced me deeply and their fingerprints are all over the development. Having so many talented writers have my back has been fantastic."
What is your advice for up-and-coming playwrights?
"Get your shit in front of an audience any way you can. The audience will teach you more about writing than anyone else."
Any insight to share regarding your writing habits?
"You gotta plant your ass in the chair and write, no matter what. You will have super productive days and days where you can't get shit done. But put in the time and eventually it will spark. Learn to work with distraction. The world doesn't wait quietly for you to be brilliant. Also, don't think you're brilliant—ever."
What's next on the horizon?
"I've been consistently busy in the feature film space for the past few years with STRONGER, which will be showing in cinemas this fall. And I'm developing a TV show with fellow Temblor Kemp Powers (creator of One Night In Miami etcetera) called MY FIRST BLACK FRIEND over at FX."
Can you please give us a brief summary of the highs and lows of your career – both acting and writing.
"LOST AND FOUND was the first full play I ever wrote and produced with friends, including my wife (producer and actor Jennifer Pollono, who performs in Rules of Seconds). I still think that was one of the most magical creative experiences in my life. Then doing SMALL ENGINE REPAIR in L.A. was magic—we had no idea how deeply we'd resonate with audiences. Bringing that to NYC was a dream. I'd put RULES in there as far as dream theater projects too. I'm giddy to see it on stage with an audience.
"On the feature film side, I wrote the screenplay for STRONGER. It's directed by David Gordon Green and stars Jake Gyllenhaal and Tatiana Maslany. That was an incredible experience and a story that meant so much to me. I'm dying to see that with an audience too. 
"Like I said, I learn more from an audience than anything else."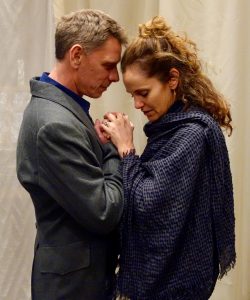 World premiere of Rules of Seconds  by John Pollono
• Directed by Jo Bonney
• Starring Joshua Bitton, Ron Bottitta, Amy Brenneman, Leandro Cano, Feodor Chin, Kevin Daniels, Matthew Elkins, Jamie Harris, Josh Helman, Jennifer Pollono
• Produced by The Latino Theater Company in association with The Temblors
Previews: March 16 – 19
Performances: March 23 – April 15
• Thursdays at 8 p.m.: March 16 (preview), 23 (opening night), 30; April 6, 13
• Fridays at 8 p.m.: March 17 (preview), 24, 31; April 7, 14
• Saturdays at 8 p.m.: March 18 (preview), 25; April 1, 8, 15
• Sundays at 3 p.m.: March 19 (preview), 26; April 2, 9
The Los Angeles Theatre Center
Tom Bradley Theatre
514 S. Spring Street
Los Angeles CA 90013
• To purchase tickets, call (866) 811-4111 or go to  http://thelatc.org/
• For group sales, call (213) 489-0994
TICKET PRICES:
$22-$52.00
PARKING:
• Metered parking available on streets surrounding the theater.
• Parking lots range in price from $6 – $12.
• Take the Metro: nearest stop is Pershing Square (two blocks west of The LATC).