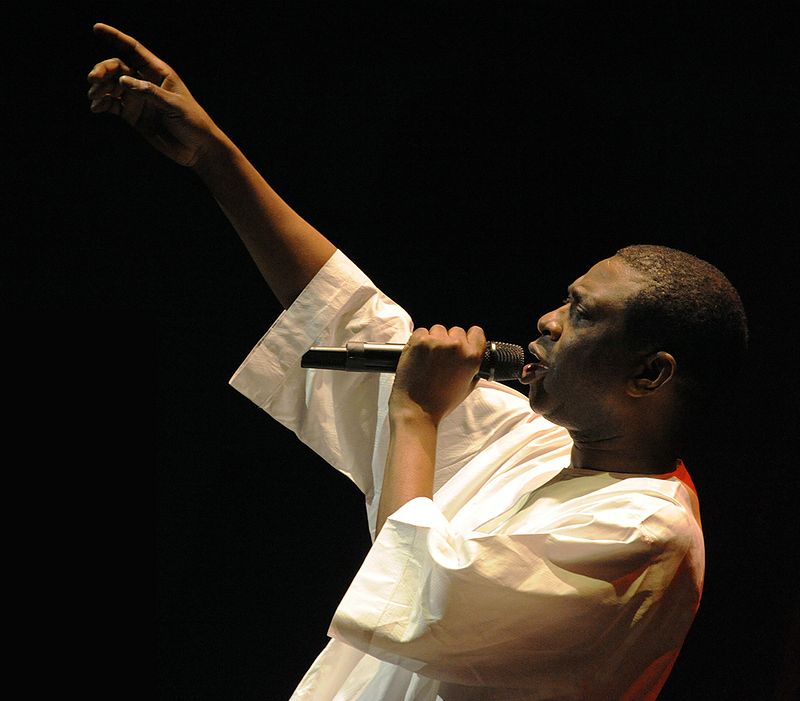 Senegalese singer, songwriter, composer, occasional actor, businessman, and politician, Youssou N'dour has been described as, "perhaps the most famous singer alive" in Senegal and much of Africa.
From April 2012 to September 2013, he was even Senegal's Minister of Tourism.
The Grammy Award-winning performer will make his Ford Theatres debut on Sunday, August 6, 2017 at 8:00 pm, performing songs from of his recent album, Africa Rekk! (Africa and that's final!). Throughout his 30-year career, this Senegalese artist has performed on such groundbreaking albums as Paul Simon's Graceland and Peter Gabriel's So. Gabriel called N'dour "one of the best alive."
 Global superstar Youssou N'dour's roots in Senegalese traditional music and griot storytelling have remained. A staunch protector of the unique "Dakar overgroove," N'dour manages to fashion a sound which is both characteristically Senegalese and outward-looking, a contagiously exciting synthesis of musical languages.
For his latest album, Afrika Rekk!, Youssou N'dour has created a distinctive sound that celebrates and connects all of today's Africa, fusing the modern and the traditional.  Mbalax, the Wolof beat, rumba and other rhythms combine with the sound of the street, through collaborations with Akon; Nigeria's Spotless; and Fally Ipupa, an artist who fuses traditional African music with contemporary, with instruments ranging from keyboards, tama, balafon and djembe.
As a craftsman of an inimitable brand of ensemble music, N'dour absorbs the entire diversity of the Senegalese musical spectrum in his work, often filtering his country's musical heritage through a modernist lens of genre-defying rock or pop music from outside Senegalese culture.
About Youssou N'dour:
Some of the most exciting sounds to come out of Africa in the late 1980s and '90s were produced by Senegal-born vocalist Youssou N'dour. Although rooted in the traditional music of his homeland, NDOUR consistently sought new means of expression. In addition to recording as a soloist, N'dour collaborated with a lengthy list of influential artists including Paul Simon, Peter Gabriel, Neneh Cherry and Branford Marsalis.
A native of the impoverished Media section of Dakar, N'dour inherited his musical skills from his mother, a griot (oral historian) who taught him to sing as a child. A seasoned performer before his teens, N'dour joined the popular group the Star Band de Dakar at the age of 19. Within two years, he had assumed leadership of the group, which he renamed Super E'toile de Dakar. With the band accompanying his four- or five-octave vocals, N'dour helped to pioneer mbalax, an uptempo blend of African, Caribbean and pop rhythms. Performing for the first time in Europe in 1984, N'dour and Super E'toile de Dakar made their North American debut the following year.
N'dour's talents soon attracted the support of top-rated musicians. In 1986, his vocals were featured on Paul Simon's Graceland and Peter Gabriel's So. He subsequently toured around the world as opening act for Gabriel. His greatest exposure came when he agreed to be a co-headliner, along with Gabriel, Bruce Springsteen, Sting and Tracy Chapman, on the Amnesty International Human Rights Now! tour in 1988. The same year, he performed at the much-publicized birthday concert for South African activist (and president) Nelson Mandela at Wembley Stadium in London.
N'dour cemented his reputation in 1989, when he released his first internationally distributed album, The Lion, which included a tune, "Shaking the Tree," that he co-wrote with Gabriel. Upon signing with Spike Lee's Columbia-distributed 40 Acres & a Mule label, N'dour scored a Grammy nomination in 1991 with his first effort for the label, Eyes Open. He continued to seek new outlets for his creativity, including an African opera that premiered at the Paris Opera in July 1993. Recorded in Senegal, NDOUR's album The Guide, released in 1994, included his hit duet with Swedish-born vocalist Neneh Cherry, "Seven Seconds."
A steady stream of greatest-hits packages, reissues, singles and even a few full-length records — including a handful on Nonesuch, 2002's Nothing's in Vain, 2004's Egypt and 2007's Rokku Mi Rokka — poured out during the late '90s and into the next century, featuring N'dour working with artists from Etoile de Dakar to Gabriel. Egypt, which went on to win a Grammy, caused quite a cultural and political stir when it was released during the month of Ramadan. A documentary DVD centered around the whole affair, Youssou N'dour: I Bring What I Love, appeared early in 2010 and included a biography of N'dour's career as well as extensive concert footage and film of N'dour working on the Egypt project. The following year, he was awarded an honorary doctoral degree in music from Yale University.
In 2012, N'dour embarked on an unsuccessful run for president of Senegal. However, that same year Senegal's then prime minister, Abdoul Mbaye, appointed N'dour tourism and culture minister. By 2013, he had returned to performing, although it took him several more years to return to the studio. In 2016, N'dour delivered his 34th album, Africa Rekk!, featuring guest appearances by Akon, Fally Ipupa and Spotless.
Youssou N'dour in Concert
Ford Theatres
2580 Cahuenga Blvd East,
Hollywood, CA 90068
Sunday, August 6 at 8:00pm
Tickets        Price:  Start at $35.  Prices subject to change.
                    Online:  http://www.fordtheatres.org
                    Phone:  Box Office at 323.461.3673
                    Email:   [email protected]
                    In Person:   2580 Cahuenga Blvd East
                    Noon – 5pm, Tuesday – Friday and two hours prior to performance.
About IGNITE @ the FORD:
With the 2017 Summer Season, the Ford is launching "IGNITE @ the FORD!" a new 10-part series made possible by Supervisor Sheila Kuehl and curated by Ford Theatres Interim Executive Director Olga Garay-English, an arts leader with more than 30 years in the field. "IGNITE @ the FORD!" features thought-provoking world-renowned artists whose work is compelling and contemporary, including Savion Glover, Grammy Award-winning Senegalese vocalist Youssou NDOUR performing songs from his most recent album Africa Rekk!; avant-garde Cuban music ensemble Síntesis; LA-based Latino/Chicano performance trio Culture Clash joined by legendary Latin R&B band Tierra and Chicana punk rocker Alice Bag, among other special guests; and the celebrated Flamenco dancer Jesús Carmona, with the West Coast premiere of his latest piece Impetus. The Ford has teamed up with a number of cultural collaborators for the series. The Music Center's recently announced The Music Center On Location program for three consecutive nights in August will feature the West Coast premiere of Awáa by contemporary dance company Aszure Barton & Artists; an evening of contemporary dance by the innovative Jacob Jonas The Company paired with the experimental music by Tim Hecker and Kara-Lis Coverdale; and a special performance by singer, songwriter and composer Rufus Wainwright. Presented in association with collaborator LA Opera will be the West Coast premiere of The Hubble Cantata, a space-inspired live experience that incorporates a virtual reality film with original music sung by opera stars Nathan Gunn and Jessica Rivera, members of the LA Opera Orchestra and LA Opera Chorus. Additional events in the "IGNITE" series include a celebration of Ella Fitzgerald's 100th birthday presented with New York's The Apollo Theater featuring Grammy Award-winner Patti Austin and Yitzhak Rabin: Chronicle of an Assassination, presented with the Skirball Cultural Center, in association with The Lincoln Center Festival.
IGNITE @ the FORD! is made possible through the generous support of LA County Supervisor Sheila Kuehl. Proceeds benefit the Ford Theatre Foundation.
About The Ford: 
At 1,200 seats, the Ford Theatres creates an intimate concert experience that is a favorite among Angelenos. Each summer, the Ford hosts a diverse roster of events representing music and dance styles reflective of the communities that comprise Los Angeles County. Ford summer season events are presented in partnership with Los Angeles County arts organizations and producers.  The 2017 summer season is complemented by the inaugural "IGNITE @ the FORD!" series. The Ford also presents a Saturday morning family series that is free for kids called Big World Fun and the free participatory arts series JAM Sessions. Located in a County regional park in the Hollywood Hills, the Ford is owned by the County of Los Angeles and operated in partnership with the Department of Parks and Recreation and the Ford Theatre Foundation.
Parking:
Onsite, stacked. $10 per vehicle for evening shows; $1 per vehicle for morning family shows, cash only. Carpool and save: three or more people per vehicle pay only $5 for parking for evening shows. A FREE shuttle to the Ford services the Universal City/Studio City Metro Station lot at Lankershim Blvd. and Campo de Cahuenga (excluding Big World Fun and JAM Sessions). The Ford shuttle stops in the "kiss and ride" area and cycles every 20 minutes. For non-stacked off-site parking, a FREE shuttle services the parking structure located at 3330 Cahuenga Blvd. West, Los Angeles, CA 90068 (new); parking costs $12, cash only.
Other:
Dress warmly for outdoor seating. The Ford is disabled accessible. Portable wireless listening devices are available upon request. The Ford Theatres is a smoke free facility.
A complete season schedule, directions to the theatre and parking information can be found at FordTheatres.org.