This Friday — in the Valley — the inaugural Van Nuys Arts Festival is being held at the Van Nuys Civic Center.
LA City Councilwoman Nury Martinez of CD6 and CHAMPION CITY are excited to present the San Fernando Valley community with the first Van Nuys Arts Festival.
The event highlights the San Fernando Valley community through its arts and culture.
The Van Nuys Arts Festival line up:
+++ MUSIC +++
Mark de Clive-Lowe
Maria del Pilar
Cutty Flam
SFV ACID
dublab DJ sets
+++ ARTISTS +++
Kristy Sandoval Art
Sally Chung
Jessica Silva photography
CSUN Art Galleries
Graffiti art by The Gr818ers
…plus more
+++ EXPERIENCES +++
> Art Book Fair by 818 Arts
> Hush Silent Disco
> Zine workshop by #ZebraPizzaZine
> Beat Swap Meet Vinyl Pop-Up Shop
> Van Nuys Cruise Night Classic Cars Exhibition
> Museum Pop-Up's by Valley Relics Museum 501c3 & The Museum of the San Fernando Valley
> Bike Ride by Pedalers West
> Bike Repairs by Retro Xpress Bicycles and Hoopty Bikes
> Family Activities by Van Nuys Branch – Los Angeles Public Library and Tia Chucha's Centro Cultural & Bookstore
> Craft Beer Garden by Los Angeles County Brewers Guild
> Food trucks: The Lobos Truck, Humble Crust Pizza, Boulevard Salad, La Grigliata, and Churro Stix.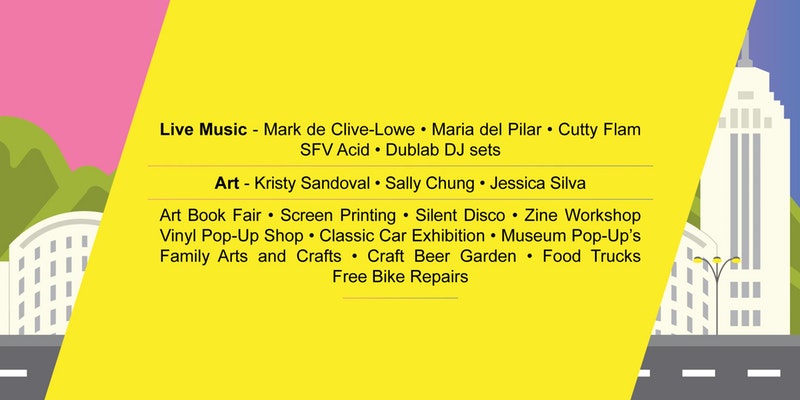 Van Nuys Arts Festival #VNAF2017
Fri, September 29, 2017
6:00 PM – 10:00 PM PDT
Van Nuys Civic Center
14350 Sylvan St, Los Angeles, California 91401
Thanks go out to the Van Nuys Arts Festival partners including:
Los Angeles Metro
LACMA Los Angeles County Museum of Art
KCSN 88.5 FM
Follow them @VanNuysArts on Facebook and Instagram #VNAF2017
If interested in participating, please contact CHAMPION CITY: info@championcity.la
The festival is funded through the Private Arts Development Fee Program (ADF) administered by the Department of Cultural Affairs.