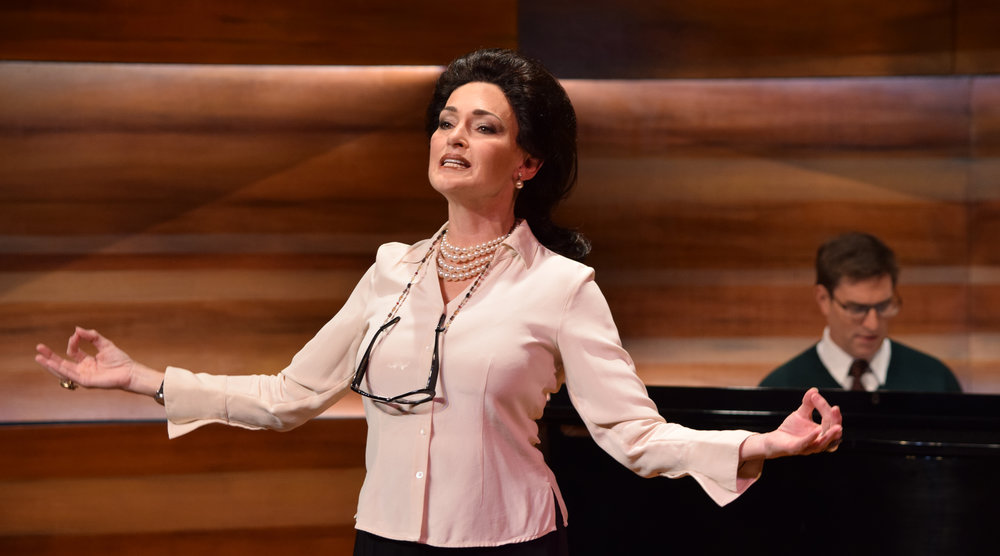 Photo credit –
Chelsea Sutton.
Last days to catch Masterclass at the Garry Marshall Theatre in Toluca Lake (formerly known as The Falcon).
The adorable Falcon Theatre in Toluca Lake was recently been revamped and renamed the Garry Marshall Theatre, after its late owner, the legendary writer/director/actor Garry Marshall.
Now operating under the artistic direction of the talented performer/writer/director Joseph Leo Bwarie, the inaugural season of the Garry Marshall Theatre kicked off with the Tony award-winning play Masterclass.
Brimming with class, drama and boasting superb performances,
it's a perfect show to launch their first season
From the press notes:
Inspired by world-renowned Opera diva Maria Callas' magnificent JuiIliard master class series, Terrence McNally's Tony Award-winning play spotlights the tour-de-force artist and vulnerable woman known as La Divina. Join Callas as she relentlessly coaxes, prods, and edifies her young students, motivating them to give the performances of their lives, while revealing her humor, her demons and her genius.
Carolyn Hennessy gives a superb performance as the volatile diva, capturing and beautifully expressing the legendary singer's powerful presence as well as her complexities and vulnerabilities. To remind us of her former glory, we hear snippets from recordings made of Callas in performance during her peak. It's the stuff that sends chills up your spine. When Hennessy aggressively bursts into song during the masterclass, however, it's horrifying.
Dimitri Toscas does an excellent job directing his cast of singers/musicians (and one surly stagehand), eliciting beautifully orchestrated and nuanced performances from all.
Try to catch this show before it closes this weekend!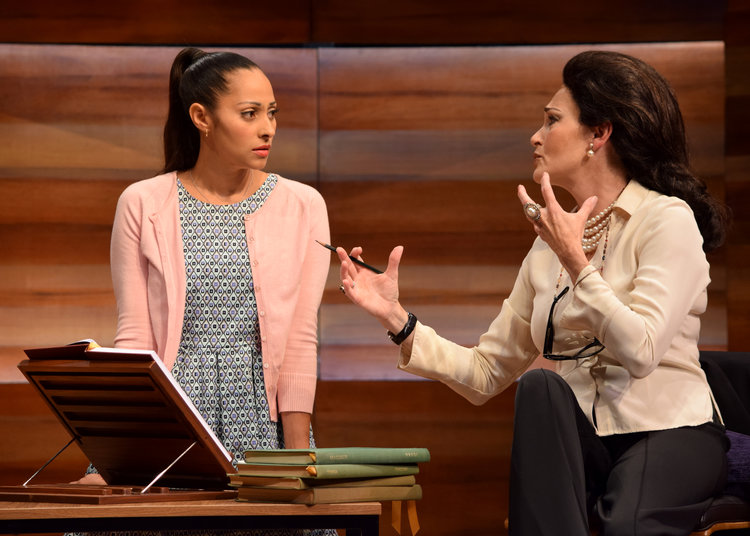 Masterclass by Terrence McNally
Directed by Dimitri Toscas.
Starring Carolyn Hennessy with Roy Abramsohn, Jeff Campanella, Maegan McConnell, Landon Shaw II, Aubrey Trujillo-Scarr.
4252 W Riverside Drive,
Burbank, CA 91505
Final performances this week.
Runs until Sunday October 22, 2017
Thursdays, Fridays at 8pm; Saturdays at 2pm and 8pm; Sundays at 3pm
PRICES: $45-$65
MORE INFORMATION:
Box Office: (818) 955-8101
Website: GarryMarshallTheatre.org
Facebook: facebook.com/GarryMarshallTheatre
Twitter: @GMTheatre_org
Instagram: @garrymarshalltheatre