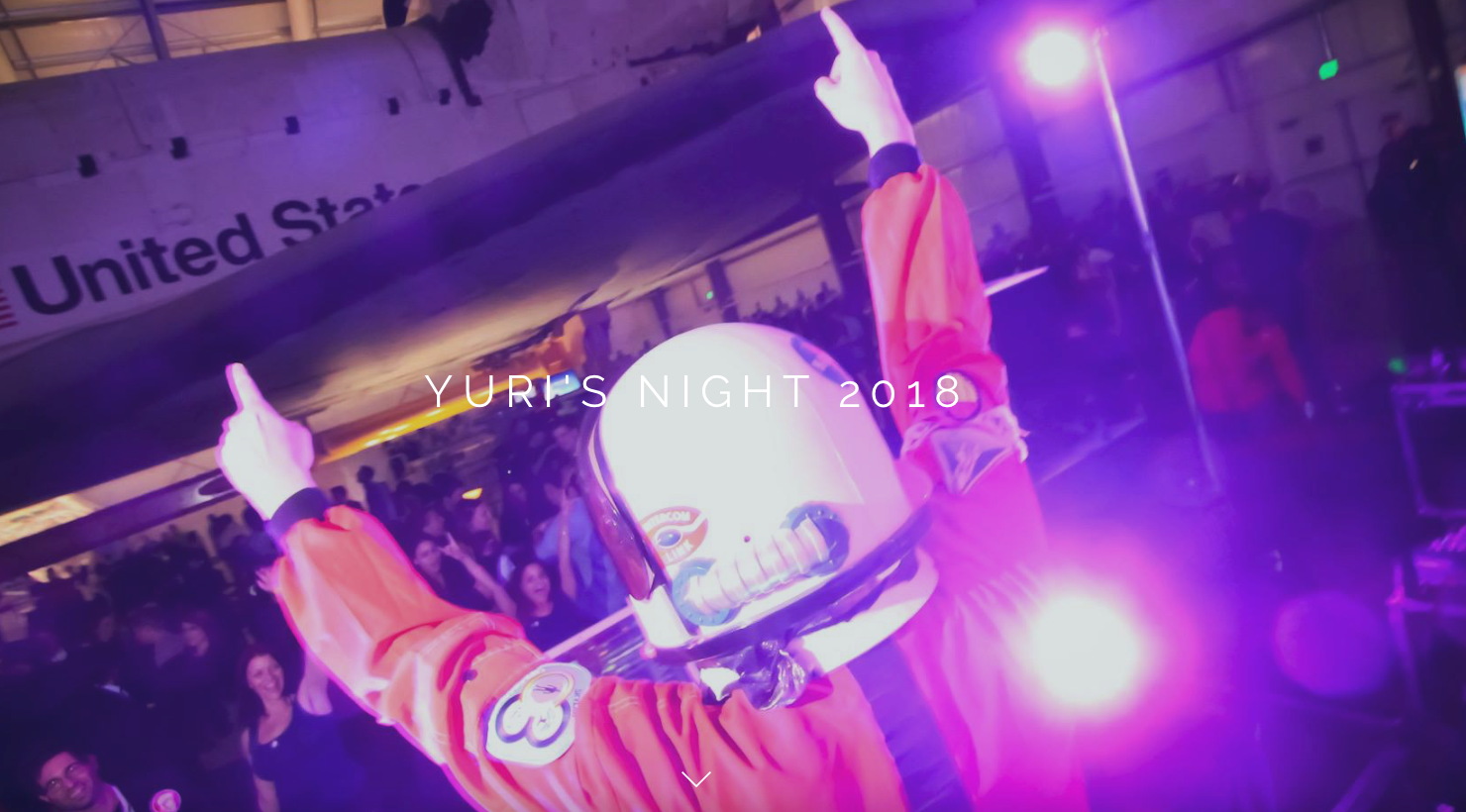 This year's epic Yuri's Night party will celebrate the historic mission that captured the famous Earthrise picture on Christmas Eve 1968. Come join the party on Saturday April 7, 2018 under the Space Shuttle Endeavour for an incredible experience of our place in the cosmos.
Yuri's Night L.A.  Sat April 7, 2018 6 pm – 12 am
For many years we have all been part of an elite team of bipedal hominids as crew of our beautiful, incredibly complex planet. Flying at over 490,000 MPH around the galactic center, she offers incredible views of our celestial neighbors, provides us with water and energy and can operate for millennia. 50 years ago humans glimpsed her from the distance of the moon for the first time. Now it's time to celebrate.
Yuri's Night L.A. will be filled with dancing, drinks, art, costumes, and all things space. You might bump into an astronaut, a rocket scientist or Mars rover mission controller at the party… You start at the pre-party to meet your crewmates, then listen to a space explorer share her experience first hand, then they will bring the lights down for you to take your own epic journey. DJs will be spinning until midnight and we will all be dancing under the Space Shuttle Endeavour at the Samuel Oschin Space Shuttle Endeavour Pavilion celebrating space, art and the power to bring us all together here on our beloved home world.
A bit of Earthrise and the Orbital perspective from their 50th year: https://www.facebook.com/yurisnight/videos/1000881184023/
Yuri's Night Los Angeles: Earthrise
April 7, 2018
California Science Center
6pm to 12am
Keynote Astronaut: Nicole Stott
https://www.npsdiscovery.com/
Special Guest: Bill Nye
https://billnye.com/
6-7pm Launchpad party
Sponsor: 4 Pines Brewery providing complimentary tastings of Vostok beer for our 21+ crewmates!
http://vostokspacebeer.com/
Two incredible speakers to Launch the party:
Mission 26
Dylan Taylor: Chair and Founder of Space for Humanity
https://spaceforhumanity.org/
Special guest David Pescovitz the coproducer of the 40th anniversary release of Voyager's Golden Record. Link to Caltech's panel discussion about the Golden Record with Ann Druyan, Lynda Obst, David Pescovitz, Ed Stone and Reggie Watts: http://www.caltech.edu/content/voyager-golden-record-panel-discussion
Space Ambassadors:
Yuri's Night Ambassadors will be at the event in their dashing blue sashes. Please go up to them during our Ambassador Meet at Greet at 6pm around the Apollo- Soyuz Command Module or anytime throughout the night and ask your favorite space questions!
Amy Teitle:: Spaceflight historian, author, YouTuber, speaker, host of Vintage Space
A.C. Charania:: Manager, Advanced Programs, Business Development & Strategy for Blue Origin
David Pescovitz:: Co-editor of Boing Boing and Producer of the Voyager Golden Record: 40th Anniversary Edition
Amanda Nguyen:: Harvard grad, aspiring astronaut, founder of Rise, civil rights for people who have been sexually assaulted
Hallie Lambert:: Writer for the critically acclaimed SyFy show The Expanse, and writer of the tie in graphic novel series, The Expanse: Origins.
Athena Brensberger:: Budding astrophysicist turned international model, AstroAthens loves to bridge art and science.
Dylan Taylor:: Founding Partner of the Space Angels and Founder of Space for Humanity, a non-profit that strives to democratize space
Lauren Lyons:: Local aerospace reusability engineer extraordinaire
Interactives and Entertainment
Rotunda: Star Car Central's famous cars; Back to the Future and more!: http://www.starcarcentral.com/our-cars.html
The Improvised Generation:
Tech theater inside Creative World
a completely improvised show in the vein of Star Trek: The Next Generation https://www.improvisedgeneration.com/
Escape Game
World of Life
Team bonding experience for 3 groups of 8 to 10 participants each team; first come first served. Led by Virgin Galactic employees, trained to be Spacekind by Loretta Whitesides.
LA Zone Interactives:
JPL is bringing their super gecko robot again that can climb straight up a brick wall! Along with other fun rover hardware and tech. https://www.jpl.nasa.gov/video/details.php?id=1394
UCSB's NASA Directed Energy interstellar program team will have laser array demos and wafer scale spacecraft they are testing for the NASA Starlight and Breakthrough Starshot's trip to Alpha Centauri! http://www.deepspace.ucsb.edu/
ISS Above will be there, livestreaming from the ISS cameras and showing you how to build your own wearable ISS flyover reminder. http://www.issabove.com/
Under Shuttle Endeavour:
Vortex Media is bringing their interactive floor projection and Evan Weitzberg will again be projecting awesome space imagery on the rocket engine. http://vortexdomes.com/
Local artist will be on hand with some of their greatest art pieces.
Photo Booth Get your Earthrise crew photo in front of the Space Shuttle and get a hard copy you can take home with you.
Space suit you can climb in provided by Columbia Memorial Space Center: http://columbiaspacescience.org/
Burning Man's Interstellar Emissary will be lit up to share in our celebration of Voyagers 40th anniversary! https://www.facebook.com/InterstellarEmissary/
Caltech astronomers taking pictures of you with an Infrared camera, and education of how we use IR in space. Operation by Caltech's own IR astronomers Varoujan Gorjian and Robert Hurt http://coolcosmos.ipac.caltech.edu/
7pm – 12am
Samuel Oschin Pavilian with Space Shuttle Endeavour opens!!!
7pm – Red Carpet photo's
Get your Headsets provided by Quiet Events for the 8pm Keynote speaker Nicole Stott.
Interact with Star Wars Characters from the 501st, Droids, Dalek, and Tardis
Featured art:
Matt Elson's space themed infinity boxes
http://mattelson.com/
3D LED Stellarium (Star Map) Yuri's Night proudly presents "Meet the Stellar Neighbors" a scale model of stars within 25 light years of Earth. Designed by Loretta Whitesides and created by Tom Varden of Black Rock City Observatory.
Beer Garden open near External Tank:
Wavelength Brewing Co http://www.wavelengthbrewco.com/
LA Aleworks http://www.laaleworks.com/
Deep Space Observation from Joshua Tree telescope provided by: OPT https://optcorp.com/
9:30pm Silent Disco opens in the Kelp Forest Aquarium!!! You will be dancing under water in a way that is friendly to our aquatic crewmates.
9:30pm Dancing, exploring, and celebrating under Endeavour till midnight.
Please be sure to visit LA Zone to experience the wild entertainment of science based interaction. It will also be open until 12am, rockin to the official NASA shuttle playlist: https://www.space.com/11037-space-music-playlist-astronauts-wakeup.html