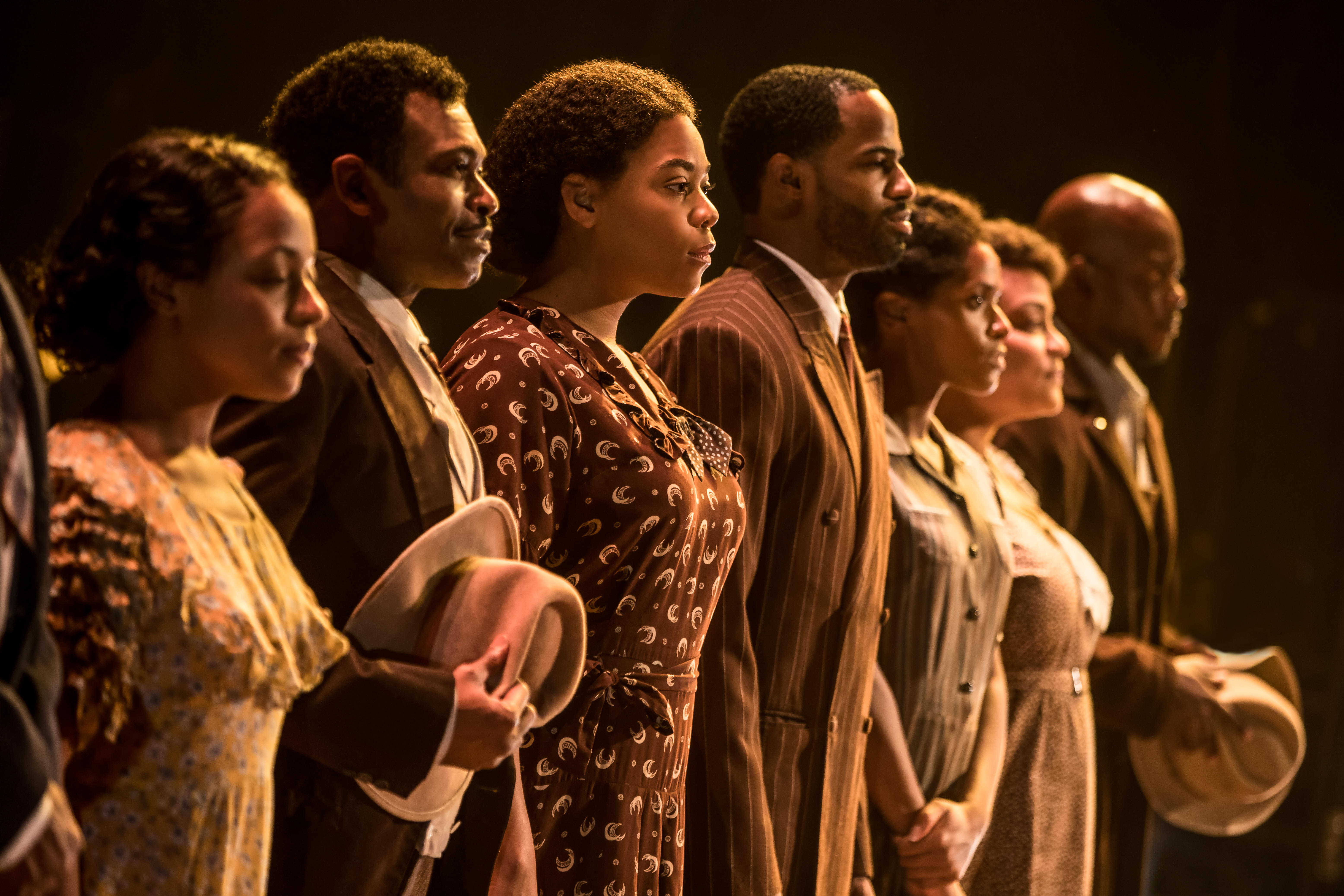 Now playing at the Pantages in Hollywood until June 17 is The Color Purple – the Tony Award®-winning Broadway revival, directed and staged by John Doyle. 
The superb voices of the magnificent 21-strong cast – regrettably – are let down by some muddy sound mixing. Technically, the show is flawed, but the performances are solid.
Nevertheless, this show remains a dazzling and buoyant musical, thanks to its soul-stirring score of jazz, gospel, ragtime and blues, paired with its potent tale of female empowerment. Mercifully avoiding all of those brassy Broadway cliche melodies, this musical features everything from honky tonk to African rhythms, as well as tender duets featuring heavenly harmonies.
Based on author Alice Walker's Pulitzer-prize winning and sensational saga, this feminist tale charts an oppressed Southern black woman's struggle for empowerment during the 1930s. We chart the evolution of Celie and Nettie, two sisters who endure abuse and separation. The whirlwind pace of the lengthy (2 hour 30 minute) show crams in a lot of Walker's story, although condensed at times.
Celie endures rape from her father, sexism, the loss of her children at birth, a tyrannical husband, domestic violence, chauvinism, the loss of her sister, and the demoralization of her friend (Sofia), who also loses her freedom to the law. Celie and the other characters tell a story of overcoming racism and misogyny in the rural South during this time period, depicting a struggle for equality. Celie maintains her resolve throughout the story. By the end of the film, the characters have undergone remarkable changes and relationships have begun to heal.
The original musical production ran on Broadway from 2005-2008. With a book by Marsha Norman, songs by Brenda Russell, Allee Willis, and Stephen Bray, the show follows the journey of Celie, an African-American woman living in the American South from the early to mid-20th century. Adrianna Hicks as central character Celie provides the raw heart of the show; it's gratifying to watch her character eventually step into her power. 
The Color Purple is a 1982 epistolary novel by American author Alice Walker which won the 1983 Pulitzer Prize for Fiction and the National Book Award for Fiction. Almost immediately after publication, Walker's book was adapted into a film released in 1985 by Warner Brothers, directed by Steven Spielberg, that went on the be nominated for a slew of Academy awards.
From the press release:
The revival of The Color Purple opened to great acclaim in summer 2013 at London's Menier Chocolate Factory, followed by a Broadway bow on November 10, 2015 at the Bernard B. Jacobs Theatre.The Color Purple went on to win two 2016 Tony Awards, including Best Revival of a Musical, two Drama Desk Awards, including Outstanding Revival of a Musical, the 2017 Grammy Award® for Best Musical Theater Album and a Daytime Emmy®.
The up-tempo, high-energy show mostly keeps the mood light, glossing over the more harrowing aspects of Walker's story to emphasize the sweeter emotional scenes with a few flashes of comedy, especially when employing a sassy 'Greek chorus' of gossipy church ladies as comic relief.
Cast members from the 2016 Broadway revival lead the touring company, including Adrianna Hicks (Aladdin, Sister Act – Germany) as Celie, Carla R. Stewart (Ghost – National Tour, Rent – Regional) as Shug Avery and Carrie Compere (Holler If You Hear Me, Shrek the Musical – National Tour) as Sofia.
They are joined by Gavin Gregory (The Color Purple – Revival, The Gershwins' Porgy & Bess) as Mister, N'Jameh Camara (X: Or, Betty Shabazz v. The Nation) as Nettie, J. Daughtry (The Color Purple – Revival, Beautiful: The Carole King Musical) as Harpo, along with Darnell Abraham, Amar Atkins, Kyle E. Baird, Angela Birchett, Mekhai Lee, Erica Durham, Bianca Horn, Gabrielle Reid, C.E. Smith, Clyde Voce, Nyla Watson, J.D. Webster, Brit West, Nikisha Williams and Michael Wordly.
The minimalist scenic design (also by director John Doyle) is spare and symbolic — just three towering walls positioned upstage of the action, festooned with wooden chairs. At times the chairs are ingeniously used as props, such as for a scene when the men are laboring.  Dull, brown hues prevail in the set and costumes, signifying austerity. A dramatic exception can be seen in Shug's fabulous crimson flapper dress.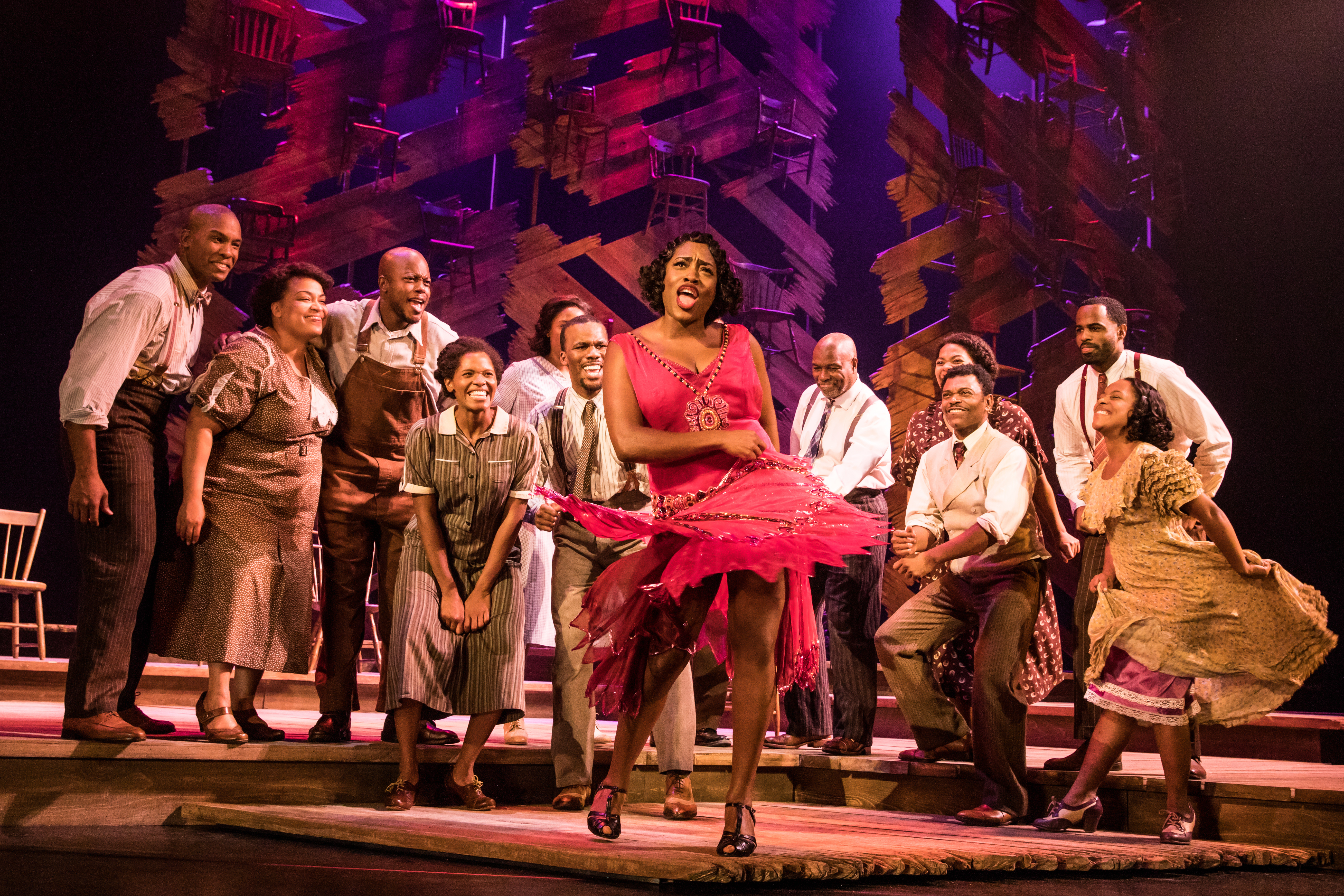 The Color Purple
Runs through June 17, 2018.
NB: Immediately after this L.A. Premiere engagement, the production will play a one week engagement in Costa Mesa at Segerstrom Center for the Arts (June 19 – 24).
Hollywood Pantages Theatre
6233 Hollywood Blvd., Hollywood
Performances:
Tuesday – Friday at 8pm
Saturday at 2pm & 8pm
Sunday at 1pm & 6:30pm
Tickets: $35-$145.00
Length: 2 hours, 30 minutes, with intermission
Suitability: Age 8 or older. Children under 5 will not be admitted to the theater.
Information: 800-982-2787, hollywoodpantages.com
Individual Tickets:                Individual tickets start at $35
                                                Ticket prices subject to change without notice.
Parental Advisory:                  Ages 12 and up
                                                 Children under 5 will not be admitted to the theatre.
                                                 All patrons must have a ticket, regardless of age.
Tickets:                              Online:             HollywoodPantages.com or Ticketmaster.com
                                                Phone:             1-800-982-2787
                                                In Person:        Hollywood Pantages Box Office (opens daily at 10am)
                                                                            and all Ticketmaster Outlets