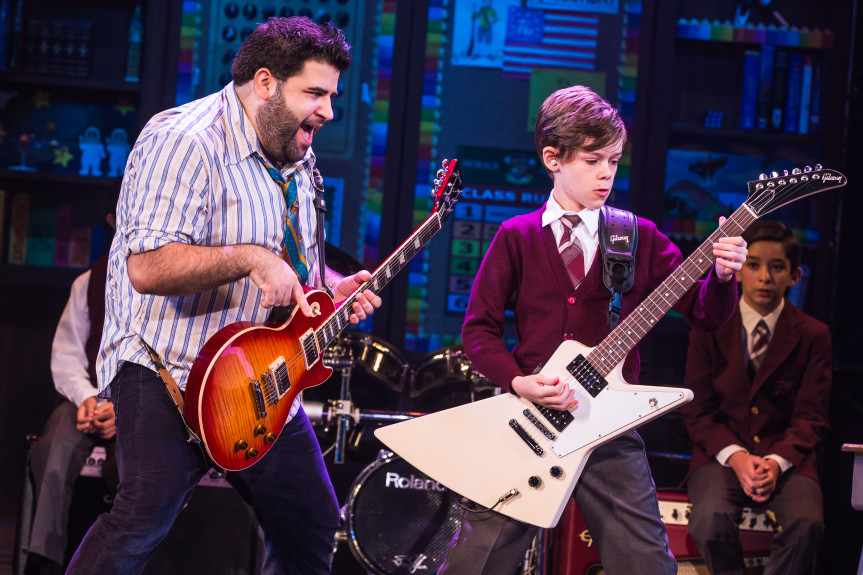 Now playing at Hollywood's Pantages Theatre is School of Rock: The Musical—a kid-friendly stage adaptation of Richard Linklater's 2003 musical comedy film that starred Jack Black. The show runs through May 27, 2018.
School of Rock: The Musical follows the identical storyline seen in the source material. When his bandmates become fed up with his showboating, Dewey Finn (Rob Colletti) gets kicked out of the rock band he founded and named No Vacancy. Facing imminent eviction after sponging off his loyal friend and substitute teacher Ned (Matt Bittner) and his overbearing wife Patty (Emily Borromeo), Dewey is desperate to land a job. Seizing on a lucky break, Dewey poses as Ned to land a job as a substitute teacher at a fancy private school. 
Ever the anarchist, Dewey decides to coach his young students for the annual Battle of the Bands competition where he hopes to beat out his former bandmates from No Vacancy. In the process, the kids and Dewey learn valuable lessons about building their confidence and exploring untapped potential. 
The story is solid, but the musical itself surprisingly unengaging. Here some new music has been composed by Broadway maestro Andrew Lloyd Webber and paired with a book by Julian Fellowes (Downton Abbey), lyrics by Glenn Slater and direction by Laurence Connor (the Broadway revival of Les Miz).
While the movie version was memorably delightful, this musical version of the suffers from an almost complete lack of charm. The stage show only really comes alive once the cast of kids start to rock out. 
For the most part, the young cast play their own instruments. They seemed to be miming during an early scene with classical musical instruments, but for the rock 'n' roll scenes their expertise seemed genuine and evident. This is revealed during the Act I song, "You're in the Band," which shows off the students' musical talents. We see Vincent Molden as Zack the guitarist,Theo Mitchell-Penner as Lawrence on keyboards. Theodora Silverman is fantastic as Katie on bass as is Gilberto Moretti-Hamilton who plays drummer Freddie.
Then there's the trio of singers: Shonelle (Olivia Bucknor) and Marcy (Alyssa Emily Marvin), and Tomika as lead vocalist (Grier Burke).
Playing our central protagonist Dewey Finn, Rob Colletti does his best to channel the wild-eyed and manic comedic style of Jack Black. Unfortunately Colletti lacks the off-the-charts charisma and presence of the screen funny man. 
Many of the songs sound the same and you probably won't be humming any melodies on your way out of the theater. One especially cliched and cringe-worthy number is when the tweens sing "If Only You Would Listen," while surrounded by their respective uncaring parents. 
Strictly for kids and teens.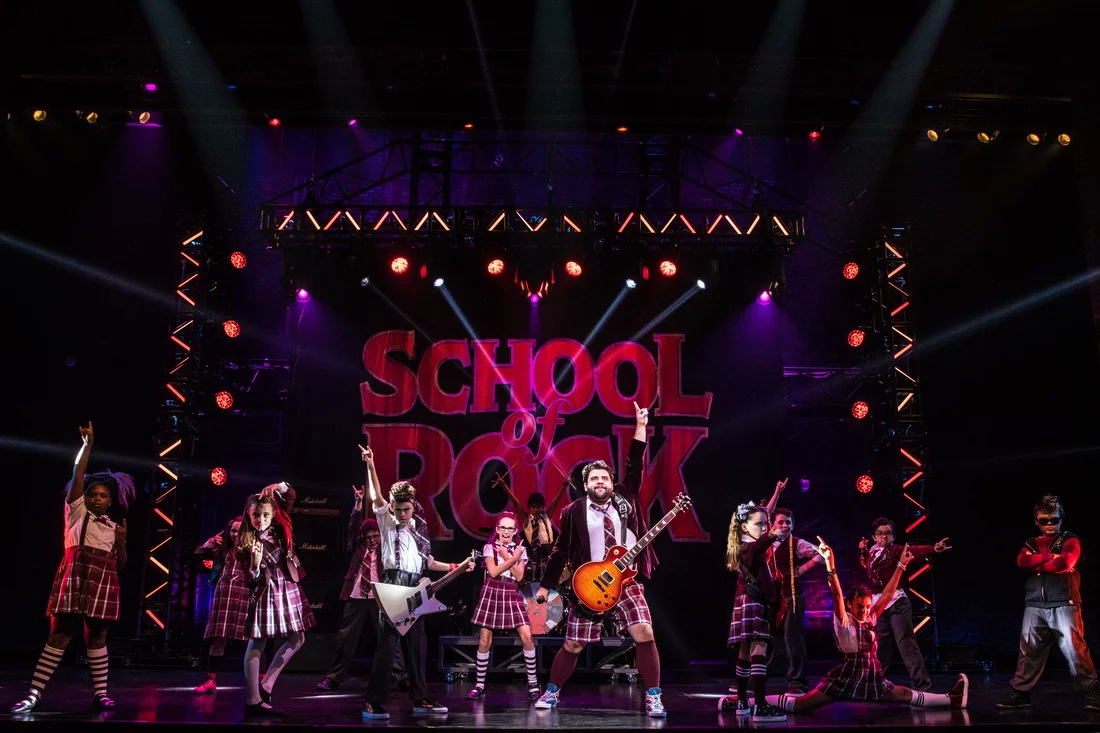 School of Rock: The Musical
Runs through May 27, 2018.
8 p.m.
Tuesdays-Fridays, 2 and 8 p.m.
Saturdays, 1 and 6:30 p.m.
Sundays. Also 2 p.m. May 24, no late performance May 27.
Where: Hollywood Pantages Theatre, 6233 Hollywood Blvd., Hollywood
Tickets: $35-$145
Length: 2 hours, 30 minutes, with intermission
Suitability: Age 8 or older. Children under 5 will not be admitted to the theater.
Information: 800-982-2787, hollywoodpantages.com