Jennifer Townsend's insightful documentary, Catching Sight of Thelma & Louise. is making its Los Angeles theatrical debut this week at Laemmle's Music Hall starting Friday, Apr. 19.
Director Townsend will be participating in a Q&A following the 4:00 p.m. and 7:00 p.m. screenings on Friday, Saturday and Sunday, Apr. 19-21, and after the 7:00 p.m.screenings on Monday and Tuesday, Apr. 22 and 23.
On Saturday, Apr. 20, there will be a special MeToo/WhatNext? Conversation Event benefiting Peace Over Violence. It will be moderated by a researcher from the Geena Davis Institute on Gender in Media
Following is the original ArtsBeat LA review, published when the film screened at the San Antonio Film Festival.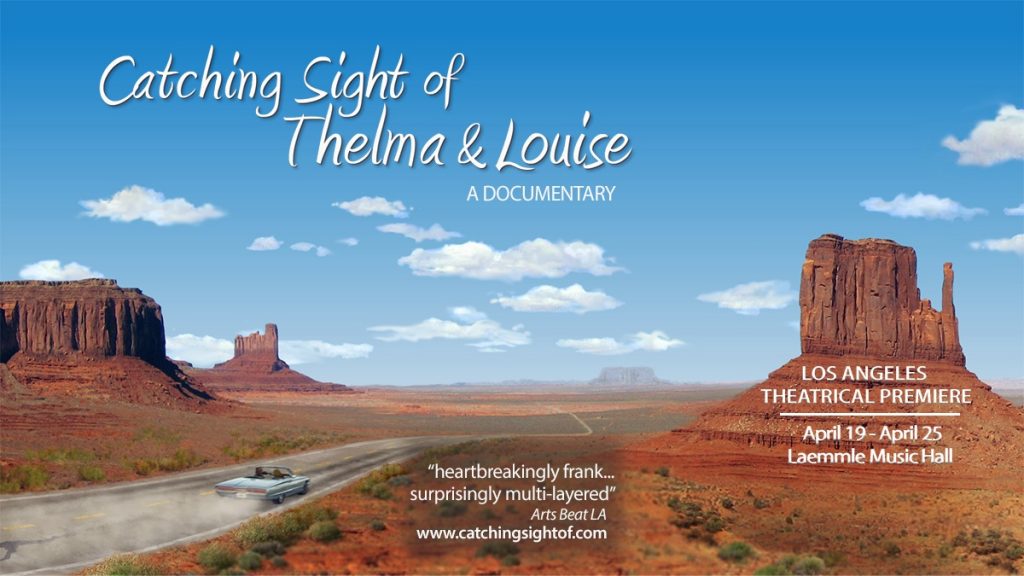 This is certainly a unique premise for a documentary.
Director/producer Jennifer Townsend was not in the film business at all when she first encountered the now-classic road movie Thelma & Louise in 1991. Profoundly moved by what she'd seen, she wondered if others had been similarly affected by the film. Originally setting her sights on writing a magazine article about its cultural impact, she sent out a series of press releases to newspapers across the country in search of volunteers to fill out a questionnaire regarding their feelings about the cinematic landmark.
She intended to compile the data on these surveys to use as the basis for an article about the impact the film had on a cross-section of the general public. But this was before the internet was ubiquitous, so by the time she'd received enough completed questionnaires via mail, many other stories had been written, so she decided to set the project aside.
More than 20 years later, the 75-year-old Townsend realized that if she was going to do something with the information she'd accumulated, now was the time, and Catching Sight of Thelma & Louise began to take shape.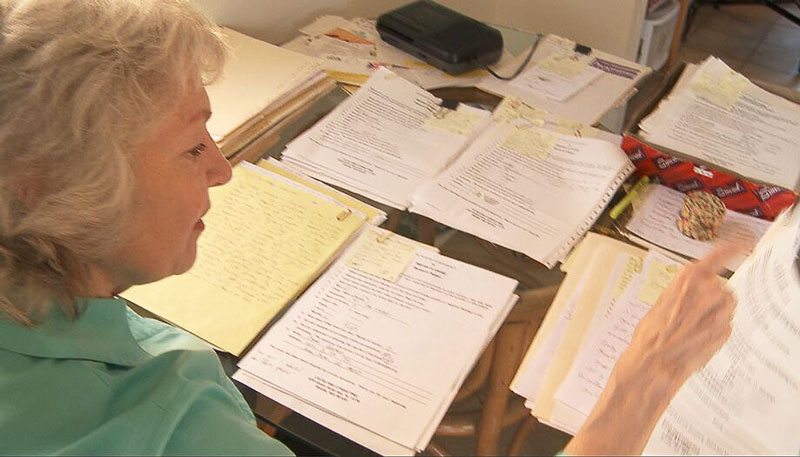 She managed to get in touch with a group of the original respondents, even after such a substantial passage of time, and she flew out to each of their homes to conduct interviews. The director showed them the original questionnaires they'd filled out years before, and many of them were amused by what they'd written. Still, more of them stood firmly by the opinions voiced by their younger selves.
Catching Sight of Thelma & Louise incorporates key scenes from the 1991 MGM release with these insightful and often passionate interviews, and the results are fascinating. Most all of the interviewees felt liberated by the film, responding to the notion of female empowerment, which was something they hadn't experienced in the cinema before.
It also evoked some unhappy memories for many, particularly the scene depicting the near-rape of Thelma. That scene brought back traumatic incidents in their own lives, whether they were the victims of sexual abuse or knew someone who was. They're all heartbreakingly frank in sharing these recollections. Even Townsend has a story to make it even more blisteringly personal.
The documentary is not without its humorous aspects, however. While several of the female interviewees were unabashedly smitten by their first glimpses of the handsome visage of young Brad Pitt, male respondents expressed more enthusiasm for the vehicles being driven in the 1991 film.
The director also brought in some of the people that worked on Thelma & Louise, including editor Thom Noble as well as actors Christopher McDonald, who played Thelma's boorish husband, and Marco St. John, the neanderthal trucker. They provide their own opinions of the original's lasting cultural impact.
From a production standpoint, Catching Sight is amazing. The direction, by first-timer Townsend, moves quickly and keeps viewers emotionally invested. Stuart Ferrier's photography is crisp and blends well with the footage from Ridley Scott's film. There's also some nice overhead desert scenery that echoes the look of the original. Sarah Ferrier's dynamic editing makes a lot of smart choices, and Stephen T. Cavit's score is thematically spot-on.
Catching Sight of Thelma & Louise is a surprisingly multi-layered documentary that approaches analysis of the feminist classic in a number of intriguing ways. Appropriately, like the film that inspired it, it tends to linger in the memory for some time afterward.