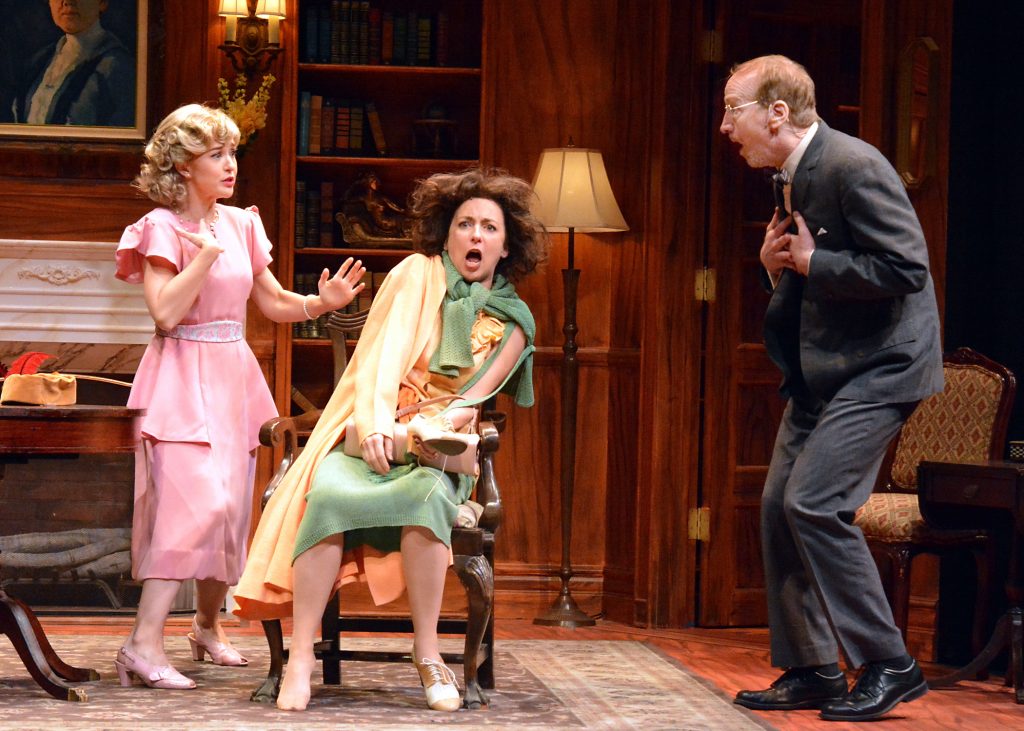 Playwright Mary Chase's whimsical and Pulitzer Prize-winning comedy from 1944—Harvey—is now playing at the Laguna Playhouse, with French Stewart charmingly inhabiting the role of Elwood P. Dowd that Jimmy Stewart (no relation) made famous on the silver screen in 1950.
The story's main premise is borderline-farcical: a bibulous, middle-aged man (Stewart) insists his best friend is a pooka (or púca – a creature from Celtic folklore) named Harvey, whose presence is described as a towering and invisible rabbit. His sister Veta (played by Vanessa Claire Stewart) has been driven to distraction by this nonsense and plots to have her brother committed on grounds of insanity so she can enjoy a social life. Veta is a widow with a young daughter who she'd like to introduce to society – something that's unlikely to happen if she has a crazy uncle scaring off potential suitors.  A comedy of errors ensues with Elwood and Harvey eventually becoming the catalysts for a family mending its wounds and for romance blossoming in unexpected places.
Directed by Andrew Barnicle, the performances by the solid cast are terrific. Unfortunately, the production feels sluggish in its pacing and thus never quite delivers on its implied farcical promise. Curiously, it's as if all of Chase's farcical scenes happen off stage…
The first thing to greet audiences once they settle in to the charming Laguna Playhouse seating is the superbly detailed, dual-location set, designed by Bruce Goodrich. On stage right is the Dowd family mansion's entrance and library. On stage right is the reception room of Chumley's Rest – a sanatorium. The play's action is split between these two settings. Kate Bergh's costuming is also perfect in its period detail.
French Stewart is wonderfully endearing as the daffy Elwood. With his benign smile and polite demeanor, Stewart brings a genuine warmth and affability to the role as he ropes unwitting people into his elaborate fantasy. He incorporates some cute business, such as when Elwood produces a deck of cards. Lily Gibson is great as Myrtle May, Veta's daughter. With her high-pitched, bubblegum voice, she perfectly captures the mid-forties era. Vanessa Claire Stewart is excellent as the exasperated sister who often seems on the verge of hysteria. Reduced to a gibbering wreck, her disheveled entrance in Act II – all wild hair and clutching a single shoe – is one of the highlights of the show. It's odd that her scheme to have her harmless brother committed to gain control over the family estate is simply glossed over.
Sure, Harvey is a corny, dated play that doesn't really have much to say, but it's still gently entertaining. It's possible the pacing has become tighter during the run.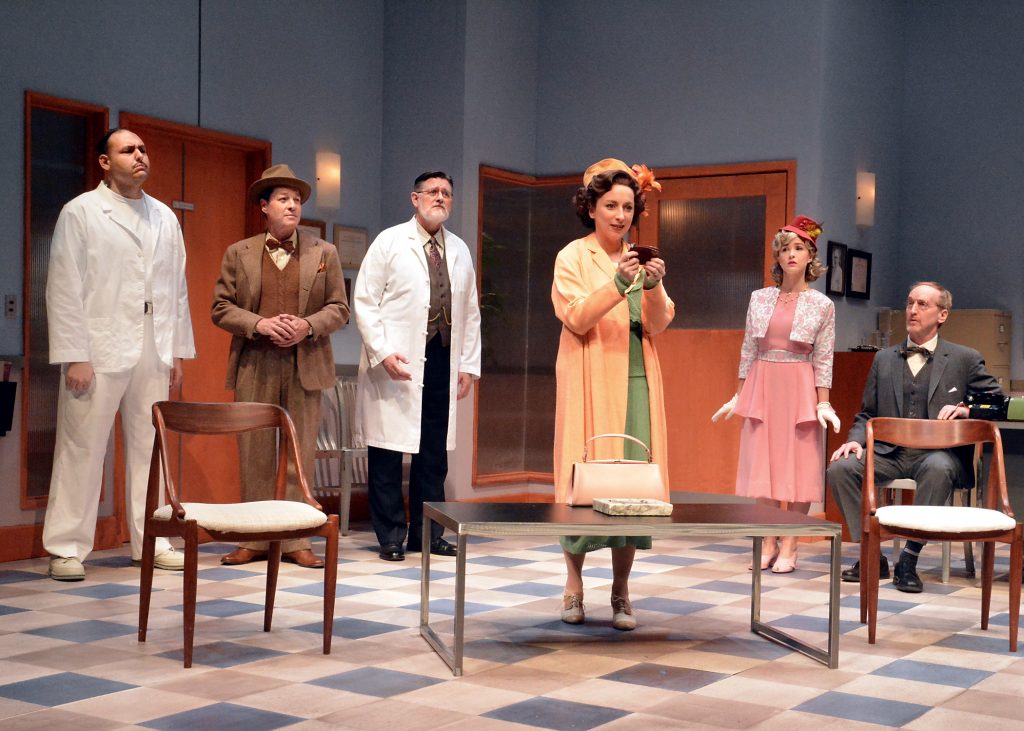 Harvey
Written by Mary Chase
Directed by Andrew Barnicle
Starring French Stewart & Vanessa Claire Stewart
Runs through Sunday, June 16, 2019
Performances: Wednesdays through Fridays at 7:30pm; Saturdays at 2pm & 7:30pm; Sundays at 1:00pm.
There will be a Talk-Back following the performances on Thursday, June 13 at 7:30pm.
LAGUNA PLAYHOUSE
606 Laguna Canyon Rd. in Laguna Beach, CA
Tickets: $60.00 – $85.00
For tickets – visit www.lagunaplayhouse.com
or call 949-497-2787