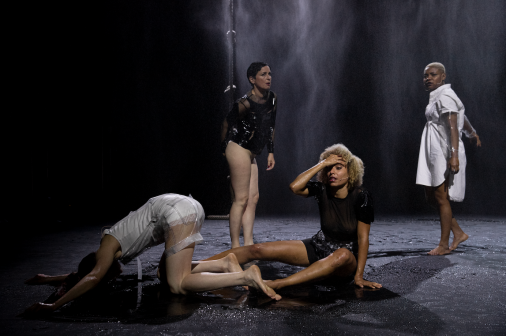 Photo: Maria Baranova.
REDCAT, CalArts' downtown center for contemporary arts, announces the adventurous Fall of 2019, beginning on September 12-15, 2019 with the Los Angeles premiere of the internationally acclaimed choreographic work, Water Will (In Melody) by celebrated choreographer Ligia Lewis. 

In this internationally acclaimed choreographic work, Water Will, choreographer and performer Ligia Lewis, along with her incredible cast, Susanne Sachsse, Dani Brown and Titilayo Abedayo, use melodrama and an eerie tale by the Brothers Grimm as points of departure. Unfolding with playful inventiveness, a wet and cavernous landscape becomes host to a fiction that invites instability, recreation, and catastrophe. Wrestling with language and notions of "the will," this dystopian fantasy becomes a space for negotiating desire, imagination, and feelings of an encroaching end.

Lewis initiates a world in which voice, gesture, touch and movement flow like waves—both gentle and turbulent. Surrendering to the possibilities of the haptic, sense gets un-done to get re-done, paving the way for an "othered" organization of sight and touch. Water Will (in Melody) completes Lewis's trilogy, preceded by minor matter in red (seen at REDCAT in January 2018) and Sorrow Swag in blue. 
Ligia Lewis is a Dominican-born and Berlin-based dancer and choreographer who has worked in multiple contexts including theater and museums. Engaging with affect, empathy, and the sensate, her choreography considers the social inscriptions of the body while evoking its potentiality. Her work can be described as experientially rich and complex. Within her practice, Lewis continues to provoke the nuances of embodiment.
In 2017, Lewis was awarded a Bessie for Outstanding Production for her latest stage work, minor matter (2016) and was awarded the Prix Jardin d'Europe for her work Sorrow Swag (2014). In 2018 she was granted a Foundation for Contemporary Arts Award in the field of dance. Both works continue to tour internationally.
Her work has been shown at various venues and festivals including the following – Abrons Art Center/American Realness (NYC), Flax/Fahrenheit (LA), Palais de Tokyo (Paris), TATE Modern (London), Stedelijk Museum/Julidans Festival (Amsterdam), REDCAT/Pacific Standard Time (LA), and Tanz im August presented by HAU Hebbel am Ufer (Berlin).
As a dancer, Lewis has performed and toured extensively for artists including Ariel Efraim Ashbel, Mette Ingvartsen, and Eszter Salamon. She has collaborated with visual artist Wu Tsang, musical artist Twin Shadow, and with the DJ collective NON Worldwide.
Ligia Lewis is currently a factory artist at tanzhaus NRW Düsseldorf, Germany.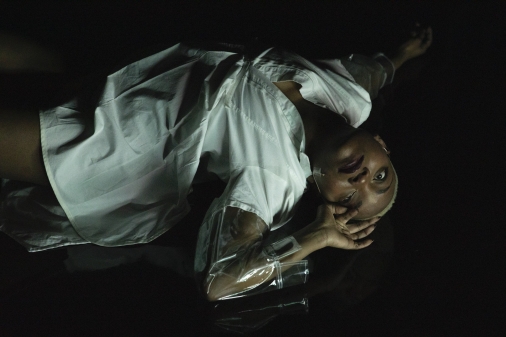 Ligia Lewis: Water Will (in Melody)
Sept 12 to Sept 14, 8:30 pm
Sep 15. 3 pm

Los Angeles Premiere
Tickets $22-$27.00
https://www.redcat.org/ligialewis/waterwill

REDCAT — ROY AND EDNA DISNEY/CALARTS THEATER
Located in the WALT DISNEY CONCERT HALL complex
631 WEST 2ND STREET
LOS ANGELES, CA 90012
213 237-2800

Production: Ligia Lewis/ HAU Hebbel am Ufer. Co-production: Biennale de l'Image en Mouvement 2018 /Centre D'Art Contemporain (Geneva), tanzhaus nrw (Düsseldorf), Arsenic Centre d'art scénique contemporain (Lausanne), donaufestival (Krems), Walker Art Center (Minneapolis), Münchner Kammerspiele. Funded by: Berlin Senate Department for Culture and Europe. Supported by: Baryshnikov Arts Center (NYC). Thanks to: Jarrett Gregory. This U.S. tour of Water Will (in Melody) is supported in part by the Goethe-Institut.
UPCOMING FALL 2019 PERFORMANCE EVENTS:

Sept 19 to Sep 22 
Adam Linder: THE WANT
Co-Presented with CAP UCLA

Inspired by the Client/Dealer relationship from Bernard Marie-Koltès playIn the Solitude of The Cotton Fields, The WANT is a contemporary opera—with music by Ethan Braun and lighting design by Shahryar Nashal—that fuses vocal expression with a rich physicality. The libretto, littered with interjections from Jacques Derrida to Missy Elliott, contemplates the desire, vulnerability and cunning at the heart of any transaction. Read more
Oct 11 
"Shadows Crossing: Tones of Voice Continued,"
a lecture by Cedar Sigo

The Bagley Wright Lecture Series on Poetry, in partnership with the CalArts MFA Creative Writing Program, presents acclaimed Suquamish poet Cedar Sigo. Extending from his many publications, such as Royals and Language Arts, and his contributing editorship to the forthcoming Norton Anthology of Native American Poetry, Cedar's lecture "Shadows Crossing: Tones of Voice Continued" asks, How have qualities of voice become unlocked and sustained throughout both ancient and contemporary practice? Read more
Oct 18 to Oct 25 
WITKACY / Two-Headed Calf 

Artistic Director of Warsaw's Studio Teatrgaleria, Natalia Korczakowska is recognized as one of the most exciting theater artists in Eastern Europe. WITKACY / Two-Headed Calf emerged from an ongoing multi-year collaboration between CalArts Center for New Performance and Studio Teatrgaleria. Read more
Nov 6 
Peter Vermeersch and FLAT EARTH SOCIETY: 
100-year anniversary of The Oyster Princess 

In 2019, Flat Earth Society celebrates its 20-year jubilee and the 100th anniversary of Ernst Lubitsch's landmark 1919 film The Oyster Princess (Die Austernprinzessin). After almost 14 years and many international screenings, including in New York, Ottawa, São Paulo, Rio de Janeiro and Mexico City, FES will perform its most successful production in a special U.S. engagement at REDCAT. Read more

Nov 10 to Nov 11 
Studio: Fall 2019 
REDCAT's quarterly program of new works and works-in-progress highlights new forms of dance, theater, music and multimedia performance in a wide-ranging evening that celebrates the vitality of LA's artists making work for the stage. Read more
Nov 16 
Hunter Hunt-Hendrix, with Liturgy and CalArts' Sonic Boom, dir. Ulrich Krieger: Origin of the Alimonies 

Origin of the Alimonies is a multidisciplinary opera by Hunter Hunt-Hendrix, the founder of Liturgy, the "transcendental black metal" band which The New York Times praised as "hungry for other musical languages, devouring them and putting them to work." The opera, which collides metal, classical, and trap music, is a meditation on the origin of all things. Read more
Nov 22 to Nov 23 
Dorian Wood: XAVELA LUX AETERNA 

Coinciding with the centenary of Chavela Vargas, the unforgettable voice of La Llorona, Los Angeles-based artist Dorian Wood honors Chavela with Xavela Lux Aeterna, a riveting personal tribute with original compositions and folk music from Costa Rica. Accompanied by an exquisite string quartet under the direction of Spanish artist Alberto Montero, Xavela Lux Aeterna is both a tribute and a dialogue between two creative souls passing through one body. Read more