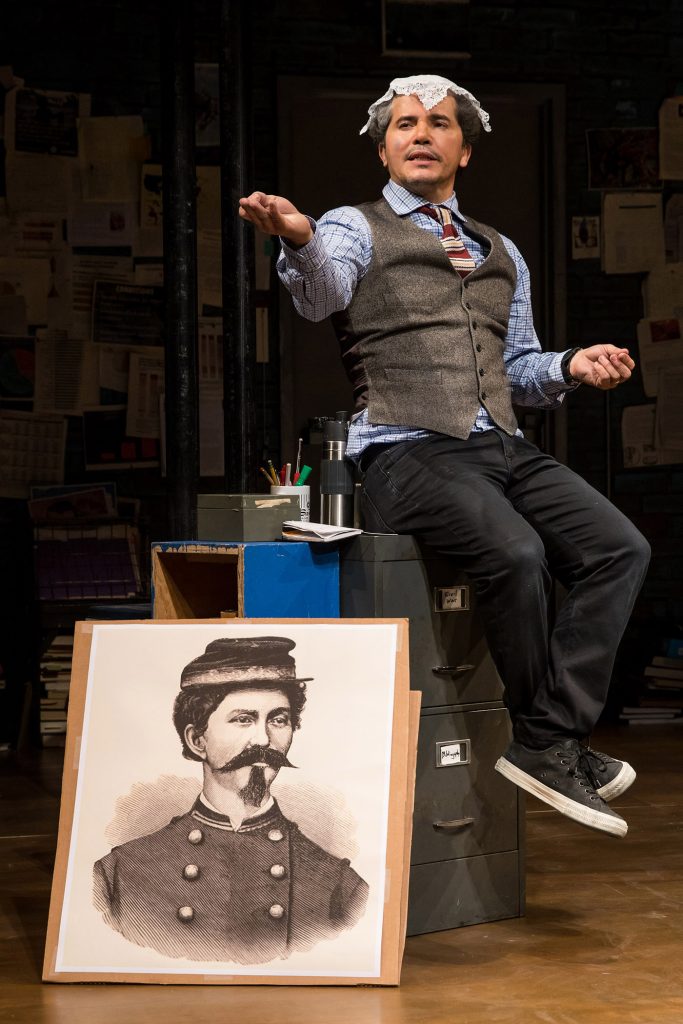 John Leguizamo in "Latin History for Morons." Photo by Matthew Murphy.
With his spiky, snarky observations and occasional profane language, John Leguizamo brings his style of comedy-infused and instructive solo-show presentation to the Ahmanson Theatre.
John Leguizamo's solo show Latin History for Morons is now playing in downtown LA through October 20, and it's not necessarily a show I can wholeheartedly recommend.
Considering he kicks off with a remark about his wife, something along the lines that she's intolerant of intolerance (haha) and soon follows with some kind of "beaver" slur, I find myself a little offside from too early on.
Actor, stand-up comedian, filmmaker, and playwright, Leguizamo explains the genesis of this, his sixth solo show. His son was being bullied with racist name-calling, which recalled Leguizamo's own past experiences of "feeling like a second-class citizen" while growing up during the 70s. Of Puerto Rican descent, Leguizamo adds, "I always felt like my history was being kept from me," given its casual exclusion in the mainstream school curriculum.
So Leguizamo embarks upon an odyssey to unlock the secrets of Latin History, not only for his son's edification and to fortify his cultural pride, but for himself as well. And now for us.
Leguizamo recalls his uncle teaching him some details of a Latin timeline through history, but adds, "If you don't see yourself reflected outside of yourself, you feel fucking invisible."
It's a sobering reflection.
So now Leguizamo posits himself as a "self-professed ghetto scholar." He spends the show illegibly scrawling on a large chalkboard, charting key moments in history, including his highlighting of the 95% extermination of LatinX cultures—tantamount to ethnocide.
Leguizamo raises the legitimate question of why 'ethic' art has always been dismissed as 'folk art' when measured against the so-called 'fine' art of European cultures. He reminds us of all the elaborate masterworks wrought in gold that were destroyed when they were melted down into coins by the invading Spanish conquistadors. Leguizamo humorously affects an exaggerated NY Italian gangster accent when voicing Columbus.
He reminds us that Mexico City was once described as the "Venice of the West" and laments the great loss of two-thirds of the population who were infected by European diseases such as small pox and syphilis, imported by the invaders. The Incan Empire was once three times bigger than any other empire in history, Leguizamo reminds us.
I had really hoped I was going to learn more about the history of ancient Latin cultures than I did during this show, but I guess there are always books and the internet for further exploration.
The staging is simple and effective, but at around two hours in length (with no intermission), the show is too long and a little too sluggish in pace to completely engage our attention for the duration.
Latin History for Morons
Written & performed by John Leguizamo.
The Ahmanson Theatre
at The Music Center, 135 N. Grand Avenue in Downtown L.A. 90012.
Runs until October 20, 2019.
Approximately two hours in length (with no intermission).
Tickets are available online, by calling Audience Services at (213) 972-4400 or in person at the Center Theatre Group Box Office (at the Ahmanson Theatre at The Music Center in Downtown Los Angeles).
Tickets range from $35 – $145 (ticket prices are subject to change).
Directed by Tony Taccone ("Wishful Drinking," "Bridge & Tunnel"), the Tony-nominated production of "Latin History for Morons" is written and performed by Leguizamo, featuring scenic design by Rachel Hauck, lighting design by Alexander V. Nichols and original music and sound design by Bray Poor.