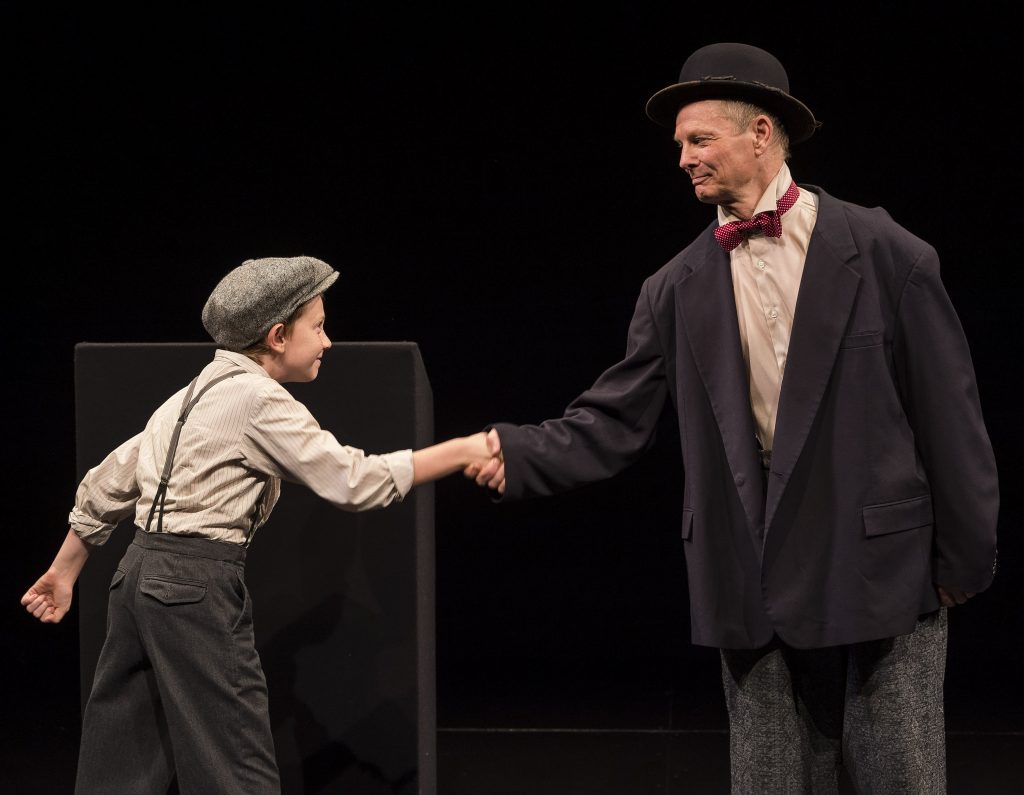 Legendary clown and physical actor Bill Irwin has crafted a delightfully wonderful solo-show devoted to the prose of existential playwright Samuel Beckett. Humbly inhabiting a sparse stage (just a few props, including a lectern—all black), Irwin declares his intention to share with us "some passages from the Nobel Laureate playwright Samuel Beckett," adding "some thoughts of having lived with these languages," of which he clearly remains in awe. Throughout the tautly paced, yet un-rushed 90-minute evening, Irwin alternates between reciting passages from some of Beckett's most famous works, such as "Texts for Nothing" and "Waiting for Godot"—all interspersed with his musings.
The actor performing the role of 'the Boy' on opening night was Benjamin Taylor, pictured above. L-R: Benjamin Taylor and Bill Irwin in the Irish Repertory Theatre production of "On Beckett." Photo by Craig Schwartz.
The actor generously lays the evening ahead out for us, adding, "I say, by way of reassurance, these stretches of language, this writing haunts me. Mine is an actor's relationship with Beckett." Indeed, Irwin brings a welcome illumination and profound appreciation of this remarkable 20th century writer's works. More importantly, Irwin makes the prose more accessible for non-fans and for those new to the Irish-born (French scripted) writer's insightful language. In fact, several people brought their children to the show, perhaps to grant them the opportunity to see such a famous clown on stage in their lifetime. (Although agile, Irwin is 69 years old). His dissertation is deep and best suited for mature minds, but there's definitely some wonderful kid-friendly clowny business – physical wobbly walks, deft hat and cane maneuvers and even a hilarious bit with a (faux) 'mechanical' lectern that obstreperously won't 'respond' to button commands. It's a truly wonderful and entertaining show, not just amusing but cerebrally rewarding.
Irwin muses about the differing pronunciation of 'Godot' – Americans tend to say "GOD-oh" while the Brits say "goddoh." When Irwin interprets Beckett's language for us, he immediately launches into a specific voice for its rendering in performance.
On one level, we can enjoy his physical performance and skillful clowning, but another reward is the far greater depth he provides us for understanding the ideas and concepts that Irwin suggests that we can glean from the writings of this singular dramatist.
Of value is the bridge Irwin provides for younger generations to perhaps appreciate the esoteric works of Beckett.
This is very much a show for actors. Though, at the same time, it's a marvelous entertainment that is enriching for everyone.
From the press notes:
Bill Irwin is haunted by the work of Samuel Beckett – language he learned over years as a performer and now finds himself considering and reconsidering. In this intimate 90-minute engaging, funny and illuminating evening, Irwin explores his own personal "actor's relationship" to the Nobel Prize-winning Irish writer, mining the physical and verbal talents acquired from his years as a master clown and Tony Award-winning actor. Irwin's approach to the comic, the tragic, to every side of Beckett's work – including "Waiting for Godot" and "Texts for Nothing" – offers the opportunity to experience Beckett's language through the lens of a uniquely skilled performer.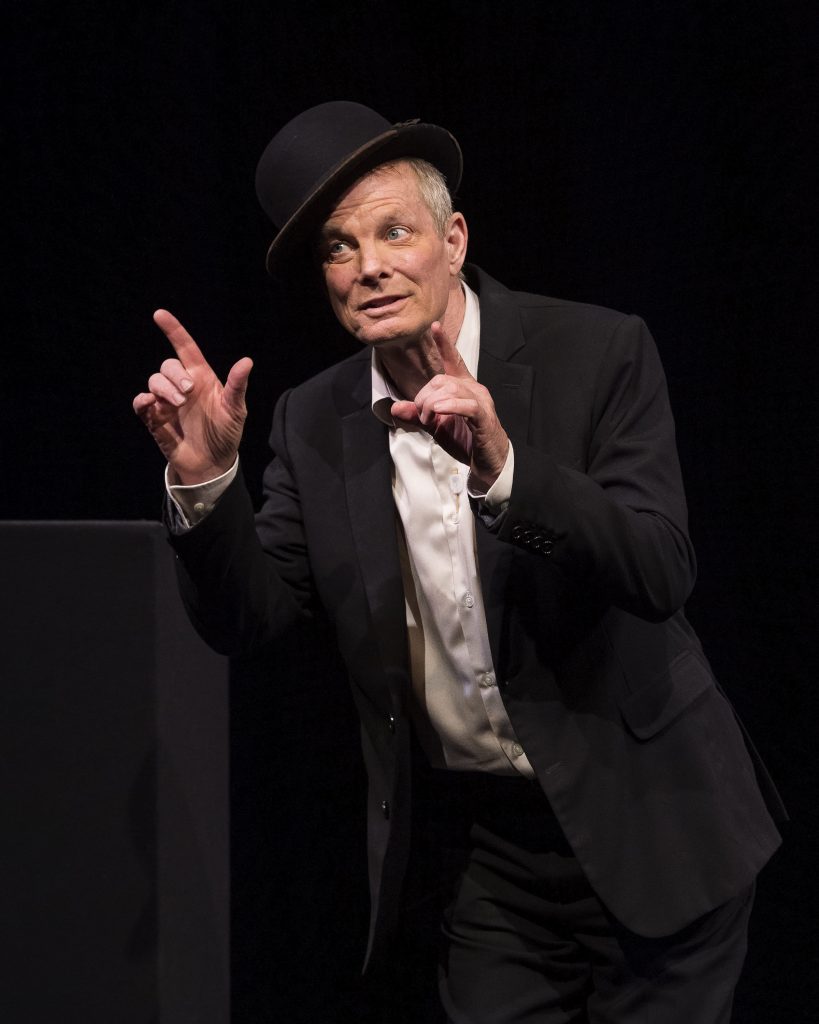 "On Beckett"
at Center Theatre Group's Kirk Douglas Theatre
9820 Washington Blvd., Culver City, CA 90232
Conceived and performed by Bill Irwin
Runs through October 27, 2019.
Regular Performances (September 19 – October 27):
Tuesday through Friday at 8 p.m.;
Saturday at 2 and 8 p.m.; and Sunday at 1 and 6:30 p.m.
No Monday performances.
TICKET INFO:
Ticket Prices: $30 – $75 (Ticket prices are subject to change.)
Tickets will be available online here, and by calling Audience Services at (213) 972-4400 or in person at the Center Theatre Group Box Office.
Groups: (213) 972-7231.
Deaf community: Information and charge, go here.
LOCATION:
Center Theatre Group/ Kirk Douglas Theatre
Free three-hour covered parking at City Hall, (with validation available in the Kirk Douglas Theatre lobby)