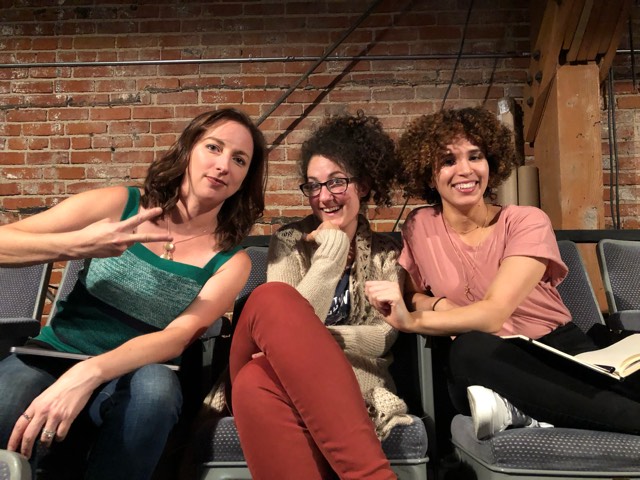 Sacred Fools has announced their first all-female co-Artistic Director team in the theater company's history.
Newly appointed is Vanessa Stewart, joining the other two women Adriana Colón and Aviva Pressman – all pictured above.
At Sacred Fools, each artistic director serves a three year team which is staggered. Aviva Pressman will serve one more year, Adriana Colón two and Vanessa will serve three. Every year a new artistic director is voted in to replace the outgoing most senior member. The appointment of Stewart marks the first time in the company's history that all three Artistic Directors have been women. Also of note — Sacred Fools will be participants the Jubilee year next season (more info can be found here.)
Sacred Fools is one of the only 100% democratically-led theater companies in Los Angeles. (Their members pay no dues to remain a member.)
According to their mission statement, the company believes that theater is a collective art between the artists and the audience, and, as such, we are always seeking ways to reach out and bring theater to underserved populations.
The company relocated in 2016 to theater space on Hollywood's Theatre Row, at the Broadwater, 1076 Lillian Way, Los Angeles, CA 90038
The newest show, now playing at Sacred Fools until November 2, 2019, is Deadly.
A new musical making its world premiere, the production was created by the team behind the critical and box-office hit Stoneface, playwright and performer Vanessa Claire Stewart (Louis & Keely: Live at the Sahara), composer Ryan Thomas Johnson (Watson), and director Jaime Robledo (Mr. Burns, a post-electric play).
Deadly is set in Chicago in 1893 and examines one of the most famous true crime cases in history, through the unlikely lens of the victims' experience.
Deadly
Written by Vanessa Stewart and directed by Jamie Robledo.
Review to follow.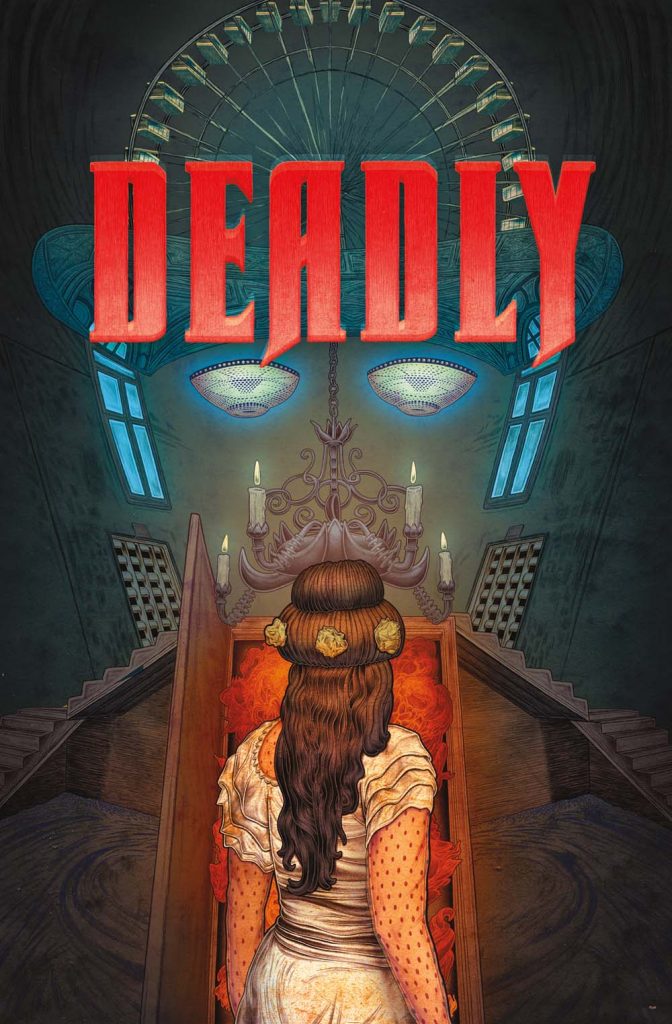 Deadly
Sacred Fools
The Broadwater Main Stage,
1076 Lillian Way, LA CA 90038
Runs until November 2, 2019.
Fridays and Saturdays at 8:00pm,
Monday, October 21 at 8:00pm.
TICKETS: $15.00
From the press release:
Deadly is the 9th mainstage show directed by Jaime Robledo at Sacred Fools; past productions include Mr. Burns, a post-electric play (LA Drama Critic Circle and Stage Raw Awards), Stoneface (LA Weekly Award), Astro Boy and the God of Comics (LA Drama Critics Circle, Stage Raw Award nominations), Watson: The Last Great Tale of Sherlock Holmes (LA Weekly Award, Ovation nomination) and Watson and the Dark Art of Harry Houdini, both of which he also authored.
Although Deadly is technically the first musical by composer Ryan Thomas Johnson, his talents have been seen on the Sacred Fools stages for years. He served as the Musical Director and Band Leader for Forbidden Zone: Live in the Sixth Dimension, Music Director/Pianist for Stoneface and composed original music for shows including Astro Boy and the God of Comics and Candide.
For Producer Brian Wallis, Deadly is the 8th show directed by Robledo that he has produced for Sacred Fools. Other shows at Sacred Fools produced by Wallis include the aforementioned Stoneface, Skullduggery, the Watson plays, as well as Absolutely Filthy, Do Androids Dream of Electric Sheep? and Savin' Up for Saturday Night.
The design team is featured with Set Design by Stephen Gifford, Lighting Design by Andrew Schmedake, Sound Design by Cricket S. Myers, Projection Design by Corwin Evans, Prop Design by Brandon Clark, Hair and Makeup by Kat Bardot and Costume Design by Linda Muggeridge. The show's Choreographer is Brin Hamblin and Fight Choreography is by Jo Ann Mendelson. Photography is by Jessica Sherman Photography. Deadly is produced for Sacred Fools by Brian W. Wallis, with Associate Producers K.J. Middlebrooks and French Stewart.
The live band for the show features Brenda Varda (Piano), Zachary Bernstein (Drums), Lisa Davis (Violin) and Katt Newlon (Cello).
WORLD PREMIERE MUSICAL! They were intelligent, ambitious, independent women. It just wouldn't do. 1893. A time of hope and optimism as the World's Fair turns the globe's eyes toward Chicago. But within this cultural explosion of art and technology, a demon lurks beneath. Taking advantage of the modern woman's adventuresome spirit, H.H. Holmes builds a hotel – a murder castle – to entrap and kill unsuspecting ladies new to the big city.