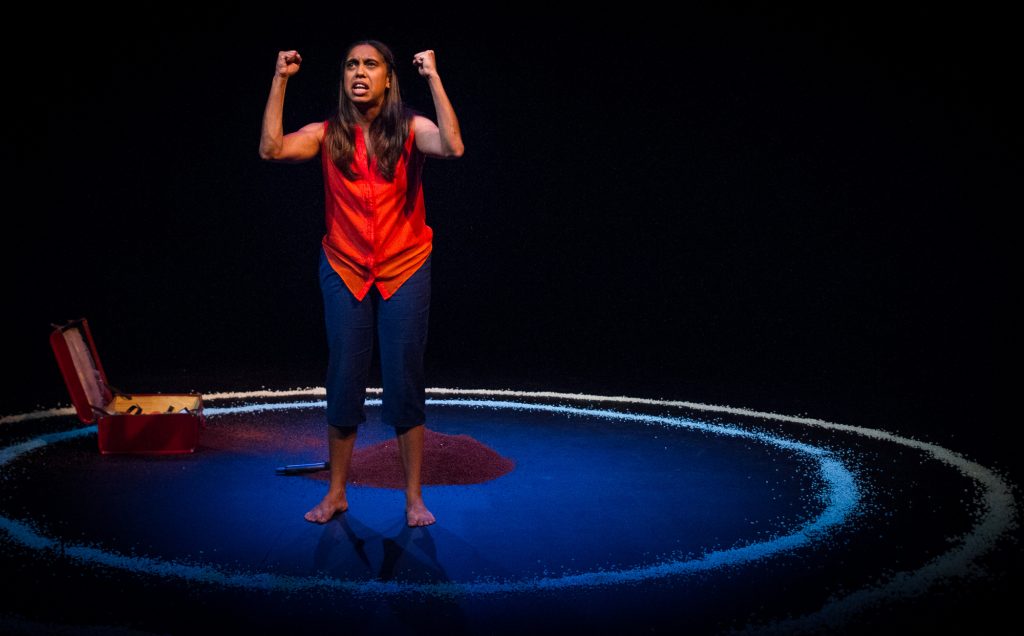 The stage is set with a pile of sand, some rocks, a wooden box with hinges, all flooded by a deep cobalt blue pool of light. What follows is an intimate monologue that conveys the grief of Aboriginal people and the hope of reconciliation.
Marking the first time an Indigenous Australian production has played in Los Angeles, The 7 Stages of Grieving shares a significant story from the aboriginal communities of Australia.
This is a powerful and profoundly moving show about confronting our past to face our future.
The 7 Stages of Grieving is delivered with passion by Chenoa Deemal. (The role was originally performed by co-author Deborah Mailman.)
Chenoa Deemal, a First Nations Guugu Yimithirr woman from Hope Vale in Queensland, Australia, presents a one-woman tour-de-force of a show that combines stories of aboriginal history that address the stolen generations, black deaths in custody, the silent protest movement, family memorials, and cultural traditions.
Devastatingly tragic and culturally profound, what this stage play achieves is a though-provoking drama tinged with gentle humor that gives a comprehensive account of the Aboriginal people and their struggle to survive. These poignant stories reflect similar struggles of Native Americans.
History:
The history of the Aboriginal peoples of Australia is a grim one. The population, comprised of over 800 Aboriginal nations, suffered persecution at the hands of white invaders. It is estimated that between between 1778 and 1928 disease—along with government-sanctioned massacre—annihilated around 75% of the indigenous communities and families.

It wasn't until 2008 that Australia's Prime Minister formally apologized to "the stolen generation," referring to the generations of Aboriginal children who had been forcibly taken from their families and sent to live Christian missions away from their families and homes.
A visual representation of a culture suddenly wiped out with the destructive stroke of a hand— symbolized by the sweeping away of a pile of ochre stones representing a family branch—it really brings the staggering extent of the tragedy home to our hearts.
Deemal's performance is enhanced by the haunting lighting design of Dan Anderson paired with the striking video projection and sound design from Justin Harrison. As Deemal repositions the wooden box of treasured photos, that gesture sparks an explosion of images projected on the upstage wall. Black and white shapes and letters, shadowy figures and falling embers. The letters form the shape of a handgun which fires, and speaks of the horrors of white brutality.
An energetic, sprite-like figure on stage, Deemal gives a nimble performance as she flits from scene to scene, passing through time as she shares recollections.
Written by Wesley Enoch and Deborah Mailman, the show, which has been produced all over Australia and now Los Angeles, has received critical acclaim since its first staging over 20 years ago.
"The themes in 7 Stages have relevance in the USA as there are many shared experiences between Australia and America's First Nations people, Latinx and Black communities. These stories engage the Los Angeles community with an inspiration to stand-up to current social injustices and continue the conversation to create change. As the writers express in this piece, in the end it isn't something you read or write that changes your life or the lives of others. It's something you do."

Producer Josh Thorburn.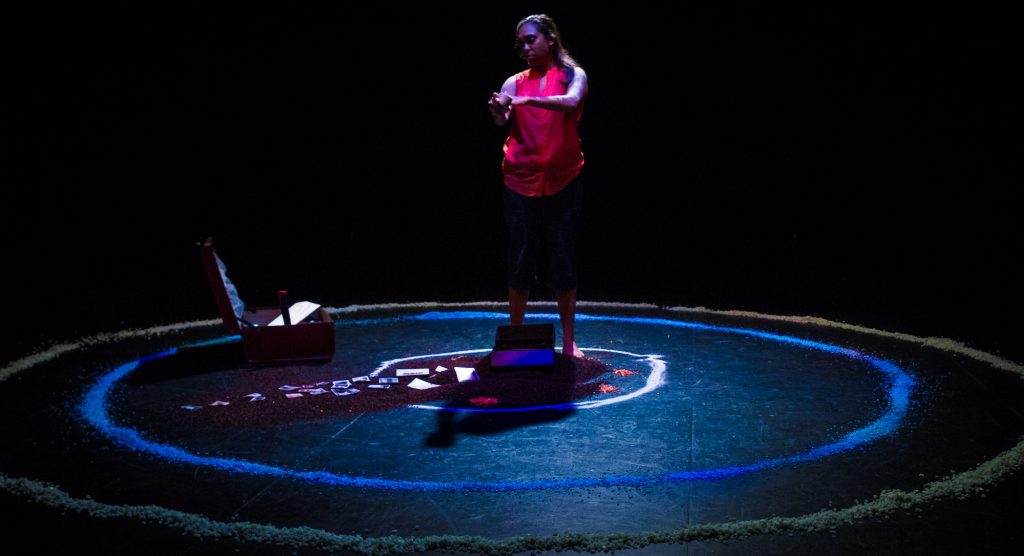 The 7 Stages of Grieving
Written by Wesley Enoch & Deborah Mailman
Directed by Jason Klarwein
Skylight Theatre
1816 1/2 N. Vermont Ave, LA, 90027
Runs through November 24, 2019.
Performances:
8:00pm on Thursdays
8:30pm on Fridays and Saturdays
3:00pm on Sundays
Tickets are $20 – $35. Reservations: (866) 811-4111, www.unitedtix.org or www.skylighttix.com
ABOUT THE ARTISTS:
Chenoa Deemal is from the Thitharr Warra clan that is part of the Gugu Yimithirr tribe who reside in and around Hopevale, north of Cooktown in the Cape York Peninsula of Australia. She holds a Bachelor of Fine Arts (Acting) and has been working professionally as an actor since 2009. Chenoa's shows include Rainbow's End (Riverside Theatres Parramatta), Mother Courage and Her Children (Queensland Theatre Company), The Voice In The Walls (Imaginary Theatre), Mr. TakahashiI & Other Falling Secrets (Corrugated Iron) and A Man With Five Children (Darlinghurst Theatre). She has performed in the national tour of The 7 Stages Of Grieving (Queensland Theatre Company / Grin & Tonic) to critical acclaim and recently appeared in London at Origins: Festival Of First Nations.
Grin & Tonic Theatre Troupe developed this production with Queensland Theatre in 2015 and toured Australia in 2016 and 2017. Internationally, the production has appeared at the International Performing Arts for Youth conference in Montreal in 2016 and Origins: Festival of First Nations in London 2017.
United Stages (formerly Australian Theatre Company) is recognized in Los Angeles for their critically acclaimed productions of Grey Nomad (winner Best Play – Local Production 2017 BroadwayWorld.Com Award), Swansong, Speaking in Tongues, Ruben Guthrie, and Holding the Man. Their annual reading series has presented 17 Australian works since its launch in 2015. In 2017 they partnered with 16th Street Actors Studio Australia to launch an education program that has included master classes with top professionals such as Tony Award, Oscar and Pulitzer Prize winning writer and director, John Patrick Shanley.
Relaunched in 2019, United Stages is excited to expand from its Australian roots to become a reinvigorated and inclusive arts organization sharing stories from around the world. As the global entertainment hub, and a melting pot of diversity, Los Angeles will be the home of United Stages as it continues to enhance and contribute to the world's theatre and arts communities. For more information, please visit www.unitedstages.org