A flash of lightning and a loud crash of thunder makes the entrance of Andy Garcia extra dramatic part way through Act One.
L-R Joely Fisher, Andy Garcia, Danny Pino, Louis Mustillo, and Rose McIver in Key Largo. Directed by Doug Hughes. Photo credit: Jeff Lorch.
Now playing at the Geffen Playhouse in Westwood is a hugely entertaining re-imagining of Maxwell Anderson's crime drama stage play Key Largo. Essentially a star-vehicle for Andy Garcia, who gives a superb performance as the menacing gangster Johnny Rocco, the show is a savvy blend of the original play and the movie version.
In Maxwell Anderson's original 1939 Broadway play, a deserter of the Spanish Civil War redeems himself in death by defending the family of a true war hero against some bandits on the tiny island of Key Largo, Florida.
In adapting the play to the screen, film director John Huston and co-writer Richard Brooks updated the setting to a timelier 1948 (present day, post WWII) and also beefed up the heroism of its flawed leading man.
The noir film was directed by John Huston and starred married couple Humphrey Bogart and Lauren Bacall in their fourth and final on-screen pairing.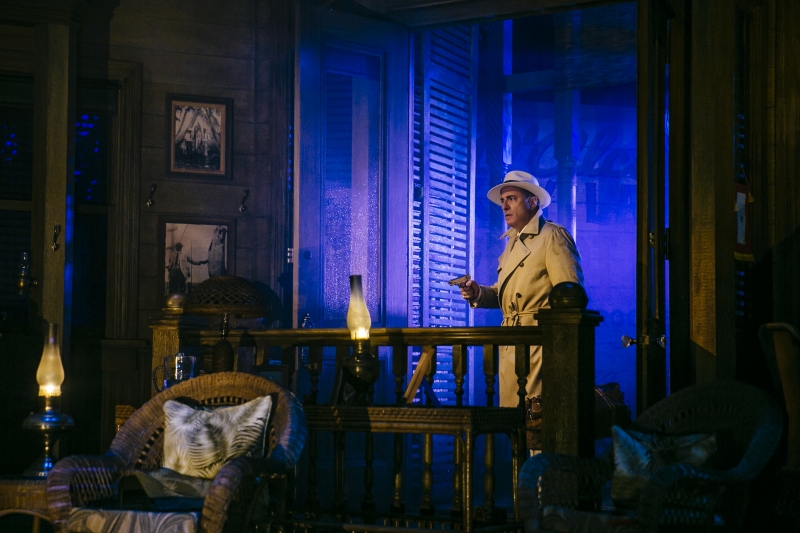 Directed by Doug Hughes, this stage version was adapted by Jeffrey Hatcher and Andy Garcia and produced in association with Frank Mancuso and Andy Garcia.
To their credit, none of the actors in the Geffen production are mimicking the performances of the movie stars that made the film version so memorable. But the drama feels strangely leaden until Garcia shows up. Then, once he does, there's almost a sense of that kids' chasing game of 'Red Light, Green Light' – it's almost as if everyone freezes when Garcia's character is talking.
You can see Garcia is having a great time playing the colorful and capricious washed up mob boss, bringing some light humor to a role that could afford to be more menacing despite his explosive temper. A highlight is the exciting finale of Act One, where we see the hurricane intruding on the hotel's captives and Rocco's hilariously panicky over-reaction to the raging tempest. John Lee Beatty's impeccable scenic design, paired with Peter Kaczorowski's moody lighting design, is especially effective.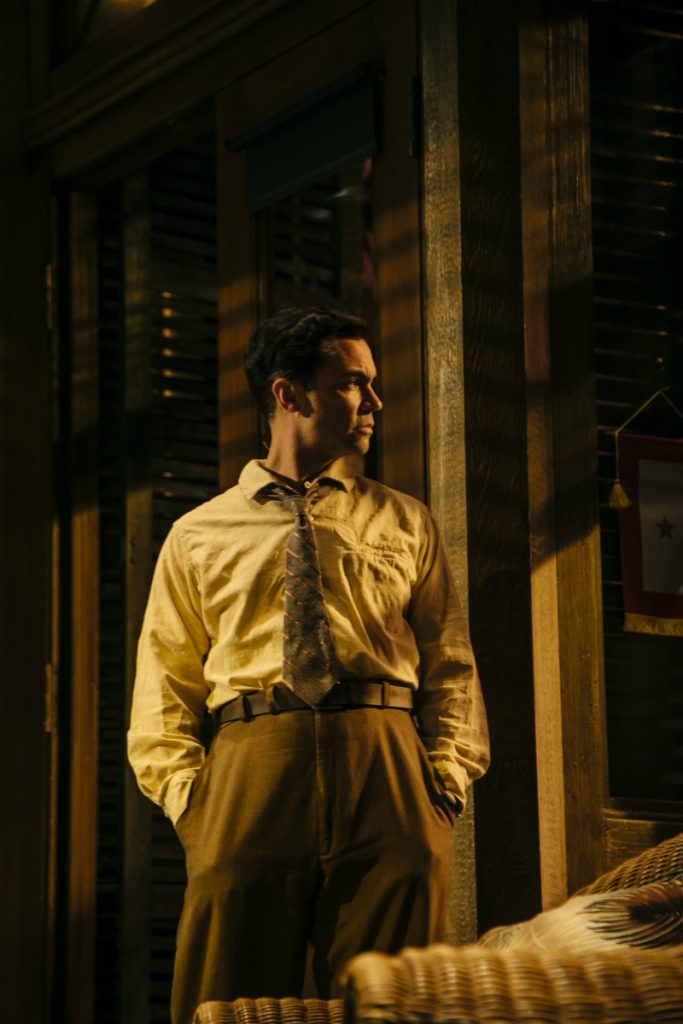 Returning from World War II, disillusioned Frank McCloud travels to a hotel in Key Largo to pay his respects to the widow of a fallen friend. What McCloud doesn't count on is an entirely different battle with mobsters who have overtaken the hotel, led by the ruthless Johnny Rocco. As a hurricane barrels toward the Keys, McCloud must face his demons in order to take down a monster.

From the press notes.

The play is bound by its main hotel lobby set, which is appropriately claustrophobic, but the staging loses the diversity and expansiveness of the cinematic treatment.
This production also suffers from insufficient suspense in the man-to-man confrontation between the gruff ex-GI, and the salty lowlife gangster, but Garcia's compelling performance and the marvelous staging more than make up for any of the show's deficiencies.
KEY LARGO
Adapted by Jeffrey Hatcher and Andy Garcia.
Directed by Doug Hughes.
Produced in association with Frank Mancuso and Andy Garcia.
Based on the play by Maxwell Anderson and the Warner Bros. film.
Produced by special arrangement with Warner Bros. Theatre Ventures.
Gil Cates Theater at Geffen Playhouse
10886 Le Conte Avenue, Los Angeles, CA 90024 (Westwood)
Runs through Tuesday, December 10, 2019
2 Hours, including one 15-minute intermission
Monday No performance
Tuesday – Friday 8:00 p.m.
Saturday 3:00 and 8:00 p.m.
Sunday 2:00 and 7:00 p.m.


TICKETS:
Tickets currently priced at $30.00 – $155.00. Available in person at the Geffen Playhouse box office, by phone at 310.208.5454 or online at www.geffenplayhouse.org. Fees may apply.
CAST:
Stephen Borrello as Toots
Joely Fisher as Gaye Dawn
Andy Garcia as Johnny Rocco
Rose McIver as Nora D'Alcala
Louis Mustillo as Curly
Tony Plana as Mr. D'Alcala
Danny Pino as Frank McCloud
Richard Riehle as Sherrif Gash
Bradley Snedeker as Ziggy