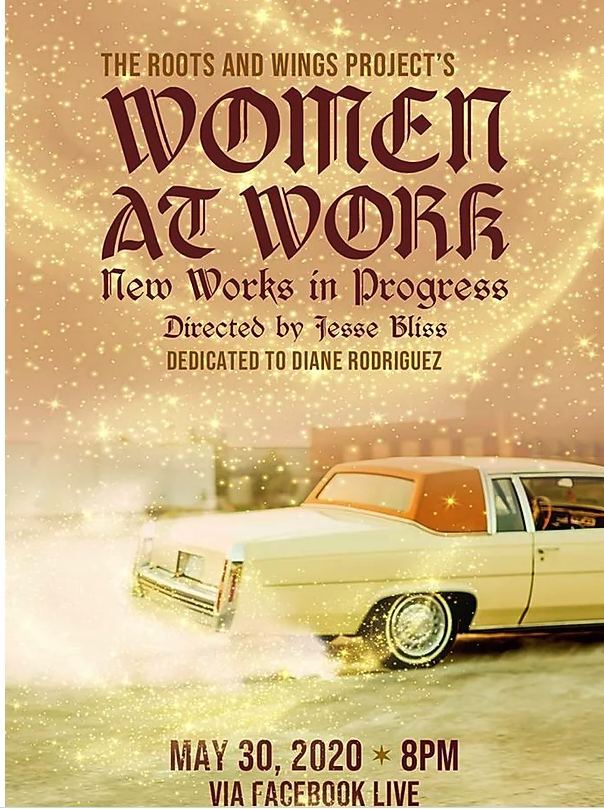 The Roots and Wings Project Founder/Creative Director Jesse Bliss and the California Arts Council Cultural Pathways Grant Present WOMEN AT WORK​, a transformative works-in-progress experience that brings forth new stories from powerhouse writers. WOMEN AT WORK is an innovative evening of truth finding the way to light through tales being birthed and realized by women with an ear to the ground and a finger on the pulse of the universe…
WOMEN AT WORK is the third in a trilogy of shows, supported by the California Arts Council Cultural Pathways grant, shining light on matters of women's oppression and the urgent need for justice. Each artist is in a different stage of development, thus calling on a variety of needs ranging from hearing the work to opening up audience feedback or questions. As we consistently overcome extreme obstacles in a misogynistic society, the evening is constructed to provide safe and creative space for writers to nurture and grow their work.
Originally set to take place in a multi-million dollar theatre, The Roots and Wings Project moved the show to the online platform of Facebook Live May 30, 2020 at 8 PM.
This all-star line-up is complete with theatre legends and literary giants including Ra Avis, Jesse Bliss, Gabriela Lopez de Dennis, Sigrid Gilmer, Tamar Halpern, Gia Scott-Heron, D'Lo, Mildred Lewis, Josefina Lopez, Kristina Wong, and Librecht Baker. This riveting theatrical work also includes Vocalist Arianna Gouveia, plus live painting by Alfie Numeric. The evening is directed by Jesse Bliss.
The Roots and Wings Project is a politically charged, socially transformative, project-based theatre company that brings attention to ​truth and provides stage and space for stories of the unnamed, unspoken and misunderstood.
Jesse Bliss (Director, Producer, Writer, Actress) ​Jesse Bliss is a Los Angeles based international playwright, director, producer, poet and actress. Her works have been widely produced at world-class venues internationally including SPARC at the Old Jail at Venice, Lincoln Heights Jail, The Last Bookstore, The Rosenthal Theater at Inner-City Arts, Edinburgh, California Institute for Integral Studies, UC Santa Cruz, Occidental College, UCLA and countless others. Ms. Bliss is a veteran arts educator and curriculum writer for some of the nation's leading arts organizations including Skirball Cultural Center, Geffen, Center Theater Group and Inner-City Arts to name a few. She is author of the celebrated chapbook I LOVE MYSELF GOLDEN written for incarcerated women and loved on both sides of the walls. Most recently Jesse was featured in Julie Hebert's documentary LOOK WHAT SHE DID. Miss Bliss is Founder and Creative Director of The Roots and Wings Project. She produces segments on THINK OUTSIDE THE CAGE 90.7 FM, a show voicing truth about mass incarceration.
Show Times and Days:
Friday May 30, 2020 at 8 PM
Location:​​ Facebook Live
Cost:​​ FREE
For more info:

TheRootsandWingsProject.com
Facebook/TheRootsandWingsProject.com
Twitter.com/TheRootsNWings