Returning home can be challenging… A clearly distressed twenty-something guy is driving on a lonely country road when he pulls over to call his father. "Dad, it's me." Judging by the uncertainty in the brief exchange, it's evident they are estranged.
It's a slow reveal, but eventually we learn that Caz (Elz Carrad) is returning to his small country town after some time and a big change; he used to be known as she.
‌Having fled his hometown of Rūrangi‌ a decade earlier to find himself, Caz returns ‌hoping‌ ‌to‌ ‌connect‌ ‌not‌‌ ‌just with‌ ‌his‌ ‌father‌ ‌(played well by Kirk‌ ‌Torrance),‌ ‌who‌ ‌he‌ abruptly abandoned‌ ‌pre-transition,‌ but‌ also with ‌the‌ ‌small‌ rural dairy communitywhose ‌residents are facing ‌struggles of their own‌.
We also learn that since transitioning, Caz is an outspoken activist with his Auckland-based non-profit group called Transaware, a responsibility that overwhelms him during a crisis that spurs him to return home and face up to everyone he abandoned.
Directed by Max Currie, this New Zealand drama is an emotionally raw story about the struggles with identity and altered relationships. At the centre of the tale is Caz and his ambitions, but writer and co-producer Cole Meyers also weaves in a few other storylines that enrich and round out the drama. Hence, we meet Āwhina-Rose Henare Ashby as Anahera, a Maori woman striving for acceptance within her own closed-minded community. Then there's Jem (Arlo Green), Caz' former boyfriend who realises he may still harbour feelings for Caz even though she is now a he—and that sends him into an identity spiral of his own. There's a poignant sequence devoted to Jem reminiscing with Caz, who only knew him from their teenaged years as a "not very girly-girl" and who still mourns his lost love and all the dreams and plans they shared.
Some gorgeous drone footage of the countryside and the mostly hand-held cinematography (DP is Johannes Louis) permits some flashes of beauty in an otherwise prosaically filmed story. A few plot points seem contrived, but overall this is a wonderfully moving film that provides some essential insights.
In his first encounter with his father, Caz feels he needs to clue him in. "Transgender. That's what it's called. That's me." Caz immediately launches into a rote speech that succinctly explains what that's about. "Basically, when babies are born, they're assigned a gender based on what the doctors think they look like. For trans people, that gender doesn't match who we are. For many, who want to—and are able to—we transition. Hair, clothes, surgeries, take hormones…"
Initially, Dad is indifferent. "I don't understand and I don't care," he proclaims. But Caz pushes the issue, determined to forge some sort of reconciliation.
What Currie's film does best is capture the buried emotions that are difficult to target and comprehend, as well as the inability to find the right words to express your feelings to those you care about. "I couldn't be here and be me," Caz admits to his old bestie Anahera. "I feel like I make sense now." The insightful script written by Meyers navigates these complex emotional depths with delicacy and sensitivity, as well as realism, and there are some very nicely handled dramatic reveals and nuances.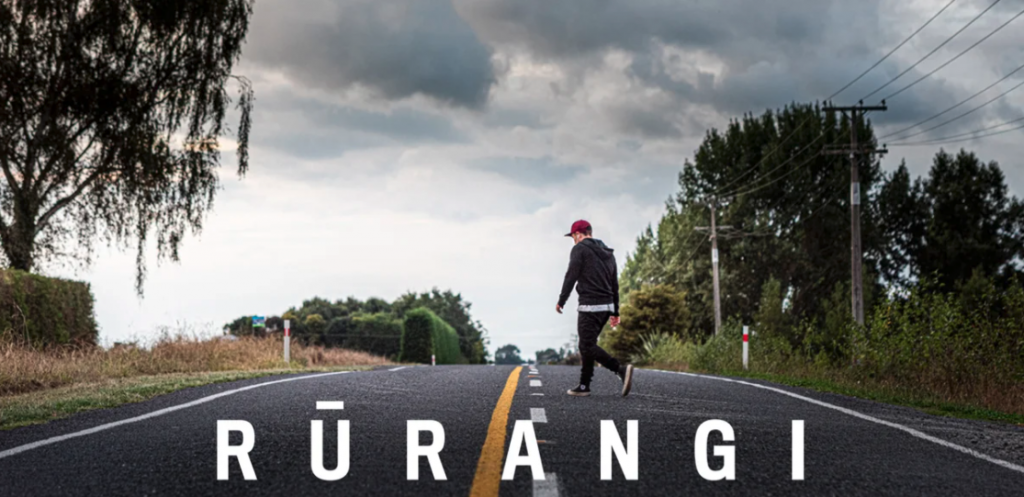 Some of the dialogue exchanges hit home with their brutal honesty. "Most people are just idiots about other people's sexuality," Anahera remarks. "Who cares what they know or what they think they know?" It's refreshing to hear.
Rūrangi‌ ‌‌is‌ ‌a lovely film that wears its heart on its sleeve, almost challenging you to accept its drama, one that is defiantly ‌forthright ‌and‌ ‌unapologetically‌ ‌queer.
This review first appeared on Filmink.