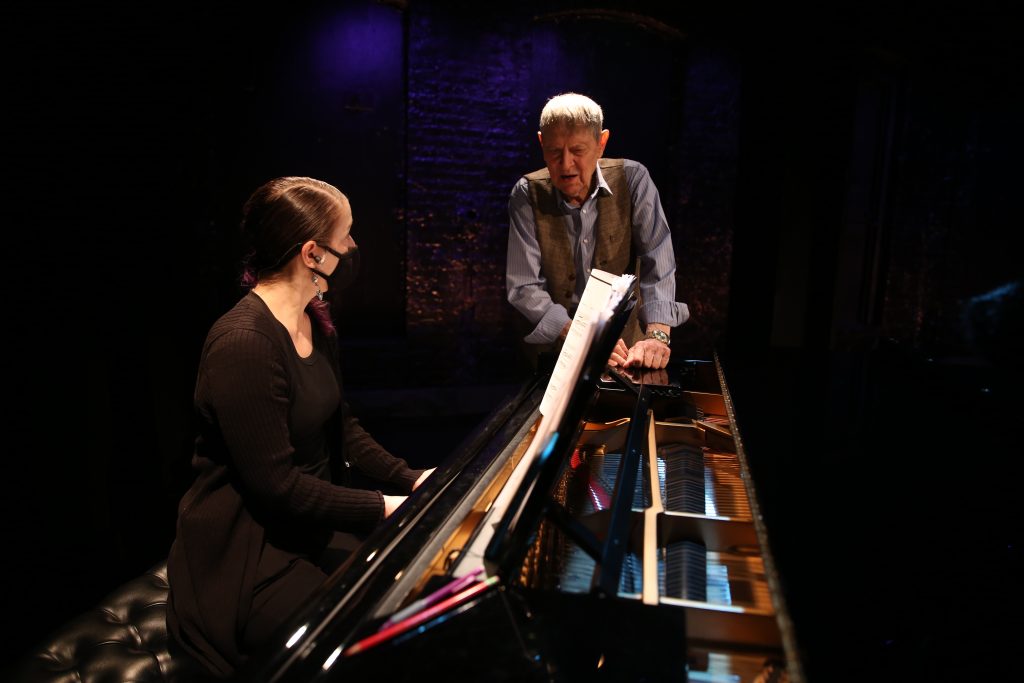 The thing about celebrity autobiographical one-person shows is that they're bound to be interesting; if the subject in question hadn't had a fascinating life, nobody would have put a show together in the first place. So they're a good bet for an audience wanting to be entertained or educated. These types of productions tend to fall into one of two types: the gossipy, wicked tell-all or the more traditional, celebratory look at a person's life. The new streaming performance, John Cullum: An Accidental Star, (a co-presentation of the Vineyard Theatre, Goodspeed Musicals and Irish Repertory Theatre) is firmly in the latter category, and it's gentle, funny and delightful.
Production photos credited to Carol Rosegg.
John Cullum, a 91-year-old two-time Tony Award-winning actor and veteran of such Broadway shows as Camelot and Urinetown, sits on a stool center stage, wearing a shirt and vest and slacks, looking like nothing so much as the Stage Manager in a production of Our Town. He's joined onstage by music director Julie McBride on the piano (or as he says it, "piana"), who provides accompaniment for several songs. He describes how a lot of his acting career was bolstered by "lucky accidents," such as the fact that when he first moved to New York in 1956, he couldn't get auditions for the dramas he wanted to do, but happily musicals had open calls, "even though I wasn't much of a singer."
Although his first agent told him to go back home to Tennessee, Cullum persevered. When he couldn't get cast in a production of Saint Joan because he wasn't deemed tall enough, he offered to work as an office assistant to the producer and four days later was hired as a spear carrier in the play. A few weeks later, when Cullum wanted to try out for a production of Hamlet, that same producer got him an audition by saying that the actor had many Shakespeare credits, although Cullum had at that point never seen any Shakespeare play onstage. The Bard turned out to be a natural fit for the actor, who later did Shakespeare in the Park, in one summer playing three roles and understudying six more. In one of those lucky accidents, it was his flair for Shakespearian speeches that directly led to him being cast in the premiere production of Camelot (and to a 27-year friendship with Richard Burton), which was the beginning of his long career in Broadway musicals.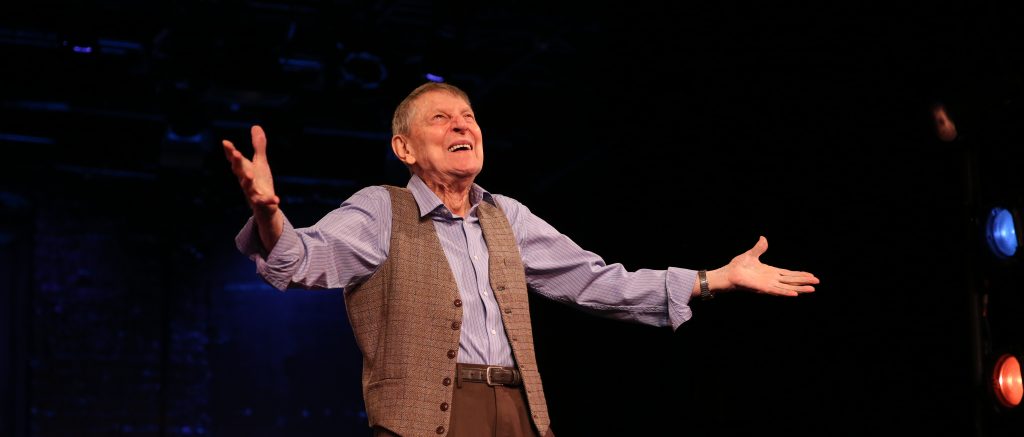 Cullum displays an avuncular charm, as if you're with a friendly relative who is telling you stories. And they're good stories! One in particular is striking – how after a playwright promised to write him the lead role in his next play, the actor finds out months later that the production is running ads "looking for a John Cullum type." His singing voice is still strong and resonant, and his performances of the comical "I Wonder What the King" from Camelot and the inspirational "I Rise Again" from On the Twentieth Century are highlights.
Lonny Price and Matt Cowart's direction cleanly (and correctly) focuses more on Cullum than camera moves or lighting changes, and McBride's music direction is expert yet unobtrusive. David Thompson's script spends more time on the actor's early work than more recent times (for example, his work on the TV show Northern Exposure gets one sentence), but one can imagine it's tricky to distill a 60-year career into 80 minutes. Some of the show feels a bit like a standard celebrity memoir with most of the sharp edges polished away, but overall An Accidental Star is a highly enjoyable tribute to this beloved, talented actor.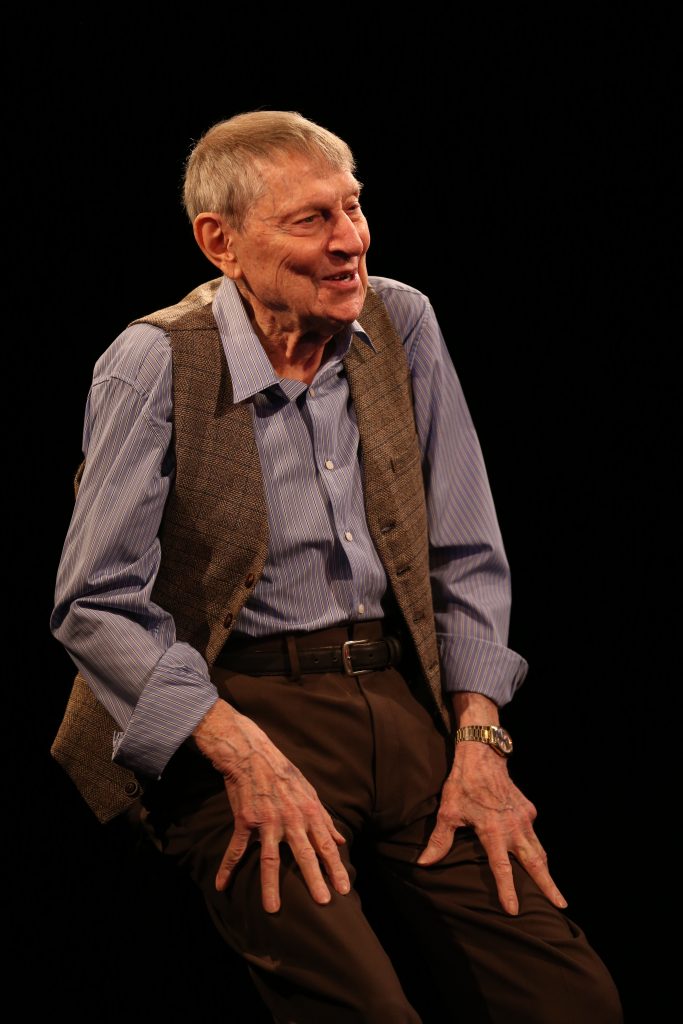 John Cullum: An Accidental Star, presented by Vineyard Theatre, Goodspeed Musicals and Irish Repertory Theatre, is streaming on demand — now extended through May 6, 2021. Tickets are available at www.vineyardtheatre.org/an-accidental-star/.