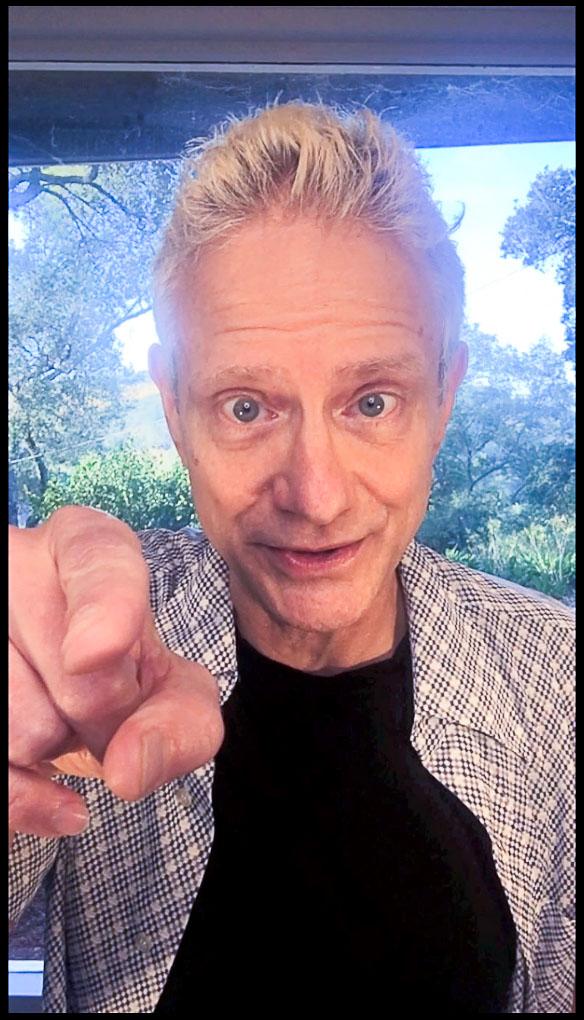 Once it became apparent that the Covid pandemic wasn't going to be a short catastrophe, and theaters everywhere had to close their doors for more than a year, one thing was very clear to me. If we were lucky enough to get through this disaster, after it was over there was going to be a lot of art about the ordeal. Films, TV shows, books, but most of all, plays. Give playwrights an excess of time on their hands, and a global drama that affected everyone personally, and stand back, because there's about to be a stampede of pandemic shows. One of the first of these out of the starting gate is the Rogue Machine streaming presentation of Justin Tanner's solo show, Minnesota.
Production photos by Lisa James.
Tanner, an award-winning local playwright whose past work featured actors such as French Stewart, Laurie Metcalf and Mark Ruffalo, stands in front of a glass door which displays the rural backyard of a Napa home. He explains to the audience that during the pandemic year, he started to write a diary, but that he wrote it specifically to be dramatized later, and that this production is the result, "a record of the end of my world as I know it." He says that the enforced quarantine allowed him time to listen to his inner life, something he hadn't done for quite a while.
He'd been occupied with "a full decade of misery" prior to 2020, in which drinking and drugs had led to him becoming financially insolvent, losing his credit and his car, feeling he could only look forward to a "grim, stagnant future." However, he'd still been productive during this time, writing three plays, creating eighty-six chapters of a web series and even starting a band. He'd also finally stopped drinking, become less tolerant of drinkers, until he "married one" in March of 2020. Adjusting to being a "house husband," he spends his free time watching TV with friends over Zoom, getting frustrated by Trump and anti-maskers, and worrying if he has Covid. He also deals with depression and the related inability to do things he normally might, such as a returning a phone call. A trip to visit friends in Minnesota is an unexpected balm to his soul, nature calming and restoring him. But continuing problems with his marriage await him at home, and he needs to make some big decisions about his life.
As there's a static camera and no set, director Lisa James' contributions are mainly in shaping Tanner's performance and staging entrances and exits to divide the show up into segments. Tanner is an energetic and amiable presence, able to sell both dramatic and humorous moments effectively. His greatest strength is his writing, however, especially comedic lines, such as his judgement on a father with eleven kids – "There's procreation, and then there's being a dick about it." Or his horror at the high Covid infection rates in Glendale – "If you're on the 2, just keep going!" His experience of our plague year is very relatable and enjoyable, but maybe works better as a performed diary than a standard play.
Minnesota feels more like a Zoom call from a bright, funny friend than a polished piece of theatre, but it's also a welcome reminder that we, the audience, made it out to the other side of the crisis, and should be thankful to enjoy some time with an artist as talented as Justin Tanner.
Minnesota, presented by Rogue Machine, is streaming through August 1st. Tickets are available at https://roguemachine.anywhereseat.com/channel.php