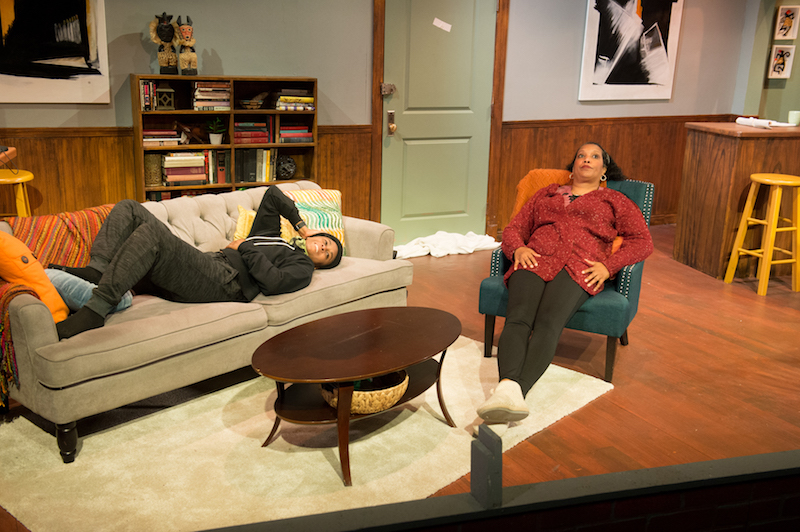 One of African American playwright Inda Craig Galván's central themes is the struggle of African American women for self-realization and respect. A Hit Dog Will Holler isn't her most profound or intriguing play, but its socially relevant message, its two fine performances byKacie Rogers and Cheri VandenHeuvel and a well-mounted production courtesy of director Jon Lawrence Rivera lend depth to a limited narrative.
Gina (VandenHeuvel) is a committed African American activist whose image appears ubiquitously in the media at protests against police brutality, the outrages of our last former president, and other righteous left-wing causes. What no one knows — including the publisher of her upcoming book — is that Gina is an agoraphobic who never leaves her house. She's cleverly managed to conceal that fact by using a green screen to create the illusion that she's been present at public events.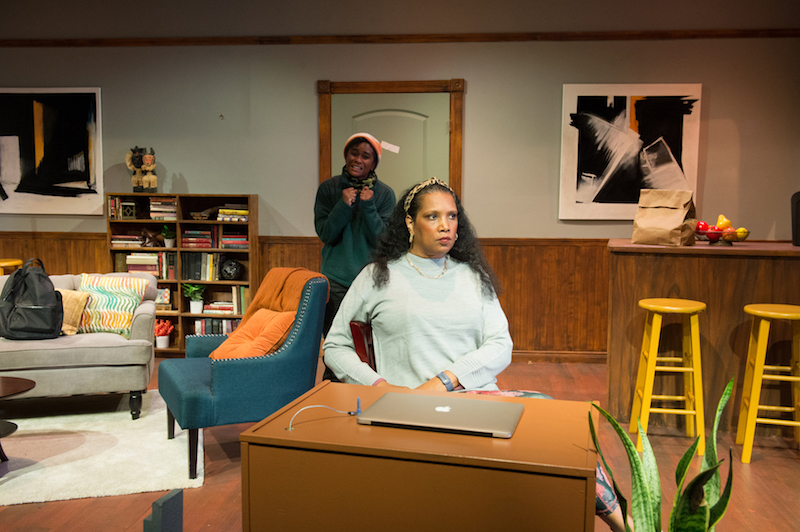 Gina lives on a quiet tree-lined street in Chicago's Hyde Park neighborhood. She gets all her food delivered but never opens the door when it arrives, since any direct contact with the outside world engenders a paralyzing panic attack. One day a delivery person unfamiliar with her habits — a younger woman, also African American — shows up. This is Dru (Rogers, alternating with Donna Simone Johnson), a conscientious individual concerned that deliveries left on people's doorsteps are being stolen, so she insists that she be let inside to hand the food to Gina in person. Dru manages to prevail, and the rest of the play charts the ups and downs, ins and outs, of the developing friendship between these two very different women. For whereas Gina, who sports middle-class trappings, is guarded and high strung, Dru is frank, open and super comfortable in her skin. Also, it turns out that Dru isn't simply a food delivery person struggling to get by, as Gina at first had assumed; she's also a fellow activist, who's made a name for herself in leftist circles with bold acts of protest and outspoken speeches.
As in Craig Galván's other plays produced locally in recent years— Black Super Hero Magic Mama and I Go Somewhere Else —the pivotal theme here is the impact of racism on women of color. I Go Somewhere Else, produced and directed by Rivera in 2018 (with VandenHeuvel in a brilliant award-winning lead performance and Johnson in a supporting role) has the main character respond to a personal betrayal by a white man; in Mama, to a far more egregious horror— the death of her son at the hands of the police.
But in Holler, the injury is abstract, and despite its symbolic significance in our racist-riven era, the play lacks the full power and poignancy one might have anticipated.
What's on offer instead are humor, sharp colloquial dialogue and a percipient understanding of how human beings relate to themselves and each other. It's an opportunity for savvy actors like Rogers and VandenHeuvel to showcase their skills, which they do with panache. Meanwhile, Rivera keeps the pace brisk, while the tech elements, most especially Howard Ho's sound design and Nicolas Santiago's projections, underscore the best elements of a dark comedy with a pointed and meaningful message.
A Hit Dog Will Holler, presented by the Skylight Theatre Company and Playwrights' Arena, plays through December 12, 2021.
Tickets are available, to attend the live performance here — https://ci.ovationtix.com/34914/production/1079002
Or purchase virtual tickets here — https://ci.ovationtix.com/34914/production/1081711