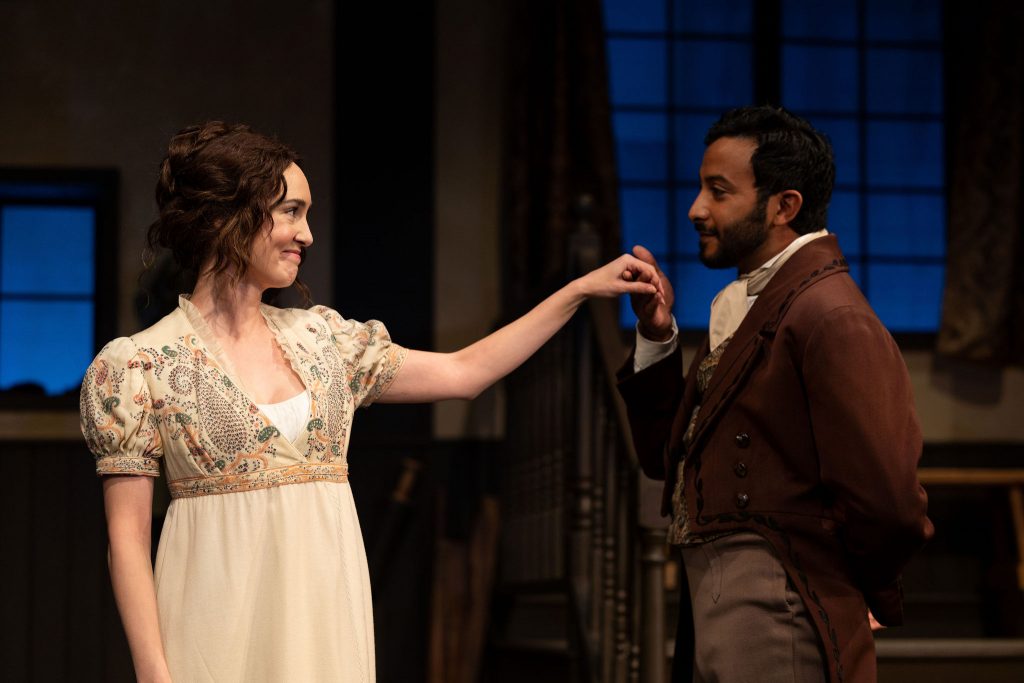 It's the most wonderful time of the year…except for theatergoers. December is generally when every show except for A Christmas Carol or The Nutcracker shuts down for the holidays, but thankfully there are usually a couple of exceptions to this rule. We have an adaptation of It's a Wonderful Life with one actor playing all of the roles by Rogue Machine coming up in a couple of weeks to look forward to. More importantly, right now Ensemble Theatre Company in Santa Barbara has a delightful sequel to Jane Austen's novel of manners Pride and Prejudice called The Wickhams: Christmas at Pemberley. It's a funny and touching production that's well worth the drive north.
In 1815 at the British estate of Pemberley, the mistress and master of the house, Elizabeth (Rebecca Mozo) and Darcy (Adam Poss), are preparing for holiday guests and hoping for a lack of drama and conflict. They are aided in this regard by their housekeeper, Mrs. Reynolds (Nike Doukas), who is strictly training new housemaid Cassie (Kodi Jackman) and keeping enthusiastic footman Brian (Will Block) in check. The arrival of Elizabeth's flighty sister Lydia (Chelsea Kurtz) is welcome enough, but the unexpected addition of her cad of a husband, Wickham (Kyle T. Hester), throws the entire estate into emotional disarray.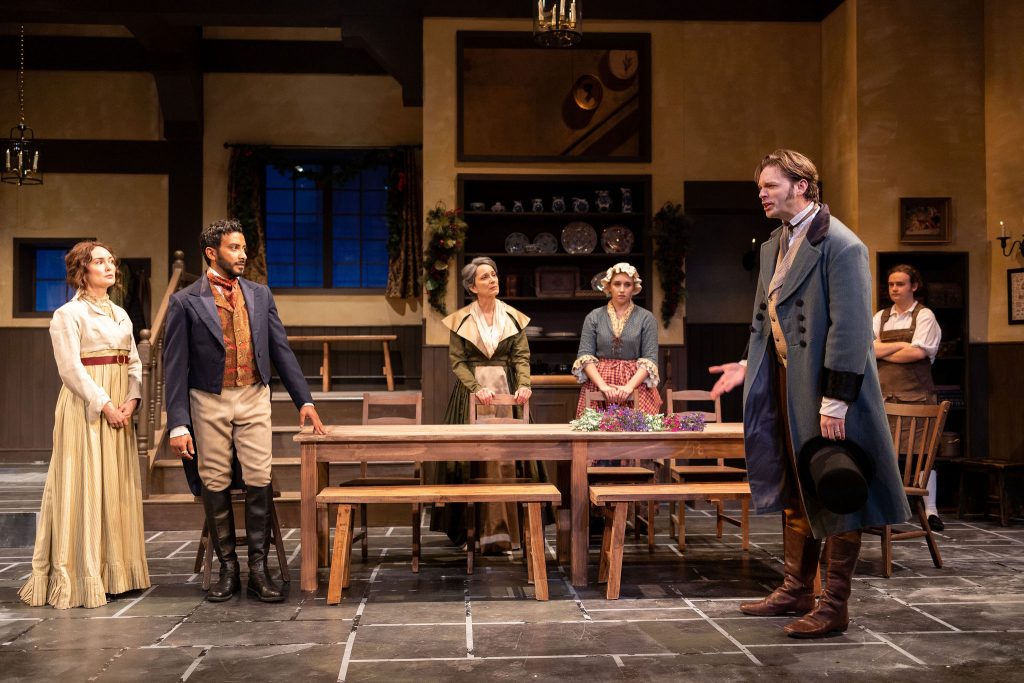 It's somewhat surprising to discover that Elizabeth and Darcy, leading characters in Pride and Prejudice, are almost supporting roles in Pemberley, but Mozo and Poss give these iconic lovers their full measure of sass and charm. It's especially nice to see the talented Mozo back on a local stage again. Jackman gives an appealing performance as the clear-eyed Cassie, and Block is very good as the well-meaning Brian. Kurtz is lively and amusing as flibbertigibbet Lydia, and Hester manages to make Wickham simultaneously hissable and somewhat sympathetic. Doukas, however, gives perhaps the most memorably fine and detailed portrayal as the flinty but secretly kind Mrs. Reynolds, batting away compliments with the terse explanation, "Praise slows me down."
Director Michael Butler gets a nice balance of drama and comedy from his accomplished cast, pacing the action of the show expertly. Bruce Goodrich's handsome set skillfully evokes the "downstairs" from any number of famous British manor house stories, and Kate Bergh's lovely costumes complete the illusion. Lauren Gunderson and Margot Melcon's play manages the tricky feat of making Pemberley work as a satisfying continuation of the Pride and Prejudice story while also being its own standalone work of art. Moreover, the show works as an effective and enjoyable holiday entertainment, providing those of us who'd rather not revisit Scrooge for the umpteenth time a welcome home in the theater.
The Wickhams: Christmas at Pemberley, presented by Ensemble Theatre Company, plays at The  New Vic through December 19th. Tickets are available at www.etcsb.org.