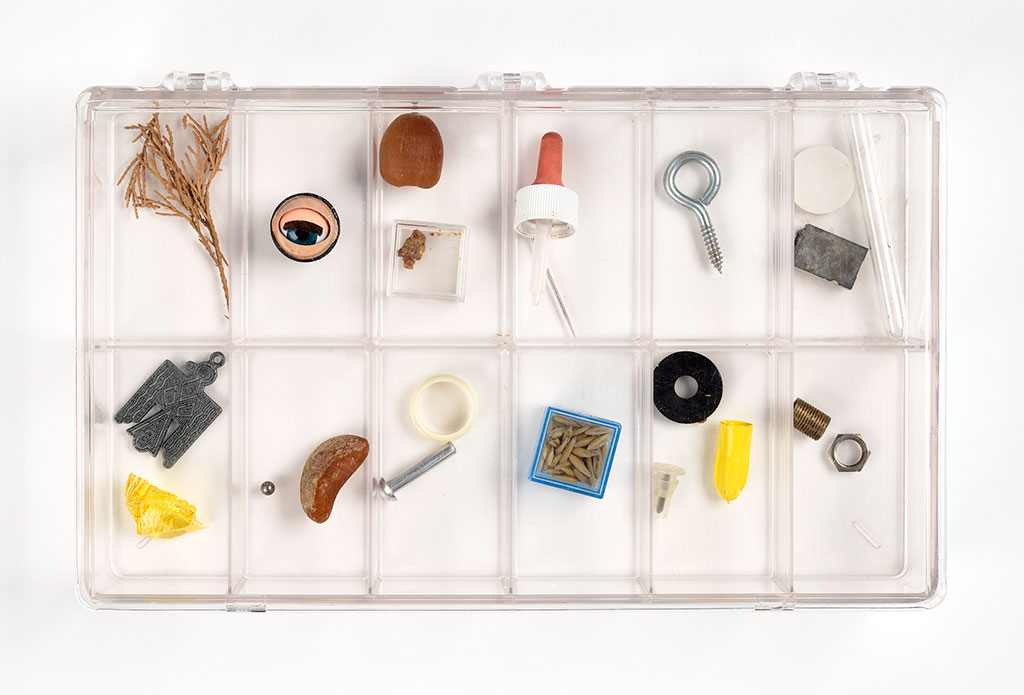 Featuring art from three major 20-century movements – Fluxus Means Change: Jean Brown's Avant-Garde archive – is now on view at the Getty Research Institute, at the Getty Museum. (The one on the hill!)
In 1953, Sydney Janus re-introduced Dada to mid-century artists such as Jasper Johns, and, as a response, we saw a neo-Dada art movement emerge.
Jean Brown, along with her husband Leonard Brown, was the first serious collector of some of these works, which are now on view through January 2, 2022. Here we can see how one couple's collecting strategies bridged Dada, Surrealism, Fluxus, and beyond.
Photo above: Your Name Spelled with Objects, for Jeanette Brown, 1972. George Maciunas (American, b. Lithuania, 1931–1978) Plastic box containing objects. Getty Research Institute, Los Angeles (890164) © 2021 Estate of George Maciunas / Artists Rights Society (ARS), New York.
While a lot of surreal and Dada art was intended to be ephemeral in nature, it is the materiality of this modest collection that begs for it to be viewed in person, in order to appreciate it in a new light.
The exhibition's curator, Marcia Reed, explained how Jean and Leonard Brown enjoyed interacting with the Dadaists. Reed has done an exceptional job of tracing the path of their collection, charting their continual curiosity for art, particularly how art works circulated and could be collected.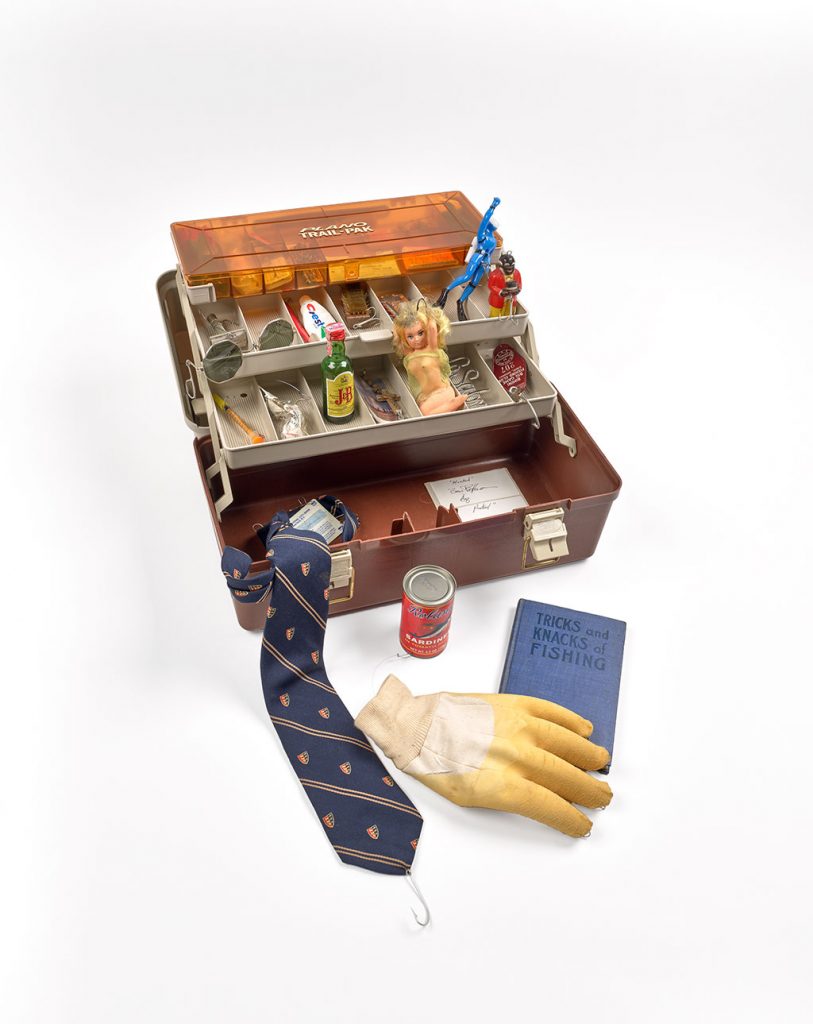 As Reed described, during the exhibition's opening, "Jean was not only a collector who pleased herself," but also factored in research value.
What's remarkable about the Fluxus exhibition is its focus on the vintage character of this unique collection, and – more significantly – how collectors are important pipelines between the artists and the public, how collectors themselves make history with their selection process.
Residing in the rooms of the Getty Research Institute, the show is spacious (thanks to the necessity of social distancing) and the labels are bilingual (in English and Spanish). The simplicity of the descriptions makes for "less chatter," Reed adds, claiming "the works really speak for themselves."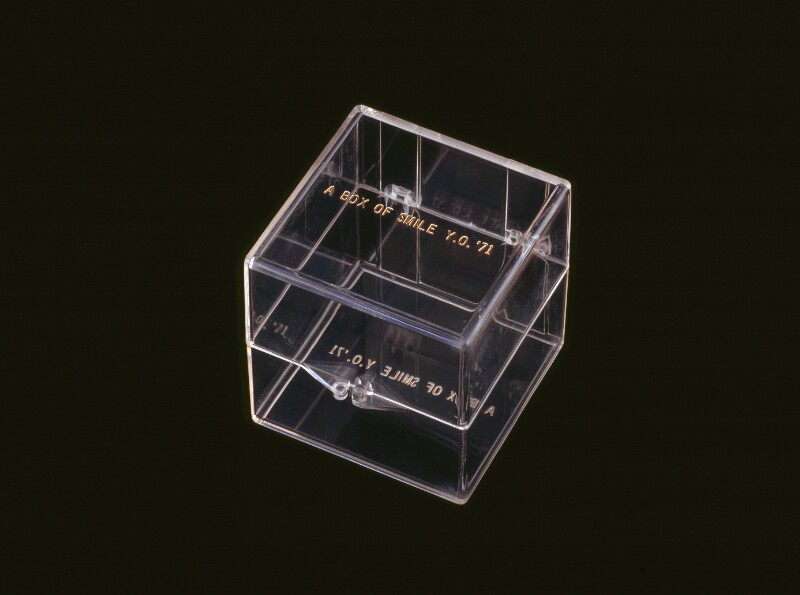 Marcia Reed is chief curator and associate director at the Getty Research Institute. A specialist in rare books and prints, her recent publications include Fluxus Means Change: Jean Brown's Avant-Garde Archive (2020) and Artists and Their Books/Books and Their Artists (2018, with Glenn Phillips).
From the press release:
Jean Brown's collection of Dada, Surrealist, and Fluxus artworks was one of the first comprehensive collections of 20th-century art at the Getty Research Institute. From Marcel Duchamp and George Maciunas to the international network of artists with whom Brown corresponded, this exhibition reveals her intuitive and innovative collecting strategies. It explores the relationships she saw among the works, connecting earlier avant-garde art to Fluxus, artists' books, mail art, and multiples.
This exhibition is presented in English and Spanish. It is one of a series that will test ways to make the presentations in our galleries more welcoming and accessible.

Esta exhibición se presenta en inglés y en español. Es parte de una serie de exhibiciones bilingües que pondrá a prueba varias formas de hacer el contenido que presentamos en nuestras galerías más acogedor y accesible.
Fluxus Means Change
Getty Research Institute
The J. Paul Getty Museum at the Getty Center
1200 Getty Center Drive, Los Angeles
Exhibition runs until January 2, 2022.
Make free advance reservations for the Getty Center.
Getty is a leading global arts organization committed to the exhibition, conservation, and understanding of the world's artistic and cultural heritage. Working collaboratively with partners around the globe, the Getty Foundation, Getty Conservation Institute, Getty Museum and Getty Research Institute are all dedicated to the greater understanding of the relationships between the world's many cultures. The Los Angeles-based J. Paul Getty Trust and Getty programs share art, knowledge, and resources online at Getty.edu and welcome the public for free at the Getty Center and the Getty Villa.
The J. Paul Getty Museum collects Greek and Roman antiquities, European paintings, drawings, manuscripts, sculpture and decorative arts to 1900, as well as photographs from around the world to the present day. The Museum's mission is to display and interpret its collections, and present important loan exhibitions and publications for the enjoyment and education of visitors locally and internationally. This is supported by an active program of research, conservation, and public programs that seek to deepen our knowledge of and connection to works of art.

Visiting the Getty Center:
The Getty Center is open to a limited number of visitors, in accord with state and local public health guidelines, Tuesday through Sunday, 10 a.m. to 5 p.m. It is closed Mondays, Thanksgiving, December 25 (Christmas Day), and January 1.

Admission to the Getty Center is always free, but in order to allow social distancing, a reservation is currently required for admission. Reservation are available at www.getty.edu/visit or at (310) 440-7300. Parking is $20. The Getty Center is at 1200 Getty Center Drive, Los Angeles, California.

Additional information is available at www.getty.edu. Sign up for e-Getty at www.getty.edu/subscribe to receive free monthly highlights of events at the Getty Center and the Getty Villa via e-mail, or visit www.getty.edu for a complete calendar of public programs.