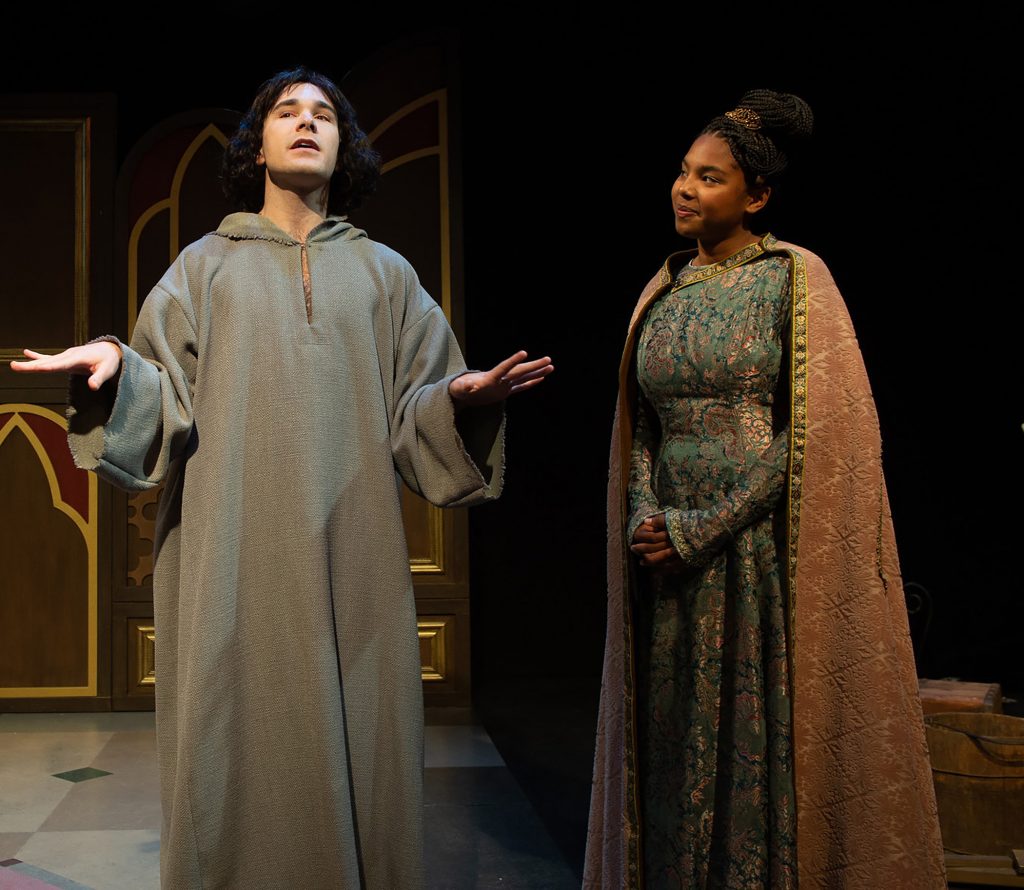 The discussion of wealth inequality has come up a lot in this young century, as the accumulation of massive fortunes goes to fewer and fewer people while millions suffer all over the world. But t'was always so… From feudal lords to robber barons to emperors and kings, it's just that today the financial numbers are exponentially higher. Chiara Atik's play, Poor Clare, deals with this issue via a historical lens, examining the early life of Christian saint Clare of Assisi, but in such a clear, modern and often humorous way that it seems extremely pertinent to now. This world premiere production by Echo Theater Company is very entertaining and boasts an excellent cast, but falters a bit with an abrupt and unsatisfying ending.
In 13th-century Italy, Clare (Jordan Hull) is a young woman from a noble family, mainly concerned with her appearance and her upcoming wedding. She gets most of her information through the gossip of her servants, delivering smug pronouncements such as "I have to say, I am very anti-Crusade," and literally shrieking in fear when encountering a poor person. This changes when she meets Francis (Michael Sturgis) – later to be St. Francis – whose decision to renounce his familial wealth and focus on helping others causes her to see things in a new way that ultimately changes the course of her life.
Hull is terrific as Clare, charting the character's journey from smug ignorance to compassionate knowledge with impressive skill and charisma. Sturgis, an always reliably great actor, is hilarious as Francis, who hasn't quite got the saint thing down yet (his excitement at finally being asked what his "deal is" is choice) but at his core he is serious and determined. His delivery of a monologue about encountering a leper is touching and a highlight of the show. Donna Zadeh is very funny as Clare's less pious sister, Beatrice, and Ann Noble shines as Clare's surprisingly understanding mother, Ortolana. Kari Lee Cartwright and Martica De Cardenas are tartly amusing as family servants Alma and Peppa, and Tony DeCarlo brings a sense of dignity to his roles as all of the poor people in the piece.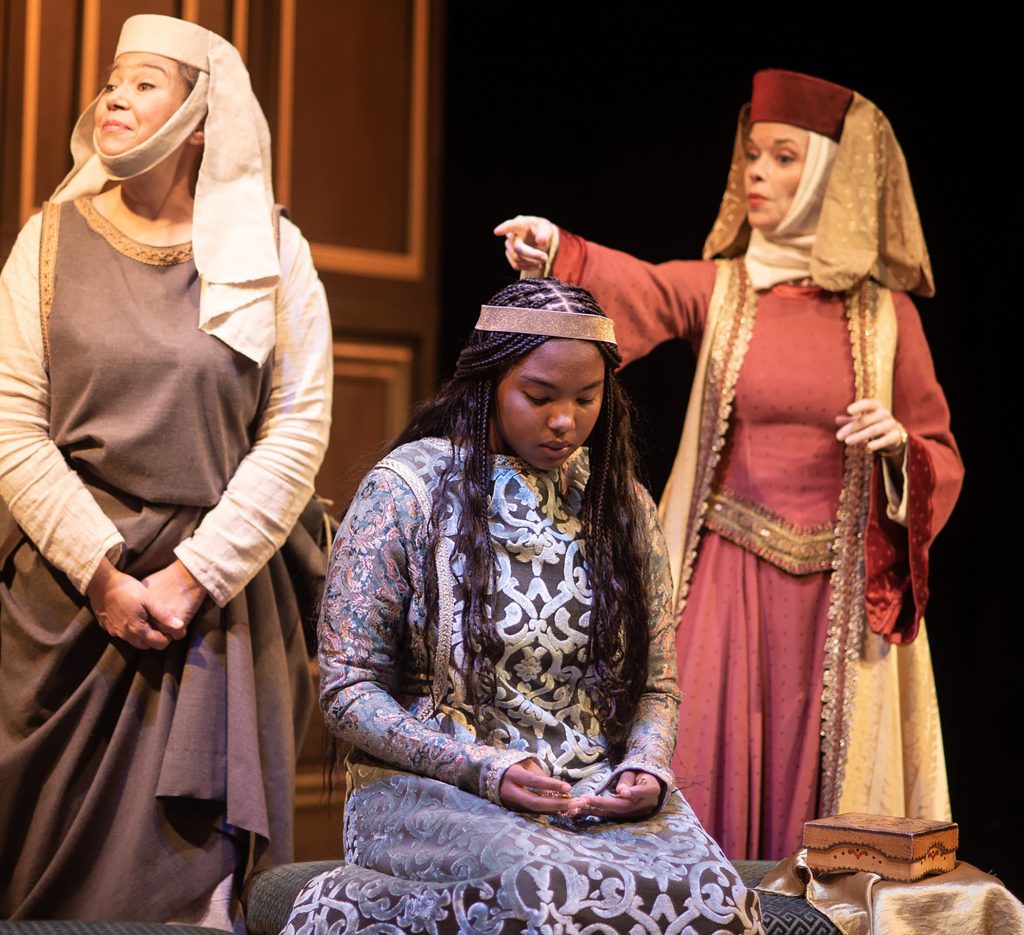 Director Alana Dietze is attuned to the tone of the play—snarky and serious all at once—and she gets superb work from the entire cast. Amanda Knehans' wooden wall set successfully combines different medieval looks enough to convincingly serve as both a noble house or a simple church, and Dianne K. Graebner's costumes are diverse and effective. Atik's writing is clever and meaningful, easing into an actual play about ideas with laugh-out-loud lines about the best way not to insult the unfortunate by giving them charity: "They live under a bridge! They know you know they're poor!" Atik clearly is a very talented writer. However, just as this play is about to see Clare put her beliefs into action, it abruptly concludes with a prayer that suddenly incorporates references to Uber and Amazon, just in case the show's relevance to the present day wasn't sufficiently clear. It feels like a third act is missing, such as a section about the difficulty of serious moral choices, and that, perhaps, keeps what is a good and promising play from becoming a great one.
Poor Clare, presented by Echo Theater Company, plays at the Atwater Village Theatre through November 29th. Tickets are available online here.