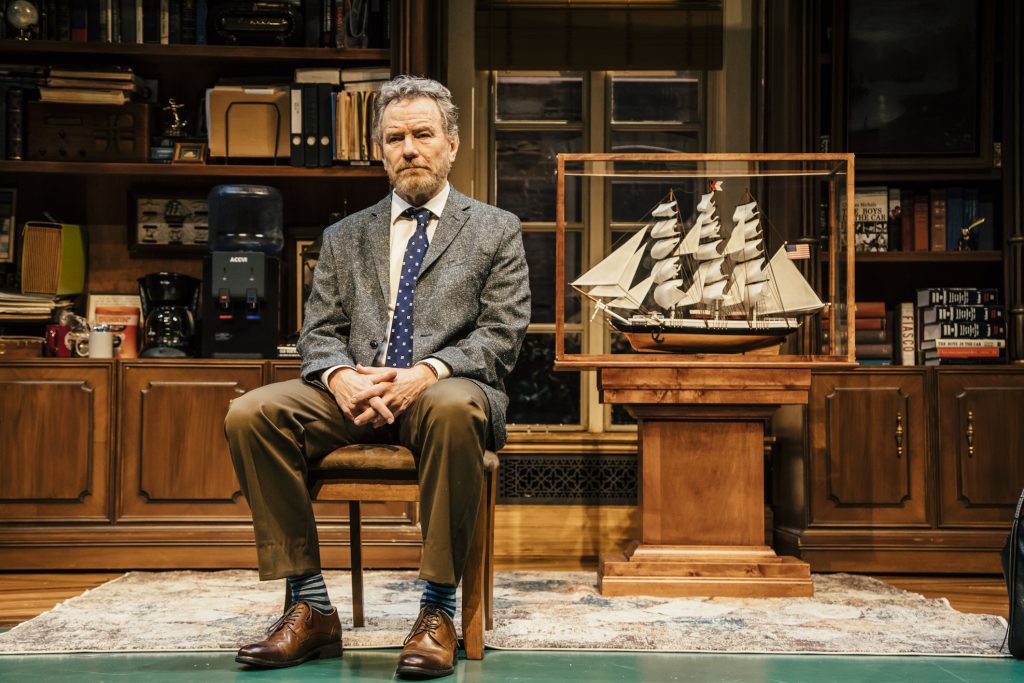 One of the core American principles is the right to free speech. However, this glorious principle runs into trouble when truly evil groups such as the Ku Klux Klan or Nazis wish to spread their poisonous propaganda. The usual response to this is that the only response to hate speech is more speech, which leads to what philosopher Karl Popper called "the paradox of tolerance," in which he posits that if a society is tolerant without limit, it will be destroyed by the intolerant. Paul Grellong's play, Power of Sail, takes on the question of the limits of free speech in its west coast premiere at Geffen Playhouse, and if it doesn't quite illuminate the subject as much as might be hoped, it's an excellent and enjoyable production nonetheless.
As the story begins, respected college history professor Charles (Bryan Cranston) is embattled. Many students are upset with his decision to invite a white supremacist to come and speak at a symposium about extremism, and they're protesting. College dean Amy (Amy Brenneman) tries to talk him out of the idea, as does a now famous ex-student of his, Baxter (Brandon Scott), to no avail. When Charles decides to accept an invitation to the supremacist's compound to meet with him, his student assistants are torn – Maggie (Tedra Millan) refuses to go, whereas Lucas (Seth Numrich) offers to accompany him. When things at the compound don't go as expected, Charles' motivations and actions come under close scrutiny.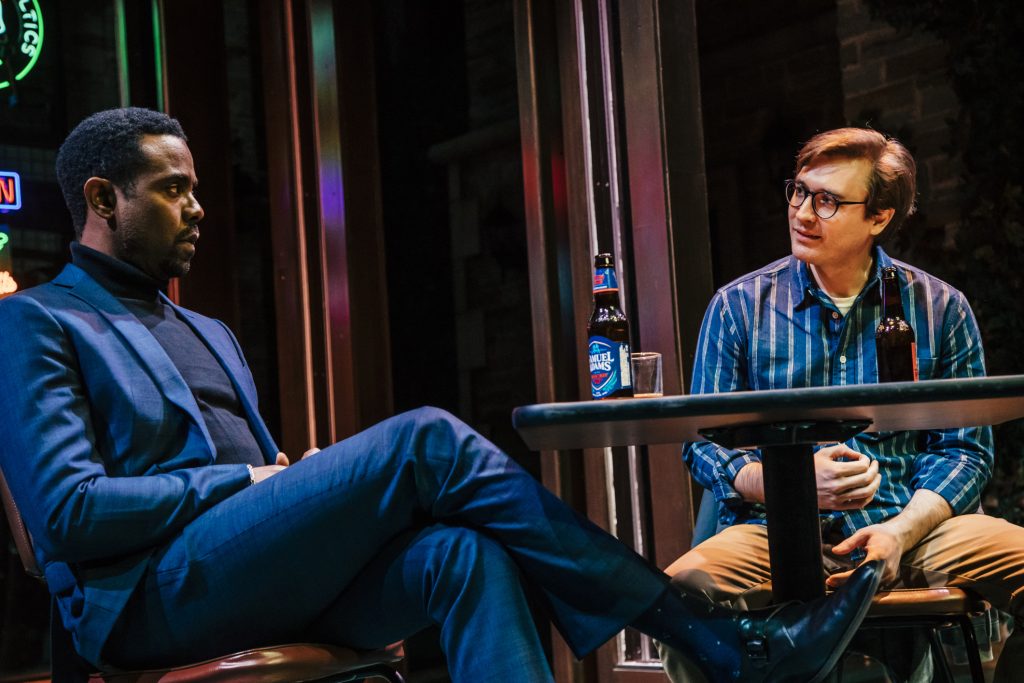 Cranston gives a strong and completely convincing performance as Charles, a one-time liberal lion whose ego may have calcified around his good sense and ability to take in new points of view. Brenneman is good if underused as Amy and Scott excels at projecting many different complicated emotions in the mostly reactive role of Baxter. Millan impresses as Maggie, the grad student with a surprising amount of steel in her spine, and Numrich is superb as Lucas, especially in a scene where a conversation with Baxter becomes confrontational. Finally, local acting favorite Hugo Armstrong is a jovial delight as bartender Frank. He's also understudying Cranston; I'd love to see his take on the role.
Director Weyni Mengesha has this production firing on all cylinders, from the skilled cast to expert pacing, and benefits greatly from Rachel Myers' beautiful, detailed scenic design. Grellong's writing is smart and funny, with one character memorably riffing off the "answer to hate speech" maxim with "The answer to Nazis is pipes and bats." He uses structure in an intriguing way, mainly because around the halfway point, the play takes a left turn and is something different than it was before. This didn't bother me, and I enjoyed the entire show, but for some it might prove disorienting. I was unaware of Grellong's work before, but now I look forward to seeing more.
Power of Sail, presented by Geffen Playhouse & Daryl Roth, plays at Geffen Playhouse through March 13th. Tickets are available at www.geffenplayhouse.org.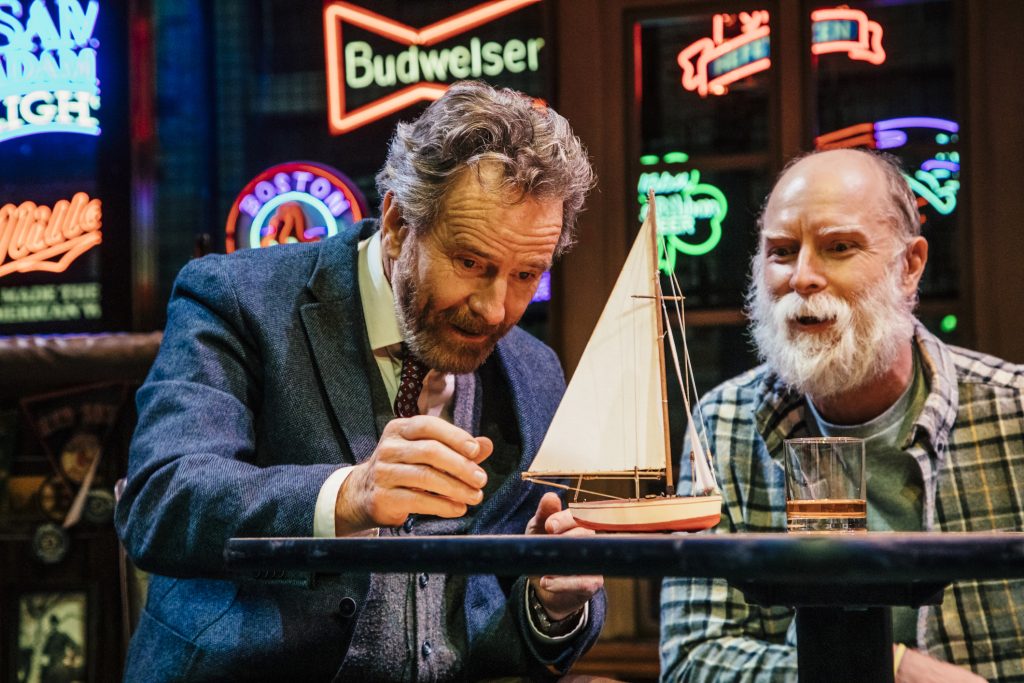 Power of Sail
Written by Paul Grellong
Directed by Weyni Mengesha
Produced with Daryl Roth
Featuring Hugo Armstrong, Amy Brenneman, Bryan Cranston, Donna Simone Johnson, Tedra Millan, Seth Numrich and Brandon Scott
Gil Cates Theater at Geffen Playhouse
10886 Le Conte Avenue, Los Angeles, CA 90024 (Westwood)
Runs through Sunday, March 13, 2022
PERFORMANCE SCHEDULE:
Monday No performance
Tuesday – Friday 8:00 p.m.
Saturday 3:00 and 8:00 p.m.
Sunday 2:00 and 7:00 p.m.
Running Time: 1 hour and 45 minutes, no intermission.
TICKET INFORMATION:
Tickets currently priced at $30.00 – $149.00. Available in person at the Geffen Playhouse box office, by phone at 310.208.2028 or online at www.geffenplayhouse.org. Fees may apply.
This production contains adult subject matter and profanity. Not recommended to those under the age of 14. Children under 6 years of age will not be admitted.
COVID-19 VACCINATIONS & MASKS REQUIRED – MORE INFO HERE.
Presenting Sponsor – City National Bank.