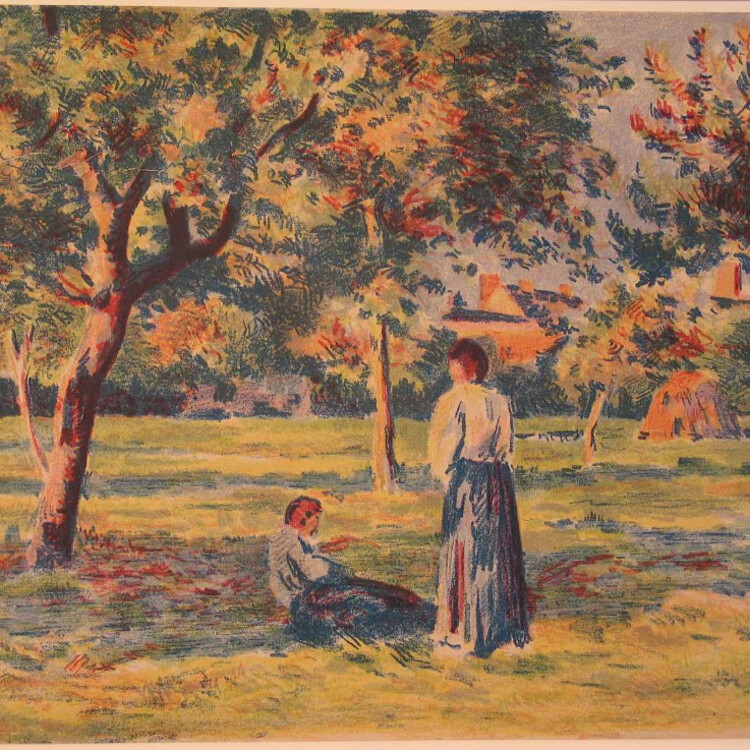 You are invited to visit the Benton Museum of Art in Pomona, California, to experience a very different view of Paris, and consider the "present" of the past.
Image – Maximilien Luce, Pissarro's Garden, C. 1920. Lithograph on Paper, 10 ⅝ in x 13 ¾ in. Gift of Dr. Toni Marcy.
A newly opened exhibition curated by Academic Curator Claire Nettleton, along with four of her students, is entitled Parisian Ecologies: The City Transformed in Nineteenth-Century Prints and Drawings. 
Says Nettleton, "The exhibition brings forward the polluted skies, dwindling wildlife, cholera-contaminated waters, and urban reformations that artists were documenting during one of the greatest aesthetic revolutions in the history of art."

Claire Nettleton, Academic Curator.
The topic inspired a class, which Nettleton co-taught with Virginie Duzer.
The subject is also examined in a symposium that offers talks and performances by artists, scientists, and scholars on Friday, April 8, 2022.
Parisian Ecologies—The City Transformed in Nineteenth-Century Prints and Drawings
On view March 24 – June 25, 2022
120 W Bonita Ave
Claremont, CA 91711

www.pomona.edu/museum
Open Tuesday through Saturday, 2–6 pm
Art After Hours: Thursdays, 5–10 pm
In the middle of the 19th century, Paris underwent massive changes as it was transformed from a choked medieval city to the Paris we know today, with its grand boulevards, imposing apartment blocks, leafy parks, and far-flung suburbs. This unprecedented urban renewal project, spearheaded by Georges-Eugène Haussmann, was documented by the artists and writers who found themselves in the midst of these changes. Parisian Ecologies brings together prints and drawings from Pomona College's collection—many from a significant gift to the museum in 1980—to highlight the tension between urban development and ecological disappearance from the 1850s through the end of the Belle Époque era in roughly 1914. Works include Démolitions pour le percement de la Rue des Écoles (1862) by Maxime Lalanne, which captures the Latin Quarter in rubble; Charles Heyman's Rue de Bièvre(1911), which reveals how the Bièvre River became a new sewer system; and Félix Bracquemond's Hiver (Loups dans la Neige), emblematic of the fantasy of escape entertained by many Parisians. Uncannily paralleling today's debates about land use, gentrification, disease control, and environmental sustainability, Parisian Ecologies offers a history lesson as well as a demonstration of the wide array of printmaking techniques employed by the artists in their chronicles of the modern city.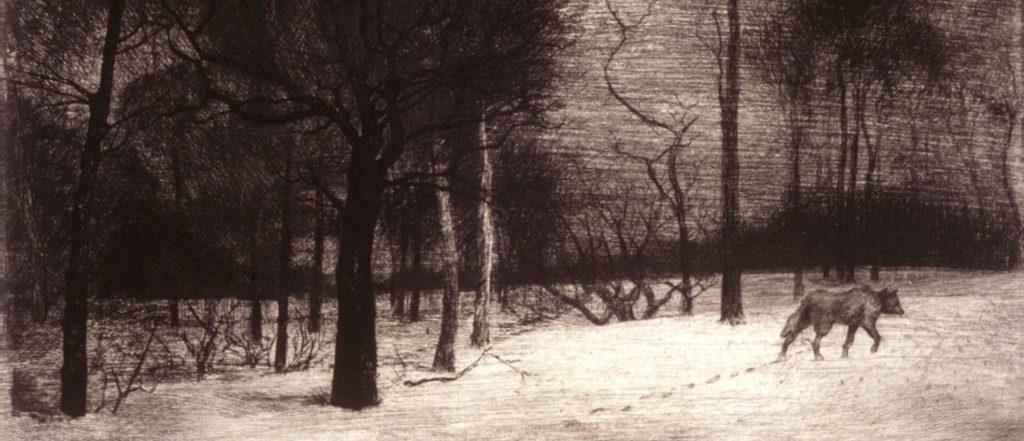 Parisian Ecologies Symposium
Friday, April 8, 2022 | 10:45 am–8:00 pm
Environmental degradation. Increasing industrialization and urbanization. Disappearing animal habitats. Raging disease. Scientists, writers, and artists attempting to document and make sense of it. Paris in the late 1800s and early 1900s was a welter of circumstances and conditions that now look very familiar to us. The Benton Museum of Art's exhibition Parisian Ecologies: The City Transformed in Nineteenth-Century Prints and Drawings argues that the dawn of our current ecological crises can be found in this pivotal era and iconic city, expressed by the art and literature of that time and place.
The Parisian Ecologies Symposium on April 8, 2022, expands on this premise, bringing the connections among the humanities, science, and ecology backward and forward through time with the work of leading international artists, scientists, historians and literary scholars.
The daylong conference will include both talks and artistic performances focused on several fundamental questions, including how environmental crises alter the ways we make and interpret art and how the existential threat to humanity impacts the humanities (and vice versa). The symposium will take place in person at the Benton Museum of Art but will also be responsive to current COVID-19 protocols and/or restrictions. Please register prior to the event or upon arrival.
Keynote Events:
Olga Kisseleva (Panthéon-Sorbonne University, artist and founder of the Sorbonne's Art-Science program) will present her time-lapse video, now in the archives of the City of Paris, of a tree that nineteenth-century author François René de Chateaubriand planted next to the Rue de Raspail and that has now fallen victim to climate change.
Yogan Muller (UCLA Design Media Arts), a French photographer and academic, will present a selection of nineteenth-century photographs from the Benton's collection alongside his contemporary works and will speak on photography and ecological disappearance from the 1800s to today.
Maru Garcia (Prospering backyards, UCLA Art-Science Center) will screen and discuss her work on soil contamination in the Los Angeles area.
Mick Lorusso (Westridge School, UCLA Sci|Art Lab, in-person) and Joel Ong (streaming from: Sensorium:Centre for Digital Art and Technology, York University, Toronto: ) will give a performance on psychogeographical approaches to (bio)locative media.
Dan Finch-Race (University of Bologna), co-editor of French Ecocriticism from the Early Modern Period to the 21stCentury (2017), will speak on pollution in nineteenth-century French paintings.
Co-sponsored by Oldenborg Center for Modern Languages and International Relations, and the Departments of Art History, Romance Languages and Literature, English, and the Environmental Analysis section at Pomona College.
Full Schedule:
Thursday, April 7, 2022
9:35am-10:50am Parisian Ecologies Class Section 1 Round Table–Loeb Family Art Pavilion
Friday, April 8, 2022
10:45am Pastries and Coffee–Loeb Family Art Pavilion
11:00 Interdisciplinary Ecologies–Loeb Family Art Pavilion
Claire Nettleton. Welcome.
Robert Gaines (Dean of Faculty and Vice President of Academic Affairs, Pomona College). Art and Science as Critical Partners in Times of Change
Char Miller (Pomona College) Nature's Nations: France, the United States, and the Representation of Space
Dalia Gómez (Pomona College) An Overview of Ecology in Latin American Literature and Film
Claire Nettleton, Academic Curator, Maggie Allegar '23, Ansley Ngando '24, Jeffrey Pendo '24 (Pomona College) Curating Parisian Ecologies
12:20-1:10 Courtyard – Lunch (registration required)
Tours–Meet in Courtyard
1:15-1:45 Tour of Parisian Ecologies with student curators (Ansley Ngando '24 and Jeffrey Pendo '24)
1:50-2:20 Building and exhibition tour (Claire Nettleton, Academic Curator, and Steve Comba, Associate Director and Registrar)
2:25 Keynote: Yogan Müller (UCLA Design Media Arts), Environmental Photography–Works on Paper Classroom
3:15-3:45 Parisian Ecologies Class Section 2 Round Table–Loeb Family Art Pavilion
4:00–Loeb Family Art Pavilion Eco-Aesthetics–Loeb Family Art Pavilion
Britany Salsbury (Cleveland Museum of Art, video), Etching: The Creative Process
Virginie A. Duzer (Pomona College), 'Tree, Tree, Tree' (Three Times Tree)
Karen Quandt (Wabash College), Urban Ecology in Baudelaire's Flowers of Evil
Marion Duquerroy (U. Angers), Contemporary Ecological Art
5:10 Keynote: Dan Finch-Race (U. Bologna), Visceral Geographies of Industrial Air Pollution in Nineteenth-Century Paris–Loeb Family Art Pavilion
5:45-Reception–Courtyard
6:45 Keynote Outdoor Screenings, Artist Talks, and Performances–Courtyard
Introduction by Cherene Sherrard-Johnson (Pomona College)
Maru Garcia (Prospering backyards, UCLA Sci|Art Lab). Put it back. Lead Contamination in Southeast LA
Mick Lorusso (Westridge School, UCLA Sci|Art Lab) and Joel Ong (Sensorium: Centre for Digital Art and Technology, York University). Micro-Dérive: A Performance
Olga Kisseleva (Panthéon-Sorbonne University and the Sorbonne's Art-Science Program Founder). Eden
8pm End