"At Sentral, we're investing in emerging artists," states Dana Wendell, Director of Brand Marketing & Communications at Sentral.
Sentral is a leading prop-tech innovator that is building the world's largest flexible living community. Launched in July 2021, Sentral's network of urban residential communities has redefined the way people live, travel, and work. Locations were chosen for their "great walkability."
The group has properties in eight vibrant gateway cities in the US, through 11 connected communities, including:
Los Angeles (Sentral DTLA at 732 S. Spring, Sentral DTLA at 755 S. Spring)
Austin (Sentral East Austin at 1630 E. Sixth, Sentral East Austin at 1614 E. Sixth)
Seattle (Sentral First Hill, Sentral SLU)
Denver (Sentral Union Station)
Chicago (Sentral Michigan Avenue)
Miami (Sentral Wynwood)
Atlanta (Sentral West Midtown)
Nashville (Sentral SoBro 516 Lea Avenue, Nashville TN 37203
International locations are also in the works.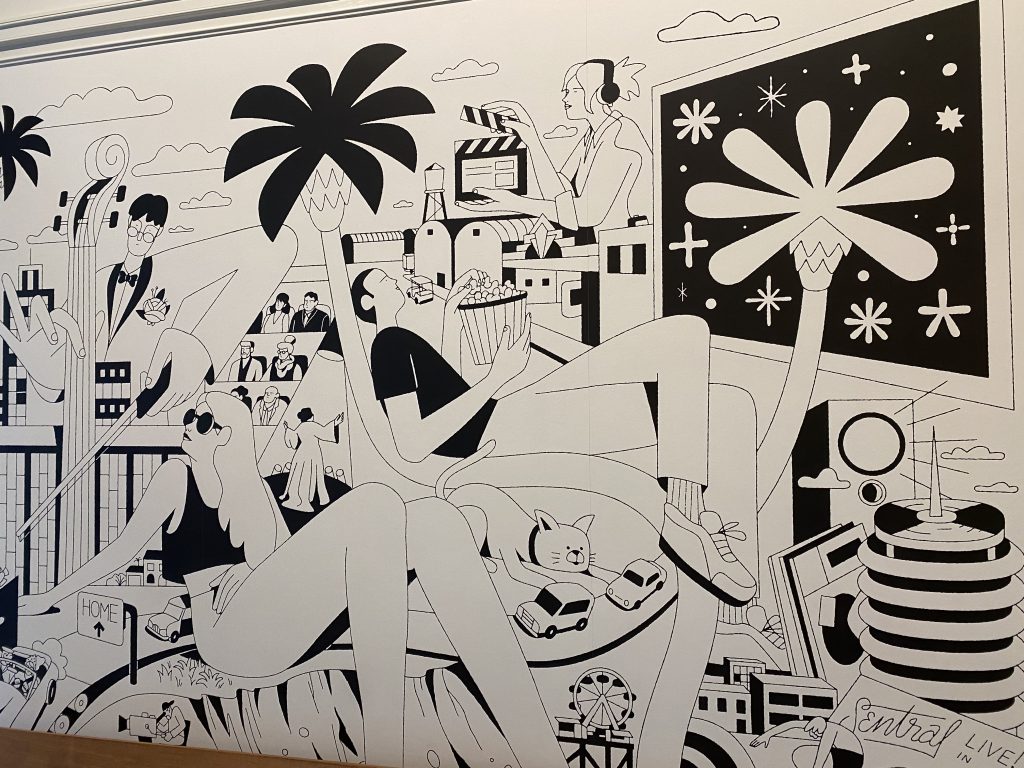 Sentral aims to help people feel more connected with their selected location. By supporting and connecting with local artists, the group is able to tap into the local landscape and enrich their communities with cultural vibes. Chris DeLorenzo was commissioned to produce murals for the foyers of several of Sentral's locations, not only capturing the charm and vibrancy of the region, but providing a familiar visual touchstone for frequent guests.
The Sentral lifestyle is all about communities, not just a place to stay. Finding a connection with local tastemakers and local businesses to grant a feeling of being a part of the community, even if your stay is short-term. Living, working, traveling plus life.
To this end, Sentra has just launched their new pilot Artist in Residence (AIR) program in Downtown LA.
The current artist in residence is neon artist Kacie Lees. Presently on view, until late April, in her artist's space is Kacie's current body of work, inspired by the legacy of neon in DTLA. All her neon creations are handmade.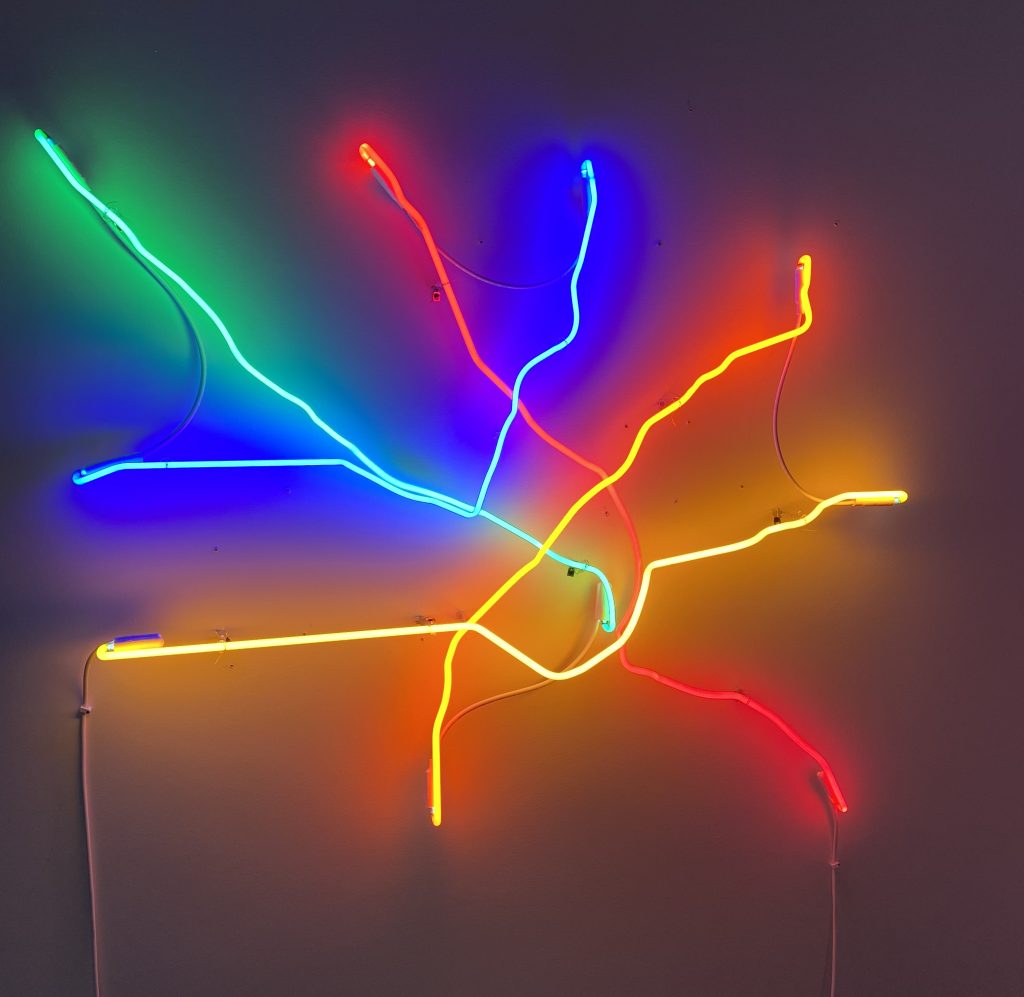 "I'm not making signage," she emphasizes. "I'm making sculptures." I asked Kacie where does she get her inspiration?
"It's all experimentation, for me. I move around a lot, so I see life as fast-paced. I'm all about the movement." She uses her practice to explore the elemental properties light, shadows and fire.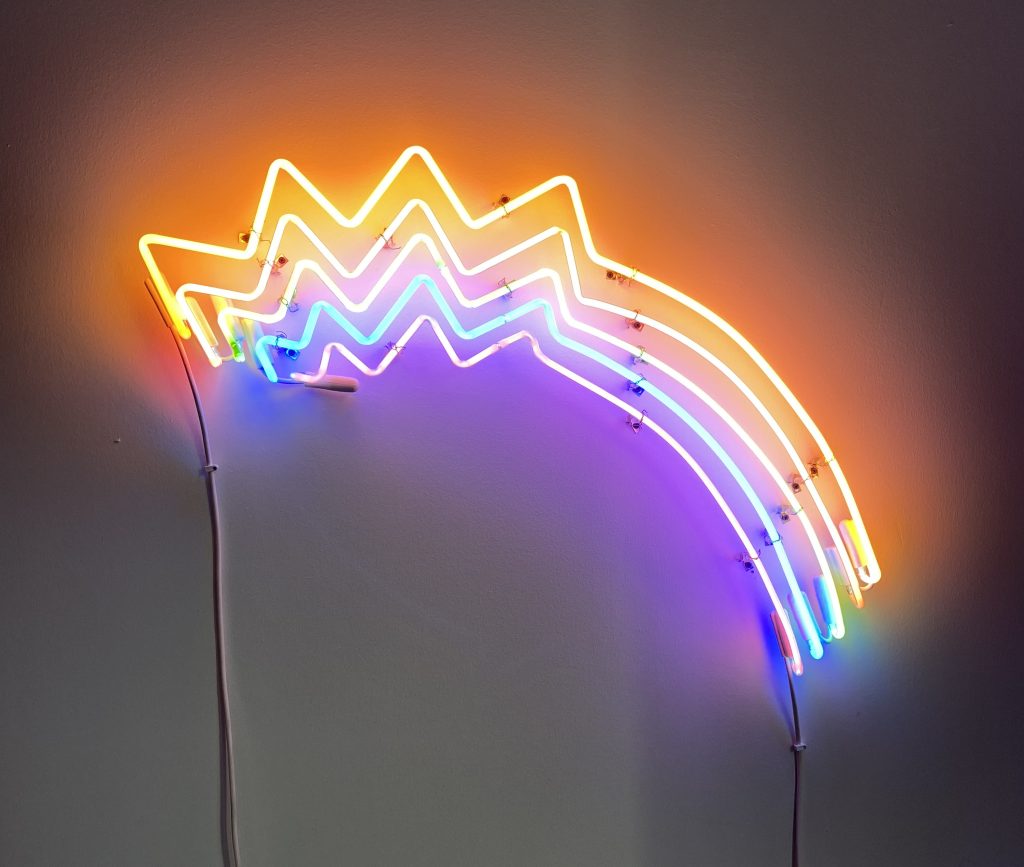 Witness her neon version of the roads and freeways that spiral from the central downtown LA street grid, or her "rainbow connection" representation of Route 66, a highway she has frequently traveled. On view is Kacie's interpretation of the Rialto sign, that's been there for around 105 years. Around the corner from the studio, on S. Broadway, is Quinn's Rialto Theatre which opened on May 21, 1917. The Rialto was one of the first theatres to have stadium style seating and features the longest neon marquee in the Broadway National Register Historic Theatre District.
"The shadows of the colors are just so otherworldly," she points out, briefly blocking the glow to reveal the colorful shadow on the white wall.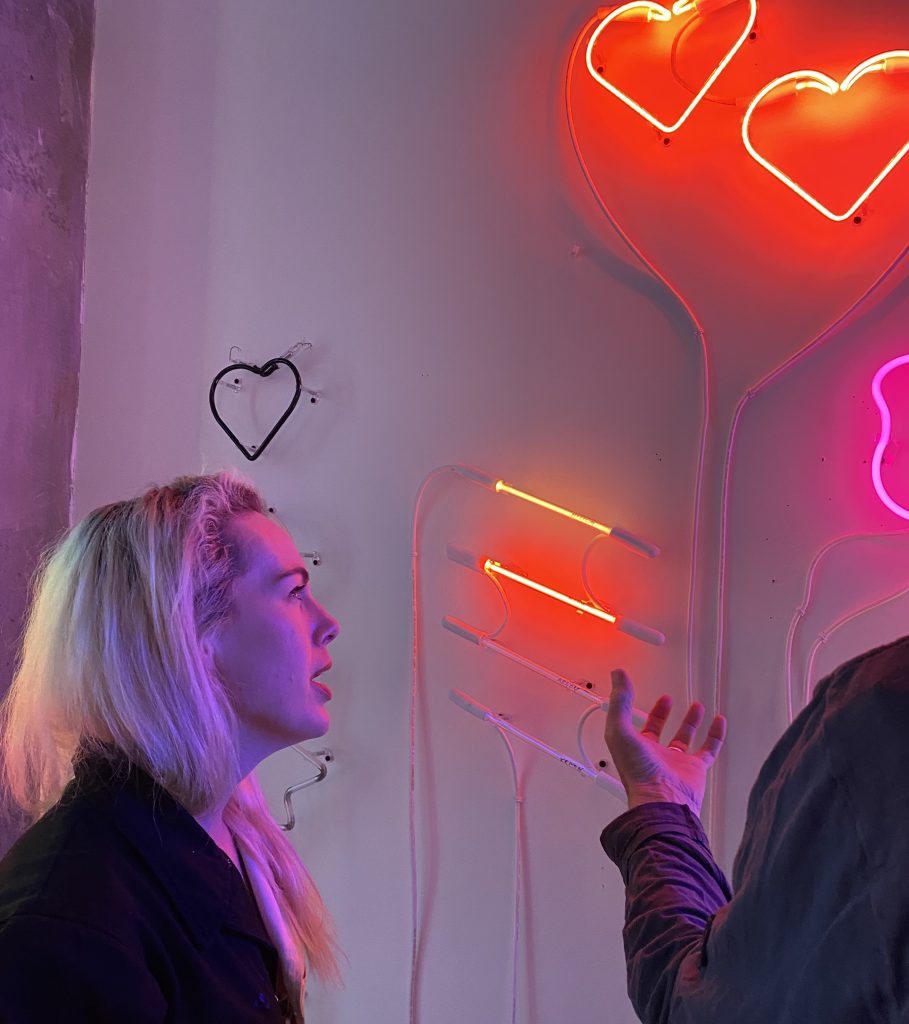 Kacie knows all the science behind neon colors. Different gases have different properties. Argon is very faint, so she adds a touch of mercury with a syringe to create a brighter blue. Krypton makes a ghostly white hue. "It looks like lightning at one frequency," she marvels. "and at another frequency it resembles a ghost's breath. It's more subdued – more sneaky!" she laughs.
She uses a ribbon burner with cross fire to shape her sections and make turns. Guiding me as I heat a tube of glass, she tells me to take a step back and make a shape with the slightly molten tube of glass. "I love that first, intuitive movement that people do," she observes.
To create Sentral's AIR, they've partnered with She Bends, a California-based organization supporting women and gender-expansive artists bending neon and pushing the art form's boundaries beyond the confines of commercial signage.
She Bends co-owner Kelsey Issel, who also works as an art consultant and art program director, will be responsible for the design and implementation of the pilot program. She Bends will provide neon equipment and its community network for the residency's partnerships and events.
She Bends is all about making neon artistry accessible to all, as well as supporting women and gender expansive artists bending their own neon.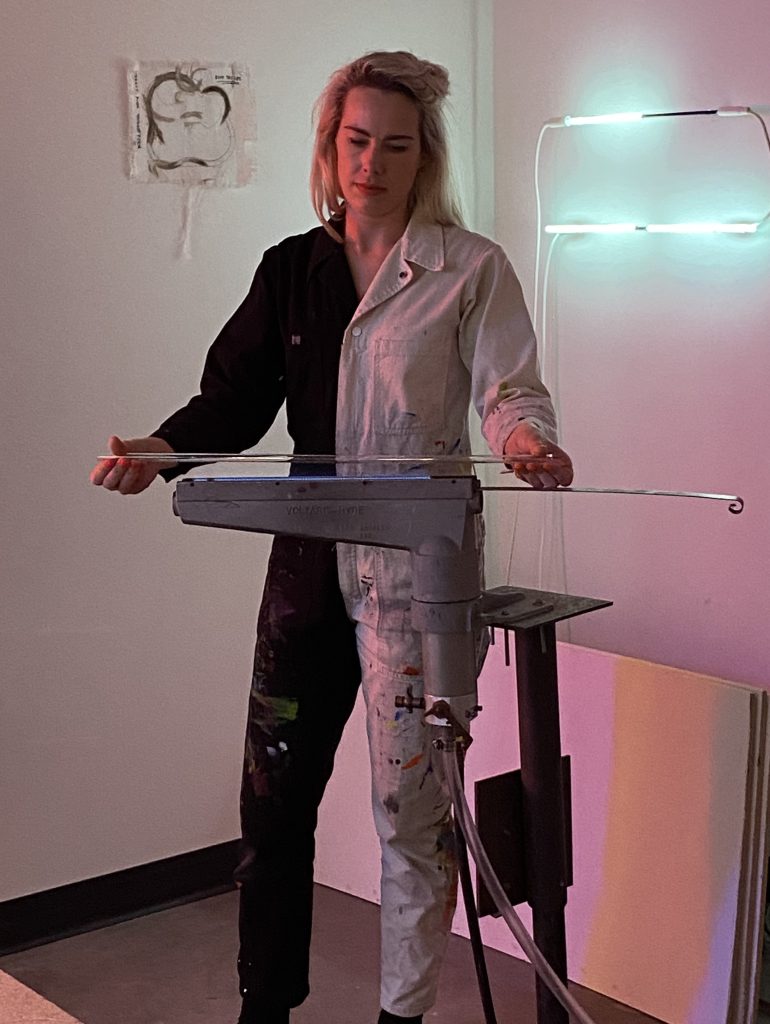 ABOUT SENTRAL:
Sentral is redefining home through a more flexible and connected way to live, travel and work. Sentral invites individuals to LIVE and STAY for any length of time in amenity-rich buildings within the country's most vibrant, walkable neighborhoods. With a program that boasts thoughtful service and user-friendly technology, Sentral is creating a global community of modern adventurers with the freedom to explore their passion for travel, and live life on their own terms @SentralLife.
More about the Sentral's Artist in Residence (AIR) program can be found here.
ABOUT THE ARTIST:
Based in New York, Kacie Lees is an interdisciplinary artist working in printmaking, neon, and video; as a professor of art and technology studies at the School of the Art Institute of Chicago, her practice blurs studio experimentation with instructional design. Kacie's focus is on what she calls "polychromatic smears" — holograms, oil slicks, rainbows, aurora — and "the poetic power of optics to gain immersive insight into the dynamics of working with light as a tactile medium."
"I want L.A.'s sun and colors to permeate a new body of neon work in reference to an ongoing study of light and effect," Kacie says of her intentions at Sentral DTLA. "I habitually make small, repeated forms in neon and display them en masse. The forms become an imperfect pattern across a wall — some large, some small, some off-center, some upside down — all with an individual presence and fervor."

Kacie Lees.
During her residency, Kacie will also teach experimental bending and color courses at the Museum of Neon Art in Glendale, create and distribute a "neon manifesto," and contribute writing to an upcoming handbook on holography.