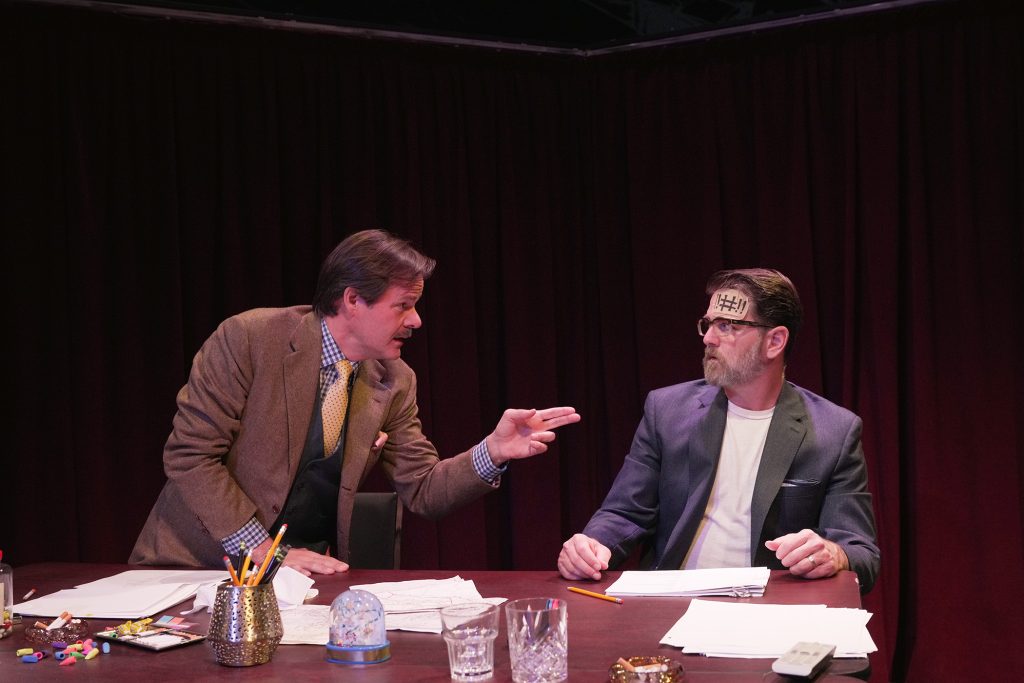 I have a rule about avant-garde theater: if an artist chooses to deliberately obscure his/her/their meaning via unusual methods or flirts dangerously with pretentiousness, the play had better validate those choices by demonstrating how they were necessary. Most experimental pieces, in my experience, fail that test, but when they succeed it's thrilling. Lucas Hnath's A Public Reading of an Unproduced Screenplay About the Death of Walt Disney is one of those successes, a brilliant and scathingly funny play that sets its goals high and then fulfills them. The current Working Barn Productions show, a west coast premiere at the Odyssey Theatre, is a must-see for fans of smart, ambitious theater.
Walt (Kevin Ashworth) has written a screenplay about various aspects of his life, and he and three others sit in front of a table in what seems to be a generic rehearsal room, doing a reading of the script. The writing is mainly a series of conversations with Walt's older brother Roy (Thomas Piper), divided up into chapter headings concerning topics such as nature documentaries, unions, cities and, of course, death. He also includes scenes with his Daughter (Brittney Bertier) and her husband, Ron Miller (Cory Washington), but as much as he tries to influence the reading, those interactions as well as others begin to get away from him.
Ashworth gives a masterful performance as Walt as an amiably bullying egomaniac, capturing the humor but also all of the technical beats built into the structure of the play. He gets the most from lines such as, "What's the point if you're not one of the most important people who ever lived?" but also reveals underlying tragic poignancy in the character as it becomes clear that nobody can control everything, not even a play reading. Piper is excellent as the supportive if put-upon Roy, and Bertier and Washington are both terrific in their scenes.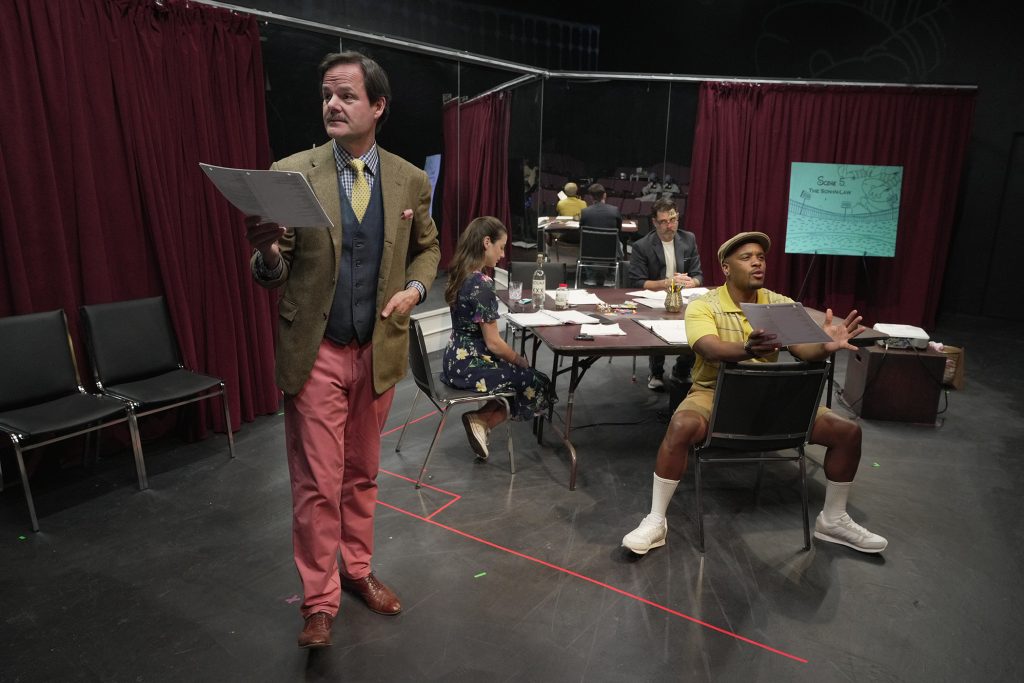 Director Peter Richards engages with this tricky play and presents it in an ideal form, taking things that could be confusing to an audience, such as a script written in near-shorthand and constant time jumps, and makes them clear and theatrically vivid. Nick Santiago's projection design is stylish, altering things that look like typical Disney visuals and finding a darker side, and Jesse Mandapat's sound design amplifies important moments or themes in the show, especially Walt's constant firing up of cigarettes.
Hnath cleverly positions his play to be experienced through a series of deliberate filters, which create a sense of distancing from the subject that allows for an ambiguity about both Disney and the nature of autobiographical works in general. These filters include the idea that this is a reading with actors instead of a dramatic re-creation of events, the combination of things that historically happened with fiction written just for this play, and the unusual use of linear structure. In what is perhaps Hnath's most effective stratagem, the character of Walt is running the reading, and he wants it to put him in a flattering light as swiftly as possible. To this end, most scenes are constructed in sentence fragments rapidly performed back and forth between Walt and Roy, and when Walt has made his point, he announces a cut to the next scene. This works on multiple levels, from the information-dense speed of the production to the way it reveals Walt's intentions as the play goes on. This technique is never used better than in a scene where Walt desperately wants something from his daughter in a conversation and just keeps saying "Cut to" to move the scene towards a point where he hopes he'll get it, simultaneously revealing his growing anxiety.
A lot of Disney fans who haven't researched the man himself may be surprised at some of the revelations about him in this play, but the director's note in the program cautions that not all of them are true. Regardless, A Public Reading… is a dazzling creation that is given a superb production here.
A Public Reading of an Unproduced Screenplay About the Death of Walt Disney, presented by Working Barn Productions, plays at Odyssey Theatre through May 1, 2022.
Tickets are available at https://www.onstage411.com/newsite/show/play_info.asp?show_id=6109